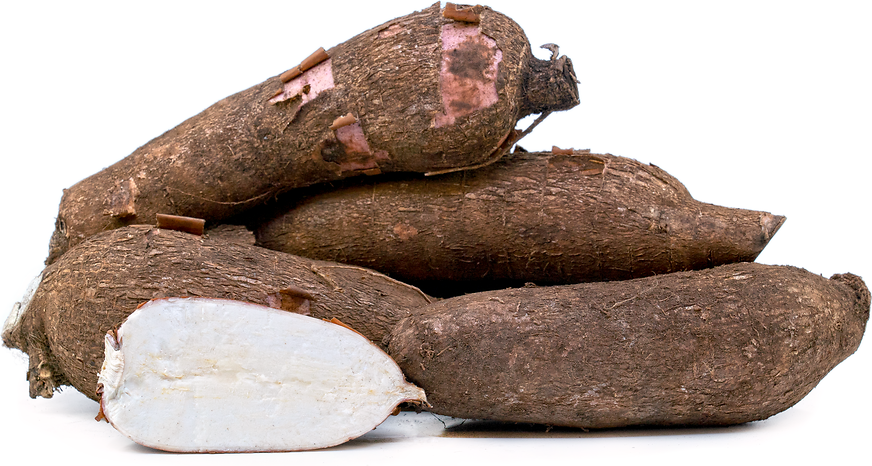 Tapioca Root
Inventory, lb : 0
Description/Taste
Tapioca root is the underground portion of the Cassava plant. The tropical bush-like plant has edible palm-like leaves at the end of long reddish colored stems. The plant branches irregularly and can grow to the size of a small tree if allowed. The large tapered Tapioca roots are similar in size and shape to a sweet potato. The tuber has an inedible shiny brown skin with rough patches and faint growth rings ascending down to the tip. The starchy flesh of the Tapioca root is a light white or cream color and has a grainy texture similar to potatoes with a mild, sweet flavor. Tapioca root contains cyanogenic glucosides called saponins, the amount of which varies depending on the variety ("bitter" or "sweet"). Sweet Tapioca contains lower levels of the compound and requires less preparation prior to eating, which is why it is the variety most commonly available as a vegetable. Tapioca root is soaked in water and often repeatedly washed prior to its use to get rid of the saponins.
Seasons/Availability
Tapioca root is available year-round.
Current Facts
Tapioca root, as it is called most frequently in India, is referred to as 'Cassava root' in America and is known as Mandioca, Manioc, and Manihot in other parts of the world. Botanically, the plant is known as Manihot esculenta. The Central American plant and root are known as 'Yuca', pronounced YOO-ka, which is the Native American word for Cassava. It is sometimes confused for the desert plant, yucca, pronounced YUHK-a, which is unrelated to the root vegetable. Tapioca root is one of the most adaptable and drought-resistant plants, making it an ideal food crop for a variety of environments. Tapioca root is the source of tapioca starch or flour, which is a popular gluten-free alternative.
Nutritional Value
Tapioca root is the third largest source of carbohydrates in the world (over corn and rice) and is considered a main food staple for over 500 million people. The starchy tuber is high in calcium, dietary fiber, potassium, and vitamins B6 and C. It has relatively no protein, but does contain high levels of iron and essential fatty acids. The leaves contain higher amounts of both protein and valuable nutrients than the root. Tapioca root is also said to be helpful in aiding digestion.
Applications
Tapioca root has a variety of applications; most commonly the tuber is ground into flour and used as a thickener for soups, stews, and as a gluten-free flour substitute. The uses for Tapioca root aren't just limited to flour. Once the brown skin is cut or peeled away, the starchy flesh can be cut into bite-sized pieces and blanched prior to cooking. Cut into strips, the root makes a good substitute for French fries. Tapioca root can be boiled, baked or fried. After peeling the root, soak in a bowl of water, changing the water multiple times until it's clear. Slice the root thinly into chips to either bake or fry, similar to potato chips. Tapioca cut into chunks can be boiled to prepare and added to curries and stews. Like potatoes, Tapioca root also stores well. Tapioca root can be kept in a cool pantry for up to a month. Prepared Tapioca root should be used within a day.
Ethnic/Cultural Info
Tapioca root is most often used in India in its processed, starch form. Made into Tapioca pearls or strips, it is added to dishes and beverages. In western India, Tapioca root is most commonly made into starch "pearls." This form of Tapioca is often called "sabudana" in the local Marathi language and is used during times of fasting in the Hindu religion. In southwest India, Tapioca is called "kappa" in the local Malayalam language. Particularly in the town of Kerala, India, the tuber is a mainstay of the local diet. Often paired with fish for a 'meen curry', is the official dish of Kerala, India.
Geography/History
Tapioca root is native to South America and parts of the Caribbean, where it is used much like the potato in the United States and Europe. The use of Tapioca dates back many thousands of years. It was spread to Africa by explorers after the discovery of the New World. There is some debate over whether the root was directly introduced to India from South America in the mid-1800s or whether it was introduced to the Asian country via the Portuguese in the 17th century. Either way, it was in the 19th century that Tapioca became an important crop in southern India. The plant grows best in sub-tropical and tropical areas, though Manihot esculenta is known as a drought resistant plant and is grown as a reserve crop in famine-prone countries. Africa and Brazil are the two largest producers of Tapioca root in the world.
Recipe Ideas
Recipes that include Tapioca Root. One

is easiest, three is harder.