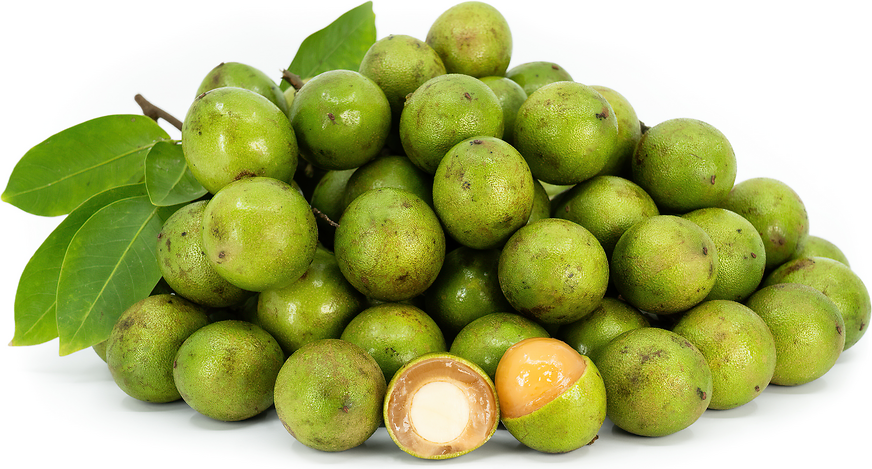 Mamoncillo (Spanish Lime)
Inventory, lb : 0
This item was last sold on : 05/26/23
Description/Taste
Mamoncillo fruits are small to medium in size, averaging 3 to 4 centimeters in diameter, and have a round to oval shape with a small protrusion on one end. The skin is thin, semi-smooth, tough, and pebbled with oil glands, having a firm, leathery, and brittle feel when peeled. The skin also showcases a dark to lime green coloring, sometimes covered in brown patches. Underneath the surface, the flesh, also known as the pulp, ranges in color from pale yellow, salmon, to sherbet orange and can be thick to thin, depending on the variety. The flesh has a gelatinous, aqueous nature and a somewhat fibrous, chewy consistency similar to lychee, clinging tightly to the large central seed. Each fruit typically encases one ivory to white seed, but some fruits may have two. The round to oval seeds are starchy and astringent, but when cooked, they develop a mild, nutty flavor. Mamoncillo fruits are often sold attached to their branches. Look for branches that are still flexible and appear fresh. Older, drier, and brittle branches indicate that the fruits may be close to expiring. Mamoncillo fruits should be served ripe and have a tangy, acidic, and sweet vinous taste reminiscent of a cross between a lime and lychee.
Seasons/Availability
Mamoncillo fruits are available in the summer through early fall.
Current Facts
Mamoncillo, botanically classified as Melicoccus bijugatus, is a descriptor for small, sweet, and tangy fruits belonging to the Sapindaceae or soapberry family. The fruits grow in compact, dense, and heavy clusters on branches of a tree that can reach over 25 meters in height. Each cluster can hold 12 or more fruits, and in local markets, it is customary to sell the fruits still attached to the branch. The name Mamoncillo is derived from the Spanish word "mamar," meaning "to suck," and was given for how the fruits are traditionally consumed whole, eating the flesh from the seed. Mamoncillo fruits are also known by many regional names, including Quenepas in Puerto Rico, Mamones in El Salvador, Ginep and Guenepa in Jamaica, Barbados, and Guyana, Kenep in Haiti, Guayo or Grosella de Miel in Mexico, Kenet in French Guiana, Limoncillo in the Dominican Republic, Mauco in Venezuela, and Mamon or Maco in Colombia. The fruits are also known as Spanish Limes in the United States; a moniker derived from the Mamoncillo's similarity to appearance to a small lime. Despite its lime-like shape and skin coloring, Mamoncillo fruits are not related to limes and are more closely associated with rambutans and lychees, all belonging to the soapberry family. There are several varieties of Mamoncillos cultivated in tropical regions worldwide, some with thicker flesh than others, and all types of the fruit are popularly consumed raw as a sweet and refreshing summertime delicacy.
Nutritional Value
Mamoncillo fruits are a source of vitamin A to maintain healthy organ functioning, vitamin C to strengthen the immune system while reducing inflammation, and calcium to build strong bones and teeth. The fruits also provide fiber to regulate the digestive tract, iron to develop the protein hemoglobin for oxygen transport through the bloodstream, phenolic compounds that have antioxidant-like properties to protect the cells against free radical damage, and other nutrients, including phosphorus. Beyond vitamins and minerals, the fruits contain tryptophan, a natural chemical known to produce serotonin to aid in inducing sleep. In Central and South America, Mamoncillo fruits are consumed as a natural laxative, and the flesh has been used to soothe upset stomachs and other digestive issues. In Panama, Mamoncillo leaves are stripped from the branches and placed on the floors of houses and community buildings. The leaves are believed to attract fleas and insects, and once the bugs gather on and around the leaves, the leaves are swept outside of the building to remove the unwanted pests.
Applications
Mamoncillo fruits have a tangy, sweet, and acidic flavor suited for fresh and cooked preparations. The fruits are typically consumed straight out of hand, and the best way to enjoy the flesh is to peel the skin and pop the whole fruit into the mouth. The flesh can be sucked on until the juice and flavor are gone, and the seeds can be discarded or cooked. Mamoncillo fruits can also be sprinkled with salt, lime, or chili powder, deseeded and blended into smoothies, juices, and other beverages, or used to flavor cocktails and alcoholic drinks. It is important to note that the juice of the flesh will stain, so caution should be taken to avoid damaging clothing and linens. In addition to fresh preparations, Mamoncillo fruits are popularly simmered into jellies, jams, and syrups or incorporated into various dessert recipes, including pies. In Haiti, Mamoncillo fruits are soaked in a mixture of sugar, lemon rind, cinnamon, star anise, and rum to create a cocktail known as kenep trempe. Beyond the flesh, the seeds can be roasted and have a similar consistency to chestnuts. In some regions of the Caribbean, the roasted seeds are ground into a powder and used as a substitute for cassava. Mamoncillo fruits pair well with spices such as cinnamon, ginger, paprika, or nutmeg, fruits including coconut, jackfruit, pineapple, and mango, vanilla, maple syrup, and brown sugar. Whole, unpeeled Mamoncillo fruits will keep up to one week when stored in a cool and dark place. If the fruits are sold on the branch, it is recommended to store them still attached to extend the shelf life. Once peeled, the fruits should be kept in a sealed container in the refrigerator for a few days.
Ethnic/Cultural Info
Mamoncillo fruits are embedded into the lore of the Caribbean. Legend has it that if a woman finds two seeds in her fruit, she is destined to have twins in Jamaica. The indigenous tribes of the Caribbean, the Arawak, also use the staining juice to create a dark brown dye for clothing and fabric. In Puerto Rico, Mamoncillo is celebrated at the Festival Nacional de la Quenepa in the city of Ponce. Ponce is known for its Mamoncillo production, and the drupes are considered one of the official fruits of the region. Several varieties of Mamoncillo have been created in Ponce, including a variety discovered in a backyard named after the city. In 2008, the Oficina de Desarrollo Cultural established a festival to promote the local fruits, increase tourism, and unite the community. The three-day festival honors the fruits through a market, live entertainment, games, food, and other activities.
Geography/History
Mamoncillo fruits are native to South America and the Caribbean, specifically Colombia, Venezuela, and the island of Margarita, and have been growing wild since ancient times. The fruits thrive in tropical climates and were initially foraged from wild trees as a food source for indigenous peoples. As larger civilizations were established, the trees were selected as a favored landscape addition, often planted in village squares, city streets, and home gardens. Over time, Mamoncillo fruits spread to regions of Central America, tropical Africa, and Southeast Asia and were eventually planted in southern Florida for commercial production. Today Mamoncillo fruits are commercially cultivated, planted in home gardens, and still found growing wild in South America, Central America, the Caribbean, India, the Philippines, Africa, and in Florida, California, and Hawaii of the United States. Mamoncillo fruits are sold fresh through local markets in their growing regions and are exported on a small scale to neighboring countries through specialty stores.
Recipe Ideas
Recipes that include Mamoncillo (Spanish Lime). One

is easiest, three is harder.