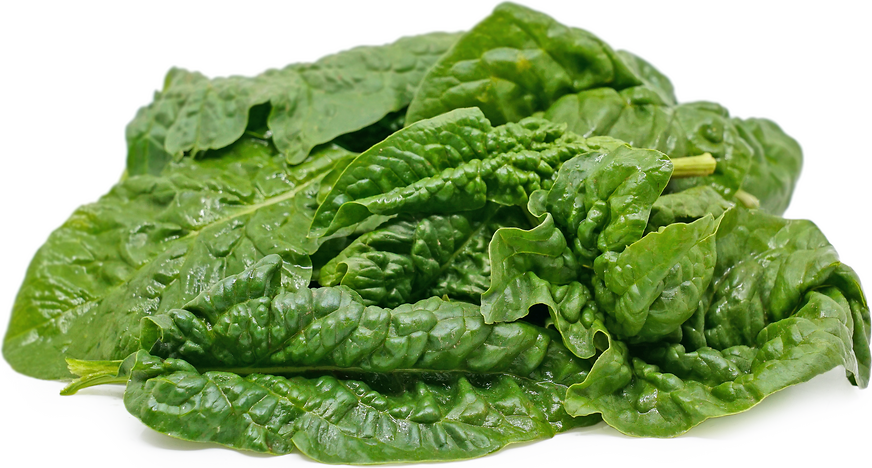 Bloomsdale Spinach
Inventory, lb : 0
This item was last sold on : 05/26/21
Description/Taste
Bloomsdale spinach produces medium to large leaves that showcase an oval to spade-like shape with blunt, curved ends and even edges. The leaves are puckered at the base, creating a savoyed appearance, and the surface displays deep grooves, wrinkles, folds, and textures. The leaves are also dark green, glossy, thick, and succulent with a crisp, chewy consistency. A prominent central midrib extends through the leaves, connecting into a firm, light green, and fibrous stem. The fibrous nature will vary with the maturity, with many consumers choosing to remove the stems from larger leaves before serving in culinary preparations. Bloomsdale spinach has a robust, earthy, nutty, and vegetal flavor with a pronounced sweetness. The variety has a richer taste than other spinach cultivars and is distinct as it contains a slightly tangy aftertaste without the bitterness associated with common spinach.
Seasons/Availability
Bloomsdale spinach can be planted in the spring and the late summer for multiple harvests. In regions with mild winters, the plants can also be planted in the fall and harvested in the early spring.
Current Facts
Bloomsdale spinach, botanically classified as Spinacia oleracea, is an heirloom variety belonging to the Amaranthaceous family. The upright, spreading plant grows to 15 to 20 centimeters in height and produces large, savoyed leaves utilized in culinary preparations for their earthy, nutty, and vegetal flavor. Bloomsdale spinach was developed in the 19th century and is a long-standing spinach variety selected as a commercial and home garden cultivar for its thick leaves, fast-growing nature, high yields, and temperature tolerance. The leaves can be grown for baby greens, ready for harvest about 28 days after sowing, or they can be left to fully develop, maturing in 45 to 50 days. Bloomsdale spinach is an open-pollinated variety that can be grown in fields or greenhouses, valued by growers for its slow bolting and continuous yields. Chefs select Bloomsdale spinach for its sturdy, robustly flavored greens, and the leaves can be utilized in a wide array of fresh and cooked preparations.
Nutritional Value
Bloomsdale spinach is a source of vitamin A to maintain healthy organ functioning, vitamin C to strengthen the immune system, and other antioxidants to reduce inflammation while protecting the cells against free radical damage. The greens also provide calcium to build strong bones and teeth, iron to develop the protein hemoglobin for oxygen transport through the bloodstream, fiber to regulate the digestive tract, and additional nutrients, including folic acid, magnesium, manganese, and lutein, a carotenoid that aids in eye health.
Applications
Bloomsdale spinach has an earthy, nutty, and subtly sweet vegetal minerality suited for fresh and cooked preparations. The greens can be harvested in their baby or mature state, and both stages can be tossed into green salads. The textured nature of the leaves holds dressings and oils, providing complex flavors in each bite. Bloomsdale spinach can also be layered into sandwiches, burgers, and wraps, blended into smoothies as an added nutritional boost or shredded into grain bowls. In addition to cooked preparations, Bloomsdale spinach is popularly sauteed, stir-fried, wilted, or steamed. The leaves can be cooked into egg-based dishes, stirred into dips, stir-fried with vegetables, or steamed and served as a simple side dish to main dishes. Bloomsdale spinach can withstand longer cooking times due to its thick, succulent nature, allowing it to be simmered in soups, stews, and curries. It can also be braised, cooked into casseroles, stirred into pasta, or used as a pizza topping. Beyond fresh and cooked preparations, Bloomsdale spinach can be canned or frozen for extended use. Bloomsdale spinach pairs well with aromatics such as garlic, shallots, and caramelized onions, aged cheeses, fruits including persimmons, citrus, and strawberries, meats such as beef, pork, and poultry, seafood, and eggs. Whole, unwashed Bloomsdale spinach will keep 10 to 14 days when wrapped in a paper towel and stored in a container in the refrigerator's crisper drawer. It is important to note that Bloomsdale spinach may hold more grit in its textured leaves. It is recommended to swish the leaves around in a water bath multiple times before using the leaves to remove any lingering debris.
Ethnic/Cultural Info
Bloomsdale spinach was named after David Landreth's farm in Bristol, Pennsylvania. The English businessman moved to North America in 1780 and initially established a seed company in Montreal, Canada. Landreth eventually moved to Philadelphia in 1784 and began testing seed varieties in open fields and greenhouses. In 1789, Landreth's brother, Cuthbert, joined David in his efforts, creating the D. Landreth Seed Company in 1790. During this time, the Landreth brothers experimented with growing seeds from the Lewis and Clark Expeditions, propagating native seeds to the United States, and cultivating artichokes, delivering them to consumers throughout Pennsylvania. The Landreth brothers are considered one of the first creators of a commercial seed company in the United States. In 1824, they purchased their farm in Bristol, Pennsylvania, where they researched and trialed varietals suitable for American gardens. The D. Landreth Seed Company printed one of the first known seed catalogs in the United States, and their notable clientele included Thomas Jefferson, George Washington, John Adams, and James Monroe.
Geography/History
Bloomsdale spinach was developed by David Landreth and his brother at D. Landreth Seed Company, a seed company based in Pennsylvania, in 1826. The history and parentage of the variety are unknown, but Bloomsdale spinach was introduced to the public in D. Landreth Seed Company's annual seed catalog. After its release, Bloomsdale spinach was favored among American growers for its temperature resistance and slow-bolting nature. In 1925, the variety was improved and reintroduced to the market by seed breeders Zwaan and Van der Molen in Voorburg, Netherlands, under the name Long Standing Bloomsdale. The spinach variety won the All-America or AAS Award in 1937 and became a popular home garden variety throughout Europe and the United States. Today Bloomsdale spinach is available through seed catalogs and online seed retailers for home garden use. The variety is also cultivated through select growers and sold through farm stands, farmer's markets, and specialty retailers.
Recipe Ideas
Recipes that include Bloomsdale Spinach. One

is easiest, three is harder.