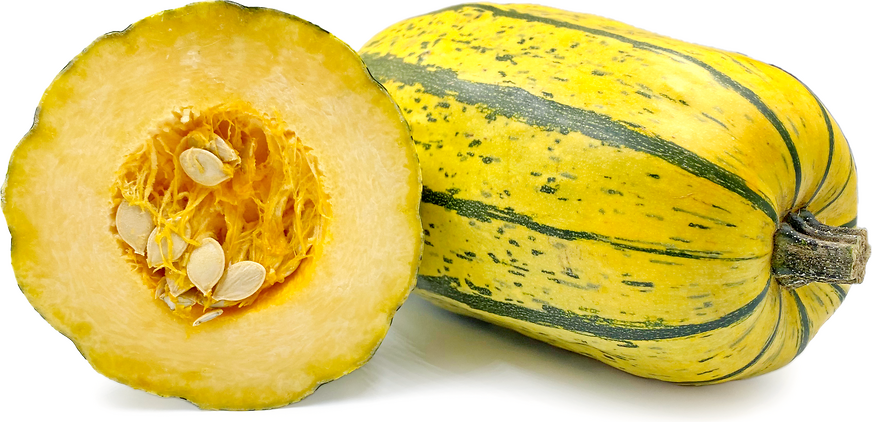 Courge Spaghetti Squash
Inventory, lb : 0
Description/Taste

Courge spaghetti is an elongated winter squash, averaging 20 to 30 centimeters in length and 13 to 15 centimeters in diameter, and is oblong to cylindrical with rounded ends. The smooth, yellow skin may be mottled and streaked with green stripes, depending on the specific variety, or remain a solid bright yellow, and is connected to a rough and fibrous, brown-green stem. Underneath the tough skin, the flesh is thick, dense, aqueous, and pale yellow to yellow-orange, encasing a central cavity filled with stringy pulp and tear-drop shaped, cream-colored seeds. Courge spaghetti, when cooked, separates into long, semi-translucent strings that resemble pasta and have a tender, crunchy consistency with a very mild, sweet, and nutty flavor.


Seasons/Availability

Courge spaghetti is available year-round, with a peak season in the fall through winter.


Current Facts

Courge spaghetti, botanically classified as Cucurbita pepo, is a winter squash variety that belongs to the Cucurbitaceae family. The oblong squashes are widely found around the world and are known by many names, including Vegetable spaghetti, Spaghetti squash, Noodle squash, Mandarin squash, and Vegetable marrow. Courge translates from French to mean squash, and Courge spaghetti is a general term used in local French markets to describe many different varieties of spaghetti squash, encompassing both solid yellow varieties and striped hybrid varieties such as the stripetti squash. Courge spaghetti was introduced to Europe in the 20th century and has been increasing in demand, especially in the last decade, for its high nutritional properties and low-carb nature. As more Europeans are transitioning to healthy, plant-based meals, Courge spaghetti has become a favored alternative to pasta for its noodle-like strands and sweet, nutty flavor.


Nutritional Value

Courge spaghetti is an excellent source of vitamins B6 and B12, potassium, and vitamin A, which is an antioxidant that can help improve vision. The squash is also a good source of fiber which can help stimulate digestion and contains folate, vitamin C, copper, magnesium, iron, calcium, and manganese.


Applications

Courge spaghetti is best suited for cooked applications such as roasting, steaming, boiling, and baking. The squash can be cooked whole or sliced, but caution should be taken when slicing as the skin is very hard and may be difficult to cut. Before consumption, the seeds and central stringy fibers should also be removed, and the flesh can be shredded into a pasta-like consistency once cooked. Courge spaghetti can be used as a noodle substitute and is used in tomato-based pasta dishes, lo mein dishes, stir-fries, and soups. The squash can also be used in casseroles, gratins, enchilada bakes, as a version of ratatouille, shredded and cooked into pancakes or grilled cheeses, tossed cold into green salads, or cubed and roasted similarly to other squashes. Courge spaghetti pairs well with cheeses such as gruyere, parmesan, ricotta, and mozzarella, avocado, lentils, asparagus, green onions, ginger, carrots, celery, herbs such as thyme, sage, oregano, and mint, lemon juice, and pine nuts. The fresh squash will keep 3-6 months when stored whole in a cool, dark, and dry place. Once cut, Courge spaghetti should be wrapped in plastic and refrigerated for 2-5 days.


Ethnic/Cultural Info

In France, Courge spaghetti is most popularly cooked in gratins, which is a French technique that creates a savory crust on the surface of a baked dish using toppings such as breadcrumbs and cheese. Gratins traditionally include rich ingredients such as cream and butter and are often made with thinly sliced potatoes. Gratin de Courge spaghetti is a lighter, healthier version of the dish that replaces the potatoes with squash, or the squash is combined with the sliced potatoes and topped with cheese to create a creamy, hearty meal that can be served as a main or side dish. The vegetable gratin may also include herbs such as basil, parsley, and thyme, ham, eggplant, and chives for added flavor. French gratins are widely used in both restaurants and home cooking across France, and each chef uses varying combinations of ingredients to create dishes with unique textures and flavors while still maintaining the familiar, comfort-evoking qualities of the famous dish.


Geography/History

Courge spaghetti was first recorded in Manchuria, China, in the 19th century, and while the variety's exact origins are unknown, it is known that Courge spaghetti was bred from original squash cultivars that were introduced to China from South America. In the early 20th century, the Sakata Seed Company in Japan developed an improved variety and was the first to market the squash under the name Somen Nankin commercially. W. Atlee Burpee and Co. then brought the squash to North America and sold seeds in their catalog under the name Vegetable spaghetti. The squash was not immediately popular, and it took several years to gain in notoriety, especially during World War II, when it was used as a substitute for pasta at a time when processed foods were harder to obtain. Vegetable spaghetti was also introduced to Europe in the 1980s and was slow to increase in popularity. Today Courge spaghetti, the French name for Vegetable spaghetti, is widely available at farmer's markets, grocers, and through online seed catalogs in North America, Europe, Asia, and Australia.