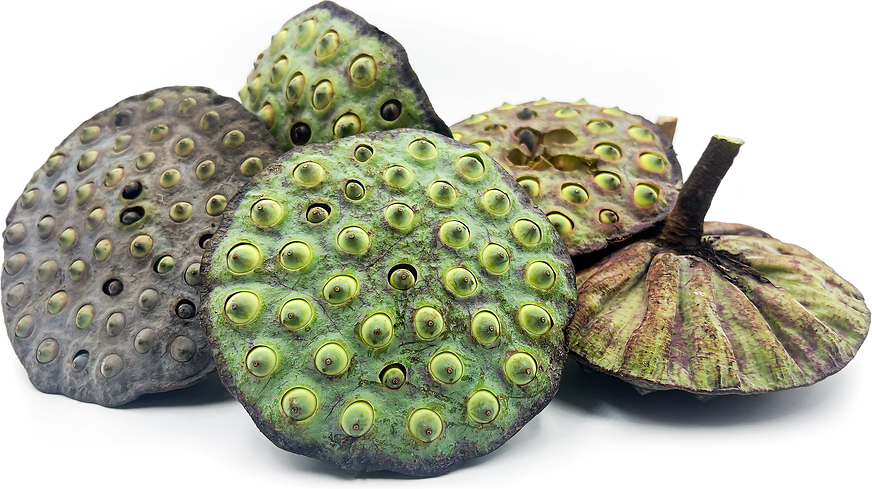 Lotus Seeds
Inventory, lb : 0
Description/Taste

Lotus seeds develop on an aquatic plant that anchors itself into the Earth and produces floating leaves, flowers, and seed pods. The leaf stalks can extend through the water over two meters in length, developing large and flat hydrophobic leaves that float on the surface. Multi-petaled, spreading flowers also rise from the water on upright stalks and can be 30 to 35 centimeters in diameter. When the flowers are pollinated, green pods appear and have a flattened, round face, creating a disc or funnel-like shape with a tapered cone backing. The pods are soft, pliable, spongy, and semi-smooth, containing many small cavities or pits on the flat surface. Oval to ovoid seeds are nestled within each cavity, and the seeds are arranged in a uniform, concentric nature. Each pod can hold around twenty seeds, and the seeds are taut, plump, and chewy when fresh. The seeds have a green epicarp or membrane-like layer when they are young, transitioning into shades of brown-black with maturity. Once the rubbery epicarp is peeled away, a cream-colored to ivory seed is revealed, and this seed is traditionally cut open to remove a pale green plumule or embryonic shoot. These tiny shoots are generally reserved for dried preparations and have a bitter, vegetal taste. Raw Lotus seeds have a neutral, subtly bitter, green, and sweet flavor reminiscent of green almonds and a crisp, succulent consistency. Dried Lotus seeds develop a taste similar to chickpeas and have a chewy, hard, and crunchy texture.


Seasons/Availability

Lotus seeds are generally harvested fresh in the late summer through early fall. Dried seeds are available year-round.


Current Facts

Lotus seeds, botanically a part of the Nelumbo genus, are the seeds of an aquatic plant belonging to the Nelumbonaceae family. The seeds are extracted from upright pods that grow on stalks rising from areas of water and are valued worldwide for their culinary and medicinal uses. The lotus plant has been revered as a symbol of life, rebirth, and enlightenment throughout Asia for thousands of years, and the pink-to-white bloom is the national flower of India and Vietnam. Lotus seeds are also known as Lotus nuts, Lianzi, Hasu, and Renkon, and the most common species that the seeds are harvested from is the Sacred Lotus, Nelumbo nucifera. There are two forms of Lotus seeds sold commercially. The first form is when the seeds are ripe or nearly white, showcasing a green pod with green to ivory seeds. The second form consists of allowing the seed pods to mature, turning the seeds brown, and developing a tougher outer membrane. Lotus seeds can be consumed fried, dried, or in processed preparations, and there are many different varieties of lotus that grow seeds for culinary use. The seeds can be eaten on their own, or they can be dried, ground into a powder, and used as flour in desserts or baked goods.


Nutritional Value

Lotus seeds are a source of magnesium to control optimal nerve functioning, calcium to build strong bones and teeth, fiber to regulate the digestive tract, and vitamin C to strengthen the immune system while reducing inflammation. The seeds also provide varying amounts of manganese to metabolize amino acids, potassium to balance fluid levels, vitamin E to protect the cells against the damage caused by free radicals, and other nutrients, including vitamin A, phosphorus, copper, B vitamins, folate, iron, and zinc. In addition to the seeds, a pale green plumule or embryonic shoot is extracted from the center of the seed. Once extracted, the plumule is dried in the sun and used in medicinal teas. In China, the plumule is known as Lianzixin, or "heart of the lotus seed," and is an element used in Traditional Chinese Medicine to remove heat from the body and lower blood pressure. Throughout Asia, Lotus seeds are ground into a powder, mixed with honey, and drunk to soothe coughs. The seeds are also used to reduce fevers, improve sleep, and nourish the body.


Applications

Lotus seeds have a mild, sweet, and subtly bitter taste suited for fresh and cooked preparations. The seeds can be eaten straight out of hand and are consumed as a crunchy snack. In markets, raw Lotus seeds are traditionally sold in their green pods, which can be broken open when ready for consumption. When eating raw, the green membranes or epicarps should not be consumed. The thin, rubbery layer is peeled from the seed, and the interior green shoot is also removed to improve the seed's natural flavor. Lotus seeds are prone to contamination when fresh, so many choose to dry and cook the seeds. Dried seeds must be soaked overnight to soften, and when ready, the seeds can be added to soups, curries, and congee. In China, Lotus seeds are incorporated into a dish served for newlyweds. Lian chee suan is a sweet soup made from Lotus seeds and red beans. The Lotus seeds symbolize the hope for multiple children, and the red beans represent strength. Consuming the dish is thought to bring newlyweds good luck and blessings for a fertile future. Lotus seeds are also cooked in simple syrups, mixed into honey or jams, or added to sticky rice dumplings. The seeds can be chopped and layered into fried spring rolls, used in noodle dishes, or crystallized and eaten as a crunchy-sweet snack. In East Asia, Lotus seeds are ground into a paste and used in custards, pastries, and other desserts. The paste is famously used to make moon cakes for the Mid-Autumn festival and is also used in bread, cakes, and sauces. Lotus seeds can also be roasted and tossed in spices as a crunchy snack. Lotus seeds pair well with spices such as saffron, nutmeg, cinnamon, chaat masala, and chile powder, bell peppers, mushrooms, coconut oil, vanilla, and nuts such as walnuts, pecans, and almonds. Whole, unpeeled Lotus seeds will keep up to one week when stored in a sealed container in the refrigerator, but it is recommended to immediately consume for the best quality and flavor. Dried Lotus seeds will keep for a few months when placed in a container in a cool, dry, and dark place.


Ethnic/Cultural Info

Legend has it that Xi Shi, one of the Four Great Beauties in Chinese history, became a Lotus Fairy. The Great Beauties were four women in China who were rumored to have been so entrancing that they attracted the attention of powerful rulers, altering Chinese history. Xi Shi was thought to have lived some time in the 7th and 6th centuries BCE and resided in Zhuji, the capital of the Yue kingdom. Among the Great Beauties, Xi Shi is often labeled the fairest of them all, and she was so beautiful that when she would gaze upon fish in a pond, the fish would forget how to swim and sink to the bottom. Writers have also depicted Xi Shi in descriptions noting that her beauty was so apparent that the "moon and flowers felt embarrassed..." meaning that her beauty could even outshine nature. Rumors of Xi Shi's beauty quickly spread throughout the kingdom, and eventually, Goujian, the king of Yue, heard of Xi Shi's appearance. Goujian had recently been captured by the Wu king, and after several years of servanthood, he was set free. Goujian returned to Yue and devised a plan for revenge. The king trained Xi Shi for several years to become a groomed, well-rounded lady, and when she was finally ready, he sent her to the Wu king. The Wu king was immediately enamored with Xi Shi and began to abandon his military duties to spend time with Xi Shi. The Wu kingdom eventually fell to the Yue kingdom with the help of Xi Shi. After Goujian's victory, there are several theories as to the fate of Xi Shi. One theory recounts that Goujian had Xi Shi tied to a rock and thrown into a lake, where she drowned. The king was afraid that her power was too strong and that he might also fall victim to her beauty, threatening his kingdom. Upon her death, Xi Shi was transformed into a Lotus Fairy. In the lower regions of the Yangtze River in the present day, Xi Shi is celebrated each year at Guan Lian Jie, meaning the "Watching Lotus Festival." The Lotus festival is held on the 24th day of the sixth month in the Chinese lunar calendar and is supposedly the birthday of Xi Shi, the Lotus Fairy. During the festival, visitors walk around pounds filled with Lotus plants, marveling at their beauty. Lotus seed desserts, pastries, and dishes are also served to enjoy the many edible elements of the plant. At night, lanterns in the shape of Lotus flowers are lit and floated onto the water, granting wishes of good fortune, love, and beauty.


Geography/History

Lotus plants are a part of the Nelumbo genus, a classification of aquatic perennials native to tropical and semi-tropical regions of Asia. Plants within the Nelumbo genus have been growing wild since ancient times, and high concentrations of Nelumbo nucifera are present in India and China. Lotus plants have been recorded in culinary, medicinal, and cultural traditions for thousands of years, and the genus spread worldwide through human introduction and cultivation. Lotus plants were depicted in ancient Egyptian artwork as a symbol of life, and from Egypt, the species spread to the Middle East. The plants were also carried from China to Japan, where they were planted in home landscapes, botanical gardens, and natural bodies of water. The oldest recorded Lotus seed was found in a dry lakebed in Manchuria, China. Seven seeds were sent from the Beijing Institute of Botany to a scientist in Southern California in 1982, and in 1983, four seeds were germinated. Three of the four seeds sprouted within four days, and the sprouts were carbon-dated to be 684 to 1,288 years old. Later in 1994, one of the seeds was dated to be 1,300 years old. Today Lotus plants thrive in ponds, lakes, slow-moving rivers, deltas, and flood plains. The plants have naturalized in habitats worldwide and are also commercially produced for their seeds, flowers, rhizomes, and leaves, especially in Asia, the South Pacific, Australia, and South America. China is the largest producer of Lotus seeds, and the seeds are sold fresh and dried domestically and internationally. Within China, Lotus seeds are mainly produced in Fujian, Hubei, Jiangxi, and Hunan provinces. When in season, fresh Lotus seeds are sold through fresh markets in their growing regions. Dried or processed seeds are sold through distributors, online retailers, and grocers worldwide.