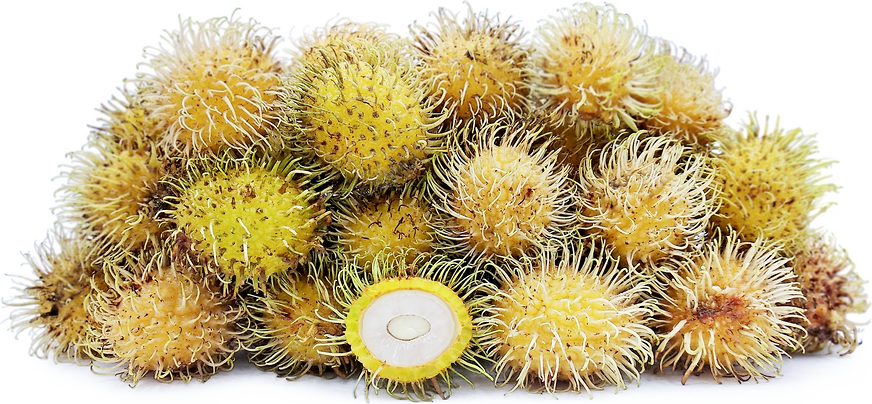 Kuning Gading Rambutan
Inventory, lb : 0
Description/Taste

Kuning rambutan is small to medium in size, averaging 3-5 centimeters in diameter, and is ovate, oval, to globose in shape, growing in clusters of 10-13 fruits. Larger than red rambutan varieties, the thin, flexible, and easily-peeled rind of the Kuning rambutan transforms from green to yellow when mature and has a leathery texture. Surrounding the rind are many slender, soft, white to pale yellow spines known as spinterns that cover the surface and protrude in every direction at varying lengths, creating the appearance of "hair." Underneath the rind, the flesh is smooth, juicy, and tender, ranging in color from translucent to white, and encases a central, small to medium-sized, oblong seed that is tightly adhered in the flesh. Kuning rambutan has a neutral, semi-sweet, and aromatic flavor with mild acidity.


Seasons/Availability

Kuning rambutan is available year-round in Southeast Asia, with some regions experiencing multiple harvests in the early summer and winter.


Current Facts

Kuning rambutan, botanically classified Nephelium lappaceum, are unique, hairy fruits found on the branches of tropical, evergreen trees that can reach up to twenty-five meters in height and belong to the Sapindaceae or soapberry family. Also known as the Gading rambutan, Kuning rambutan is native to the tropical forests of Indonesia and Malaysia and gets its name from 'rambut,' which is the Malay word for hair. Kuning rambutan is rare outside of Southeast Asia and is not commercially cultivated on a large scale, but the fruit is favored for fresh eating by Southeast Asian locals for its neutral flavor, cooling texture, and juicy nature.


Nutritional Value

Kuning rambutan contains fiber, calcium, vitamin C, potassium, magnesium, and some iron.


Applications

Kuning rambutan is best suited for fresh eating. The rind can be easily torn by hand or sliced, the seed removed, and the flesh can be consumed raw, out-of-hand. In addition to fresh eating, the flesh can be sliced and mixed into tropical fruit salads or muddled into cocktails. The fruit can also be cooked and served as a dessert, made into jellies and jams, or canned and preserved in a sweet, simple syrup. The seeds are also edible once cooked and have a nutty, slightly bitter corn-like flavor when roasted. Kuning rambutan pairs well with other tropical fruits such as coconut, kiwi, pineapple, mango, mangosteen, and dragonfruit, lemons, limes, and ginger. The delicate fruit will only keep up to three days when stored at room temperature.


Ethnic/Cultural Info

In Southeast Asia, Kuning rambutan is predominately grown for local consumption and is prevalent at local markets when in season. Harvested by hand in the wild by removing the branches or cultivated in small groves known as dunsun, Kuning rambutan is favored by locals in Malaysia for fresh consumption as the fruit's juicy nature is believed to help cool the body from the hot, humid climate. The fruit is also used in traditional medicine to help reduce fevers. In addition to culinary and medicinal uses, some regions of Malaysia utilize the seeds to produce a solid, cocoa butter-like substance that is used to make household goods such as candles or soaps.


Geography/History

Kuning rambutan is believed to be native to the Malay Archipelago, but the exact origin is unknown as the fruit has been cultivated since ancient times. Today the yellow fruit is mainly found in Southeast Asia, grown on a small scale for domestic use, but the seeds may have been spread via trade allowing gardeners to grow the variety in home gardens and on small farms in Asia including India and China.