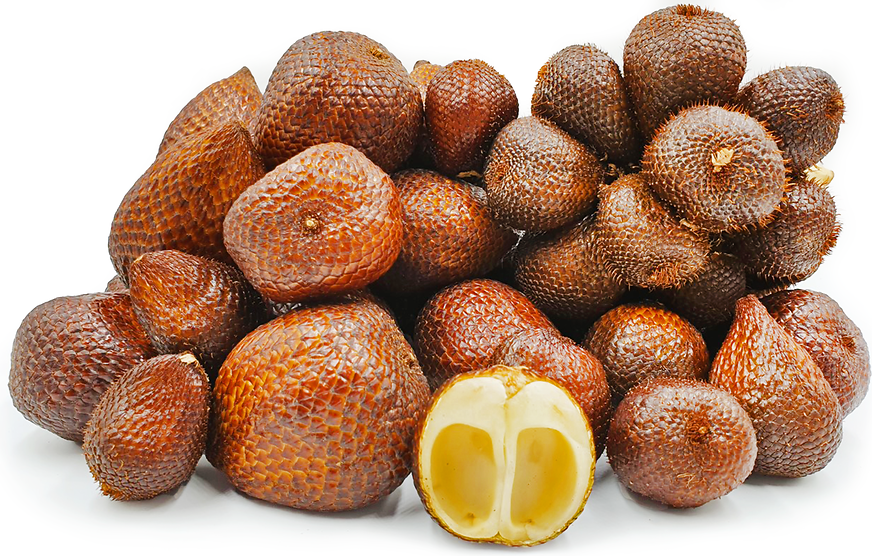 Pondoh Salak
Inventory, lb : 0
Description/Taste
Salak Pondoh is a general descriptor for three large salak varietals, averaging 2 to 8 centimeters in diameter. The fruits have a teardrop, fig-like shape, showcasing a broad bulbous base that tapers to a narrow, pointed top. Salak's skin is thin, slightly rough, and brittle, easily peeled from the fruit's flesh. The skin is also covered in a shiny, brown scale-like pattern, found in shades of red-brown, golden brown, to golden yellow. These scales can be smooth or sometimes covered in prickly spikes. Underneath the snake-like skin lies 2 to 3 white to yellow lobes, similar in texture and appearance to large garlic cloves. The flesh is crisp, aqueous, and firm with a chalky, apple-like crunch, and each lobe encases one large brown, inedible seed that does not adhere to the flesh. Salak Pondoh is known for its heady, tropical aroma reminiscent of a blend of pineapple, banana, and apple-like notes and has a balanced, sweet, and sour, tangy flavor.
Seasons/Availability
Salak Pondoh is available year-round, with a peak season from May to December.
Current Facts
Salak Pondoh, botanically classified as Salacca zalacca, is the fruit of a tropical palm belonging to the Arecaceae family. The bulbous, teardrop-shaped fruits grow in clusters at the base of a small thorny palm native to Indonesia, and the palms thrive in tropical growing regions. There are over thirty varieties of salak found throughout Southeast Asia, and Salak Pondoh is one of the most popular varieties in Indonesia. The fruits are also known as Snake fruits, named for their scaly exterior, and are widely planted in Indonesia for commercial cultivation. Salak Pondoh is famous for its large size, intense aroma, and thick, sweet-tart flesh. The variety is also highly productive, making it favorable among commercial growers for local sale and export. Salak Pondoh is typically consumed fresh, out of hand, but the crisp and refreshing fruits can also be incorporated into salads and dessert preparations. In Indonesia, there are three variations of Salak Pondoh that are sold under the general Salak Pondoh name or separate names, including Salak Pondoh Super, Salak Pondoh Hitam, and Salak Pondoh Kuning. These three variations are considered superior to other salak varieties grown in Indonesia and are widely sought after for their varying texture, flavor, and appearance.
Nutritional Value
Salak Pondoh is a source of potassium to balance fluid levels within the body, fiber to regulate the digestive tract, and vitamin C to strengthen the immune system while reducing inflammation. Salak also provides other nutrients such as calcium to protect bones and teeth, beta-carotene to be converted into vitamin A in the body, and iron to develop the protein hemoglobin for oxygen transport through the bloodstream. In addition to vitamins and minerals, Salak Pondoh is known for its antidiarrheal properties and is consumed as a natural remedy against digestion issues. It is important to note that while eating the fruits can help with diarrhea, consuming too many fruits can cause constipation. Salak Pondoh should be eaten in moderation.
Applications
Salak Pondoh has a balanced, sweet, and tangy flavor well suited for fresh preparations. The variety is favored for its intense aroma, thick, crisp flesh, and tangy tropical flavoring, traditionally eaten straight, out of hand to appreciate the smell, texture, and flavor. The fruits can be peeled by pinching the tip of the fruit and gently sloughing off pieces of the skin to reveal the white flesh. Once peeled, the fruits can be eaten as a snack, sliced into green salads and fruit bowls, or pickled and chopped into rujak, an Indonesian sweet and spicy side vegetable dish. Salak Pondoh can also be sliced thin and fried into chips, canned in sweet syrups, or candied. In Indonesia, Salak Pondoh is sometimes incorporated into jenang, a treasured dish of porridge served with coconut milk. Jenang is customarily served during an Indonesian festival in February and is consumed as a symbol of hope. Beyond culinary dishes, Salak Pondoh has also been made into wine. Salak Pondoh pairs well with other fruits such as jackfruit, mangos, pineapple, and longan, coconut milk, pandan leaves, and chile peppers. Whole, unpeeled Salak Pondoh will keep one week at room temperature and 1 to 3 weeks when stored in the refrigerator.
Ethnic/Cultural Info
Salak Pondoh gets its name from the fruit's sweet and sour flavor. Indonesians have compared the salak's flavor to a top portion of a palm tree, also known as pondoh, which is considered an edible portion of the trunk. The pondoh palm trunk is said to have a flavor similar to the taste of Salak Pondoh, leading local Bangunkerto villagers to name the salak fruit Pondoh to distinguish it from other varieties. Salak Pondoh is highly favored among the villagers of Bangunkerto, and the variety is considered native to the village. In the modern-day, Bangunkerto, located in the District of Sleman, has established an Agro Tourism Site centered around Salak Pondoh. The idea of Agro Tourism was planted in the villager's minds in 1988, and by 1994, the site was opened. The Bangunkerto Agro Tourism Village spans 27 hectares of land, and there are over seventeen different species of salak being cultivated, with Salak Pondoh being the most planted of the varieties. The Agro Tourism Center attracts locals and tourists worldwide to learn about salak and the different varieties and sample the fruits. The center also allows visitors the opportunity to pick the fruits directly from the palms, a popular attraction among Indonesian families and friends.
Geography/History
Salak Pondoh is native to Java, Indonesia, and was developed in the Sleman Regency, a region north of the Yogyakarta Special Administrative Region and along the slopes of Mount Merapi, an active volcano that still regularly erupts. Experts trace the variety's introduction specifically into the village of Bangunkerto in the District of Sleman. According to residents of Bangunkerto, the Dutch colony authority gave the villagers snake fruit trees as a gift of gratitude in 1935. The trees were planted, and once they began to produce fruit, Bangunkerto was encouraged by a man named Mr. Sudibyo to expand production and commercially cultivate the fruits for income. Salak production in the District of Sleman quickly developed, and by the 1980s, several different cultivars of salak had been created, including Salak Pondoh. Over time, Salak Pondoh emerged to be a consumer favorite, valued for its large size, thick flesh, and balanced, sweet, and tangy flavor, and the snake fruits were spread in cultivation across Java into Di Yogyakarta, East Java, Kalimantan, Riau, Central Java, Jakarta, Banten, and Sumatra. Today Salak Pondoh is one of the most popular types of salak commercially cultivated in Indonesia, and the most concentrated production occurs in Sleman and Di Yogyakarta. Salak Pondoh can be found through farm stands or local markets in Indonesia. The fruits are also exported and transported to other countries in Southeast Asia and Asia, including China.
Recipe Ideas
Recipes that include Pondoh Salak. One

is easiest, three is harder.