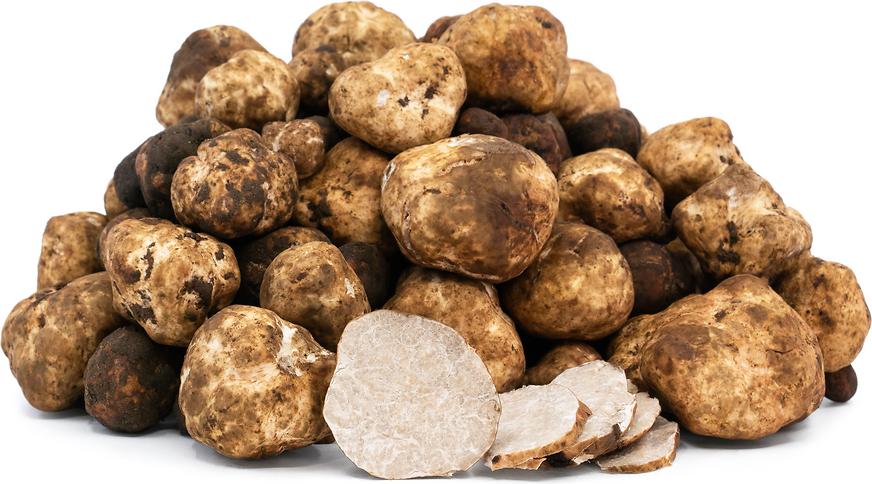 White Oregon Truffles
Inventory, lb : 0
Description/Taste
Oregon White truffles widely vary in appearance, depending on growing conditions, and are generally small, averaging 2 to 5 centimeters in diameter. The truffles are typically molded by stones in the soil, creating a roughly spherical, lumpy, and lopsided exterior. The surface of the truffles ranges in color from light brown, red-tan, to cream-colored, darkening with age, and is semi-smooth with textured furrows, bumps, and crevices. Underneath the surface, the flesh is spongy with a dense, chewy consistency and showcases pale grey hues marbled with white webbing and veins. Oregon White truffles emit a robust, musky aroma with cedar and nutmeg nuances. The flesh also bears a distinct floral and herbal flavoring reminiscent of garlic, woody herbs, and earthy spices.
Seasons/Availability
Oregon White truffles are available in the winter through early summer.
Current Facts
Oregon White truffles, botanically a part of the Tuber genus, are a North American variety belonging to the Morchellaceae family. There are two species generally categorized under the Oregon White truffle name, Tuber oregonense and Tuber gibbosum. Both species are comparable in flavor and appearance and are considered similar enough to be sold interchangeably. Tuber oregonense arrives at markets in the early winter through early spring and is commonly known as Oregon Winter White truffle. Tuber gibbosum is known as the Oregon Spring White truffle and arrives in markets later than Tuber oregonense, around the late winter through early summer. Oregon White truffles are relatively unknown compared to the famous European truffles, but as the demand for truffles increased in the culinary world and the European truffle supply decreased in the 20th century, chefs turned to Oregon White truffles as a modern alternative. The umami-packed truffles are utilized in both sweet and savory preparations. Oregon White truffles impart a distinctly earthy, garlicky, and herbal flavor that chefs seasonally incorporate as a finishing element to add a unique depth of flavor to dishes.
Nutritional Value
Oregon White truffles are not traditionally viewed as a nutritional source as they are used sparingly in culinary dishes. The truffles contain some vitamin C to strengthen the immune system, fiber to regulate the digestive tract, and calcium and phosphorus to protect bones and teeth. The fungi are also a source of some iron, magnesium, vitamins B1 and B2, manganese, and antioxidants to protect the cells against free radical damage.
Applications
Oregon White truffles have a distinct floral and herbal flavor well suited for both raw and lightly cooked preparations. The truffles quickly lose their aroma when heated too long and are recommended to be added at the end of the cooking process as a finishing element. Oregon White truffles should also be cleaned before use, and it is recommended to brush or wipe the surface rather than rinsing underwater as moisture will cause the fungus to rot. Once cleaned, the truffles can be shaved, grated, slivered, or thinly sliced, infused into dishes for added flavor. Oregon White truffles can be folded into butter, infused into oils and honey, or combined with cream-based sauces. The fungi have a robust aroma that complements neutral ingredients such as rice, pasta, and potatoes, and the truffles are frequently used in dishes including gratins, mashed potatoes, casseroles, and macaroni and cheese. Oregon White truffles can also be incorporated into ice cream, shaved fresh over pasta, pizza, and risotto, or grated over roasted meats, soups, and root vegetables. Shavings of the truffle can be stirred into fondue, lightly sprinkled across broiled seafood, or layered into burgers and sandwiches. Oregon White truffles pair well with soft and hard cheeses, aromatics such as garlic, shallots, and onions, nuts such as hazelnuts, pistachios, and almonds, leeks, potatoes, squashes, cauliflower, herbs such as basil, chervil, and tarragon, seafood, meats such as beef, pork, poultry, and turkey, and caramel. Whole, unwashed Oregon White truffles will keep up to one week when wrapped in a paper towel or moisture absorbent cloth and stored in a sealed container in the refrigerator's crisper drawer. The truffle should remain dry for the best quality and flavor. If keeping for more than three days, replace the paper towel regularly to prevent moisture build-up as the fungus will naturally release moisture as it is stored. The truffle can also be stored in a container of rice, and over time, the rice will become subtly infused with the truffle's aroma. Oregon White truffles will generally last between 3 to 14 days, depending on storage and care of the fungi.
Ethnic/Cultural Info
In 1976, James Beard famously declared Oregon black and white truffle varieties as desirable as European truffles for culinary use. Beard was an American chef, author, and television show host who championed American gastronomy. Beard was also an advocate for eating local produce and grew up in Oregon, a combination that spurred his affection for Oregon truffles. Beard's legacy of sustainable food continues into the modern-day through the James Beard Foundation, a nonprofit organization to support and celebrate America's food culture. In 2019, the foundation hosted an Oregon Truffle Feast, a multi-course dining experience centered around ingredients unique to Oregon. Black and white truffles were incorporated into every dish served during the event, and Chef Matt Bennett infused the umami-filled fungi into French-inspired Northwest cuisine. Dishes served during the feast included radishes with white truffle butter, white truffle pheasant breast, and a wild mushroom, parsley, and white truffle verjus.
Geography/History
Oregon White truffles are native to North America and are typically found at the base of douglas fir trees, growing wild since ancient times. They can also sometimes be discovered beneath beech, oak, pine, and fir trees. The truffles thrive in damp forests spanning Northern California, the Pacific Northwest, and British Columbia, west of the Cascade Mountains. Oregon White truffles form a symbiotic relationship with the roots of the trees and are found approximately 15 to 30 centimeters below the soil's surface. If the truffles are harvested sustainably, they will reappear in the same location in the wild and are detected using trained truffle dogs. Oregon White truffles have also been studied for commercial production, first tested, and grown in the 1980s. Many of the truffle farms in the Pacific Northwest cultivate the truffles on Christmas tree farms, and domesticated truffle plantations in Oregon owe their success to Frenchman Gérard Chevalier, who first inoculated tree saplings with microscopic truffles in a lab in the 1970s. Today Oregon White truffles are still found in their native growing region and are exported worldwide for culinary use. They are also being cultivated in regions such as the Willamette Valley in Oregon. When in season, the truffles are commonly sold through specialty grocers, farmer's markets, and high ends grocers.
Recipe Ideas
Recipes that include White Oregon Truffles. One

is easiest, three is harder.