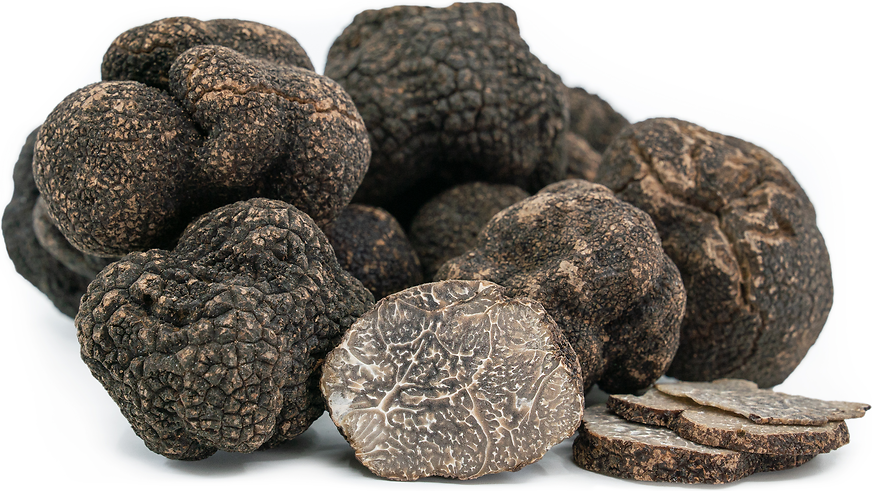 Perigord Truffles
Inventory, lb : 0
Description/Taste
Perigord truffles widely vary in size and shape, and each truffle will have a unique appearance. The fungi are typically molded by stones in the soil and generally reach up to ten centimeters in diameter with a rounded, lumpy, and lopsided exterior. The truffle's surface ranges in color from brown-black, dark brown, to gray-black and is textured, covered in many small protrusions, bumps, and crevices. Underneath the surface, the flesh is spongy, black, and smooth, marbled with white spider veining. Perigord truffles bear a pungent, musky aroma that is likened to a combination of garlic, forest floor, nuts, and cocoa. The truffle's flesh contains a robust, subtly sweet, savory, and earthy flavor with notes of pepper, mushrooms, mint, and hazelnut.
Seasons/Availability
Perigord truffles are available in the winter through early spring.
Current Facts
Perigord truffles, botanically classified as Tuber melanosporum, are an extremely rare fungus belonging to the Tuberaceae family. The black truffles are native to Southern Europe, growing naturally for thousands of years, and are found underground primarily near the roots of oak and hazelnut trees, sometimes near birch, poplar, and chestnut trees in select forests. Perigord truffles take years to fully develop and are only suited to temperate regions with specific terroir. In forests, the edible fungus cannot be easily detected above ground, but once harvested from the earth, they bear an unmistakable, robust fragrance and provide rich, earthy flavors in culinary dishes. Perigord truffles are considered to be one of the most prized and sophisticated flavorings used by chefs. The truffles are not widely available, contributing to their luxurious, exclusive nature, and the fungus imparts an earthy, umami-filled flavor suitable for a wide variety of creamy, rich, and hearty preparations. Perigord truffles are also known throughout Europe as the Black Winter truffle, French Black truffle, Norcia truffle, and Black Diamond truffle and are sold in limited quantities worldwide.
Nutritional Value
Perigord truffles are a source of antioxidants that help protect the body against cell damage and contain vitamin C to strengthen the immune system and reduce inflammation. The truffles also provide some fiber, calcium, phosphorus, iron, manganese, and magnesium.
Applications
Perigord truffles are best used sparingly in raw or lightly heated applications, typically shaved, grated, slivered, or thinly sliced. The truffle's umami flavor and aroma complement dishes with fatty, rich elements, wine or cream-based sauces, oils, and neutral ingredients such as potatoes, rice, and pasta. The truffles should be cleaned before use, and it is recommended to brush or wipe the surface rather than rinsing under water as moisture will cause the fungus to rot. Once cleaned, Perigord truffles can be shaved fresh as a finishing flavor over pasta, roasted meats, soups, and eggs, or thin slices can be placed under the skin of poultry or turkey and cooked to impart an earthy flavor. Perigord truffles can also be mixed into sauces for added flavor, folded into butter, cooked with sugar and frozen into ice cream, or infused into oils and honey. In France, slivered Perigord truffles are sprinkled over butter and salt and served on fresh bread as a decadent appetizer or side dish. It is important to note that cooking Perigord truffles will intensify their flavor and aroma, and a little slice of truffle goes a long way in culinary dishes. Perigord truffles pair well with aromatics such as garlic, shallots, and onions, herbs such as tarragon, basil, and arugula, seafood such as scallops, lobster, and fish, meats including beef, turkey, poultry, venison, pork, and duck, cheeses such as goat, parmesan, fontina, chevre, and gouda, and vegetables such as celery root, potatoes, and leeks. Fresh Perigord truffles will keep up to one week when wrapped in a paper towel or moisture absorbent cloth and stored in a sealed container in the crisper drawer of the refrigerator. It is important to note that the truffle should remain dry for the best quality and flavor. If keeping for more than a couple of days, replace the paper towel regularly to prevent moisture build-up as the fungus will naturally release moisture as it is stored. Perigord truffles can also be wrapped in foil, placed in a freezer bag, and frozen for 1 to 3 months.
Ethnic/Cultural Info
Perigord truffles are named after Perigord, France, a truffle-growing region within Dordogne, one of the country's largest departments, known for its picturesque landscapes, truffles, and castles. During truffle season, Perigord residents host tourist-based events centered around the Perigord truffle. Visitors can tour truffle farms and learn about the terroir, growth-cycle, and the process of harvesting the truffles using skillfully trained dogs that can smell the fungus, a method used since the 18th century. Tourists can also attend truffle-themed cooking classes, truffle markets, and sample many different dishes with truffles in local restaurants. In Sorges, a village just outside Perigord, a museum known as the Ecomusee de la Truffe is entirely dedicated to the fungus. The museum was opened in 1982 and features interactive exhibits to understand the history, cultivation, and culinary significance of the truffle.
Geography/History
Perigord truffles are native to Southern Europe and have been growing wild since ancient times. Truffles were mentioned in Greek and Roman folklore, and in the Middle Ages, the fungus was used to flavor dishes among the working class in Europe. Perigord truffles remained mostly a peasant food until the 17th century when King Francis I began using the fungus in his meals, rebranding the truffles as an ingredient strongly associated with European nobility. In the modern-day, Perigord truffles are primarily grown in France, Spain, and Italy, and many of the truffles sourced are exported to gourmet markets worldwide. Outside of France, Italy, and Spain, the truffles are foraged on a smaller scale in Croatia and Slovenia. In the 1970s, a method of inoculating hazelnut and oak trees with truffle mycelium in France expanded the production of Perigord truffles to regions of North America, South Africa, Australia, and New Zealand. Despite their expanded production, Perigord truffles are still considered very rare, taking years to develop, and can be found in limited supply through select growers and distributors worldwide. The Perigord truffles available at Specialty Produce were sourced through Sabatino Tartufi, a family-owned truffle manufacturer, importer, and distributor with production regions in West Haven, Connecticut, and Umbria, Italy.
Recipe Ideas
Recipes that include Perigord Truffles. One

is easiest, three is harder.
the other 3...