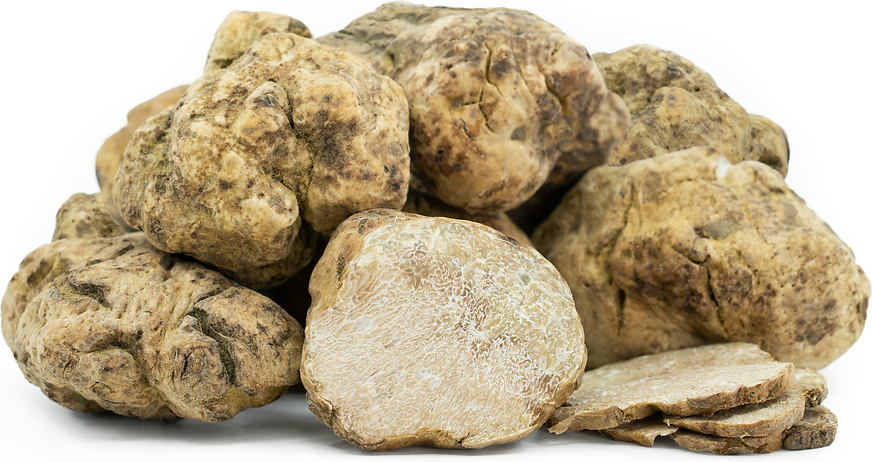 Italian White Winter Truffles
Inventory, oz : 0
Description/Taste
Italian White Winter truffles widely vary in size and shape, depending on climate, weather, and soil composition. In rich, softer soils, the truffles will develop a more uniform, round, and slightly flattened shape, while rocky or stony soils will create truffles with a lopsided, irregular appearance with several bumps and protrusions. The truffle's surface is semi-smooth, textured, and firm, ranging in shades of ivory, light brown, and yellow with dark brown spots that appear with maturity. Underneath the surface, the truffle's flesh is spongy, tender, and fresh, showcasing translucent brown-grey hues marbled with thin, white to cream-colored veins. Italian White Winter truffles are known for their robust, complex aroma, which has been said to be a combination of earthy, nutty, and garlicky notes with cheesy, musky, and spice-forward undertones. The truffle's scent is one of the major contributing elements for culinary dishes, but the flesh also shares a similar flavor profile when consumed, emitting a delicate blend of savory, woodsy, and umami-filled nuances.
Seasons/Availability
Italian White Winter truffles are available for a short season in the late fall to mid-winter.
Current Facts
Italian White Winter truffles, botanically classified as Tuber magnatum Pico, are a rare underground fruiting body valued for its robust aroma, belonging to the Tuberaceae family. The wild truffle has been naturally growing for thousands of years and is one of the few truffle species that cannot be commercially cultivated. Italian White Winter truffles are seasonally hunted in the winter throughout Northern Italy and are also known as Alba truffles and Piedmont truffles. The truffles are one of the most expensive culinary ingredients, with their value changing each season depending on the harvest size, the truffle's weight, and overall appearance. In 2007, a White truffle, averaging approximately 3.3 pounds, was purchased by businessman and casino owner Stanley Ho for around $300,000. Later in 2014, the largest White truffle ever discovered, weighing over 4 pounds, cost $61,250 and was purchased by a Taiwanese businessman. Italian White Winter truffles are a symbol of culinary luxury and are shaved fresh over dishes to impart earthy, pungent, and rich flavors to enhance the sensory dining experience.
Nutritional Value
Italian White Winter truffles are not traditionally viewed as a nutritional source as they are used sparingly in culinary dishes, but they have been known to contain low amounts of fiber to regulate the digestive tract, calcium and phosphorus to strengthen bones and teeth, and vitamin C to boost the immune system. The truffles are also a source of some iron, magnesium, vitamins B1 and B2, manganese, and antioxidants to protect the cells against free radical damage.
Applications
Italian White Winter truffles are valued by chefs for their robust aroma and delicate flavor. It is important to note that Italian White Winter truffles should be used fresh as the truffle's scent, comprised of volatile compounds, is destroyed when cooked. Most chefs prefer to shave, grate, sliver, or thinly slice the truffle as a finishing element over dishes, lightly warming but not cooking the pieces to enhance the sensory experience. The truffle's umami, earthy, and musky scent complements dishes with fatty, rich elements, wine or cream-based sauces, oils, and neutral ingredients such as potatoes, rice, and pasta. The truffles should be cleaned before use, and it is recommended to brush or wipe the surface rather than rinsing under water as moisture will cause the fungus to rot. Once cleaned, Italian White Winter truffles can be shaved fresh as a finishing element over salad, pasta, roasted meats, soups, and eggs, or they can be mixed into risotto, mashed potatoes, macaroni and cheese, and polenta. Italian White Winter truffles can also be integrated into sauces for added flavor, infused into oils, honey, and salts, frozen into ice cream, or incorporated into homemade aioli. In Italy, the truffles are popularly folded into butter, spread over warm bread, mixed into vegetables, or stuffed under the skin of poultry and turkey. Italian White Winter truffles pair well with cheeses such as parmesan, fontina, and parmigiano-reggiano, seafood such as lobster, crab, and scallops, meats including poultry, turkey, veal, and beef, leeks, garlic, sweet potatoes, winter squashes, and herbs such as tarragon, basil, and chervil. White truffles will keep up to one week when wrapped to absorb excess moisture and stored in a ventilated container. It is recommended to use the truffles within 2 to 3 days for the best quality and flavor. The truffles can also be stored with eggs and will infuse a faint earthy flavor into the yolks and egg whites.
Ethnic/Cultural Info
In Italy, White Winter truffles are also known as Trifola d'Alba Madonna, meaning "Truffle of the white Madonna," and are annually honored at the Tartufo Bianco D'Alba or International White Truffle Fair of Alba. The month-long festival is held in early October or November and is a gathering to unite white truffle enthusiasts. During the event, Italian White Winter truffles are harvested and sold each day in the World Truffle Market, along with locally made pasta, wines, chocolate, nuts, and other home goods. The market attracts international visitors and buyers from around the world, and vendors offer samples, food and wine pairing suggestions, and a sensory lesson on how to best enjoy the aroma of White Winter truffles. There are also live cooking demonstrations where chefs share their own personal tips to incorporate White Winter truffles into a wide array of culinary dishes. Outside of the World Truffle Market, restaurants throughout the Piedmont region feature the luxury truffle in signature dishes to attract visitors. One of the most iconic dishes of the Piedmont region is tajarin, a dish comprised of thinly sliced egg yolk pasta noodles coated in butter and herbs. There are several recipes to make the pasta dough, with some requiring the use of over thirty red egg yolks. Red egg yolks are gathered from chickens given a special diet of items such as annatto seeds, red peppers, and paprika. Tajarin is traditionally known as a rich dish, and Italian White Winter truffles further accentuate the dish's decadent nature when shaved and infused into the butter sauce. Italian White Winter truffles are also popularly shaved over carpaccio all'Albese, a raw beef dish seasoned with salt, pepper, cloves, lemon, and garlic, served with truffles, arugula, and parmesan cheese.
Geography/History
Italian White Winter truffles are native to Northern Italy and select areas of Croatia and have been naturally growing since ancient times. The truffles were revered as an aphrodisiac among early civilizations and were used in culinary preparations throughout the Roman Empire. One of the first written records of the rare truffles was documented in 1780 in Milan. Italian White Winter truffles are primarily found growing in forests in the fertile Piedmont region of Italy and thrive among the roots of poplar, oak, beech, hazel, and willow trees. The truffle's appearance is dependent on the type of soil it is grown in, with softer soils producing larger, rounder truffles. Today Italian White Winter truffles are considered one of the rarest wild truffles, and the seasonally hunted cultivar is gathered from areas including Langhe, Monferrato, Roero, Asti, Marche, Umbria, and Tuscany. Once collected, the truffles are sold quickly through local markets and worldwide through online retailers.
Recipe Ideas
Recipes that include Italian White Winter Truffles. One

is easiest, three is harder.