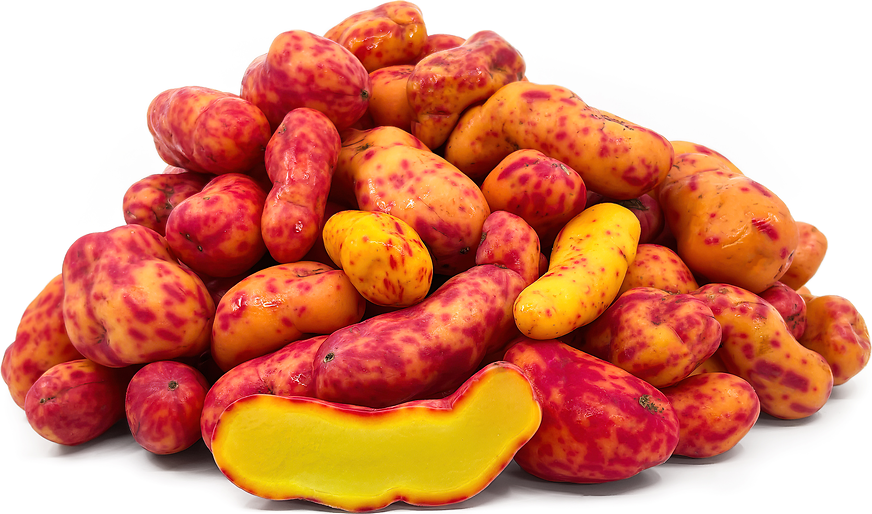 Ulluco Tubers
Inventory, lb : 0
Description/Taste
Ulluco tubers widely range in size and appearance, depending on the specific variety and growing conditions, but are generally small, averaging 2 to 7 centimeters in diameter, and can grow up to 15 centimeters in length. The tubers appear in straight, oval, to round shapes with blunt to pointed ends, or they can be curved, twisted, or elongated. The skin is thin, smooth, glossy, and waxy and is easily scratched, scarred, or bruised. The skin also showcases bright fuchsia, yellow, orange, green, red, to purple hues, either found solid or covered in spots and splotches. Underneath the surface, the flesh ranges in color from yellow to white and has high water content, developing a succulent consistency. Ulluco will vary in texture and flavor depending on the variety. Some cultivars have a firm, crisp, and watery flesh, while other types may exhibit a softer but dense, mucilaginous texture. Ulluco tubers can be used raw or cooked and have an earthy, subtly nutty, and musky flavor often likened to the taste of beetroot combined with potatoes. The leaves are also edible and have a mild, vegetal, and green flavoring.
Seasons/Availability
Ulluco tubers are available in the fall through winter.
Current Facts
Ulluco, botanically classified as Ullucus tuberosus, is a species of South American tubers belonging to the Basellaceae family. The smooth, waxy tubers grow underground, maturing in approximately 180 to 220 days, and above ground, an herbaceous, leafy plant extends over 91 centimeters in length and 30 to 50 centimeters in height. The name Ulluco is derived from the Quechua word "ullucu," meaning "tuber," and is an ancient species that has been domesticated in the Andean highlands for thousands of years. Ulluco tubers are the second most consumed tuber in South America after the potato, and the tubers are valued for their earthy flavor, firm consistency, and brightly colored nature. There are many regional names for Ulluco, including Papa Lisa, Lisa, Melloco, Ulluku, and Ulluma, and there are over 70 varieties of Ulluco ranging in color, flavor, and texture. Ulluco has remained localized to the Andean highlands and is rarely known outside South America. The tubers are grown in specific microclimates and are hand-harvested to preserve the tuber's smooth, thin skin. Despite their limited cultivation regions, the tubers are highly valued as a filling culinary ingredient and are consumed raw, cooked, or processed into starch.
Nutritional Value
Ulluco tubers are a source of vitamin C to strengthen the immune system while reducing inflammation, iron to develop the protein hemoglobin for oxygen transport through the bloodstream, and contain small amounts of other B-complex vitamins, calcium, phosphorus, and fiber. Ulluco tubers also provide phytonutrients like carotenes to provide beneficial antioxidants and betalains, pigments found in the flesh that protect against external cell damage. They get their earthy smell from a compound called geosmin, which varies in concentration from variety to variety. Native Ecuadorians have used the raw tuber topically to treat skin conditions and recommend eating it to ease stomach and digestive discomfort.
Applications
Ulluco tubers have an earthy, nutty, and musky flavor suited for fresh and cooked preparations. When raw, the tubers should be small and young, thinly sliced, diced, or julienned for salads, slaws, and topping for soups or meats. The tubers have thin, edible skin and do not need to be peeled before consumption. Ulluco tubers are most popularly boiled and hold their shape well in cooking. It is recommended to boil the tubers in acidulated water to help retain their vibrant coloring, as cooking will dull the skin tone. The tubers can be tossed into soups and stews, known as chupes in Ecuador, and smaller tubers can be thrown in whole without the need for slicing. The tubers can also be roasted as a side dish to meat and vegetable dishes, sauteed with eggs, or mashed to thicken sauces. In Peru, Ulluco tubers are julienned and mixed with strips of meat and aji peppers in Ulluco con carne or Ulluquito con carne; a dish served over rice and potatoes. They are also par-boiled and sliced over seafood or other appetizers. In Bolivia, Ulluco tubers are cooked with peppers in aji de papalisas. Ulluco tubers should not be fried or baked due to their high water content. In addition to the tubers, Ulluco leaves are edible and are prepared similarly to spinach. The greens can be sauteed, steamed, or stir-fried and combined into salads, as a bed of greens, or in side dishes. Ulluco tubers pair well with aromatics such as garlic, ginger, shallots, onions, and chile peppers, roasted meats including beef, poultry, and pork, seafood, squash, bell peppers, carrots, and potatoes. Whole, unwashed Ulluco tubers will keep for several weeks to months when stored in a cool, dry, and dark place away from heat.
Ethnic/Cultural Info
Ulluco tubers are incorporated into meals during Semana Santa or Easter Holy Week in Bolivia. Historically, Holy Week begins on Palm Sunday and extends through Easter Sunday. During the week, households join with family and friends to prepare 12 dishes that are consumed on Maundy Thursday or Good Friday in remembrance of the Last Supper of Jesus with his 12 disciples. Many different recipes are used throughout Bolivia, largely dependent on available ingredients and local customs. Ingredients such as potatoes, Ulluco tubers, squash, legumes, zucchini, bell peppers, rice, and bread are incorporated into traditional dishes. These meals are meant to provide sustenance, reminding participants of Jesus's sacrifice without overeating to prevent the sin of gluttony. Ulluco tubers are used in soups in the Andean highlands, boiled as a side dish, or combined with chile peppers to create a fiery appetizer. Recently, some families have reduced the number of meals to 7 to create a more relaxing week, and along with cooking, Bolivian families take pilgrimages to a nearby city or specific routes throughout their hometown to commemorate the journey Jesus took to the cross. The pilgrimage ends at a church where other Easter traditions are upheld.
Geography/History
Ulluco tubers are native to the highlands of the Andes Mountains in the northwestern part of South America, specifically Bolivia, Peru, and Ecuador, and have been growing wild since ancient times. The tubers are primarily found from southern Venezuela to northern Argentina but can also be found in Chile and parts of Brazil. Ulluco has been a part of the Andean people's diet for over 10,000 years, evidenced by the remnants of Ulluco starch found in a cave in Peru and carvings on wooden drinking containers and ceramics said to resemble the tuber. The tubers were also an important crop in the Inca Empire. Over time, Ulluco tubers were fully domesticated and grown as an important famine crop in the highlands. In the 15th and 16th centuries, Spanish and Portuguese explorers arrived in South America and began sourcing new plants. Potatoes were taken back to Europe, where they eventually became a favored worldwide crop, while Ulluco tubers remained localized to the highlands. Ulluco tubers have not reached worldwide commercial success due to their strict growing conditions, lack of promotion, and lack of knowledge among international consumers. The colorful tubers grow underground in soil rich with organic matter and thrive in shady, cool regions. Ulluco tubers will not survive warm temperatures above 80 degrees and require a long growing season. Today Ulluco is mainly localized to South America in Colombia, Ecuador, Chile, Venezuela, Bolivia, and Peru, sold fresh and in starch form through markets, growers, and grocers. Outside of the Andes region, Ullucos can be found in New Zealand, where they have been cultivated for over twenty years and are called Earth Gems. The tubers are also grown in regions of Southern England, coastal areas of Europe, the Pacific Northwest, coastal areas of California, and the Appalachians in the United States. Ulluco tubers are sold through online retailers, specialty distributors, and farmers markets.
Recipe Ideas
Recipes that include Ulluco Tubers. One

is easiest, three is harder.