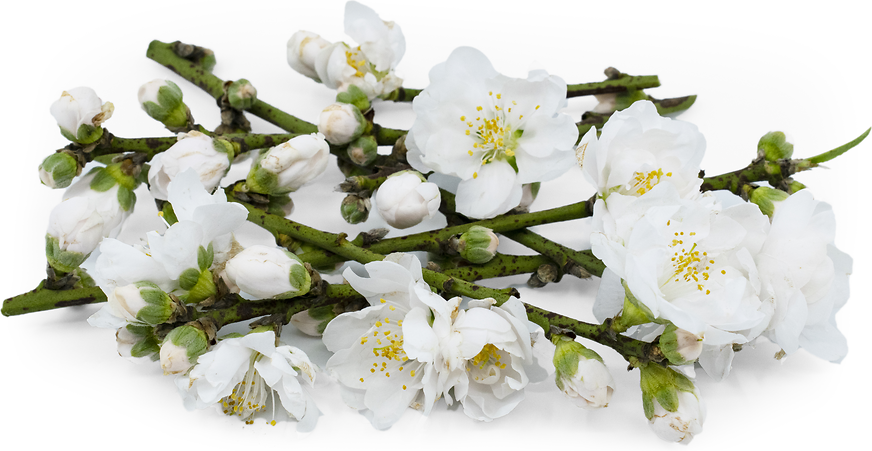 Almond Blossoms
Inventory, 50 ct : 0
Description/Taste

Almond blossoms are small to medium-sized flowers, averaging 3 to 5 centimeters in diameter, with soft layered petals surrounding a cluster of long stamens that extend from the center. The light pink buds are attached to spindly branches free of leaves and, depending on the almond variety, the opened petals present a white or pale pink hue that deepens in color near the center of the flower. The delicate blossoms are highly aromatic with a honey-sweet fragrance likened to jasmine and lilies but with a rich and nutty undertone. Almond blossoms have a mild flavor with an underlying sweetness and nutty overtones.


Seasons/Availability

Almond blossoms are available from late January through early April in the Northern Hemisphere and late June through early September in the Southern Hemisphere.


Current Facts

Almond blossoms are harvested from a small, deciduous tree, botanically classified as Prunus Dulcis, that belongs to the rose family. Almond trees are native to Southern Asia and have naturalized across dry, temperate climates worldwide. The blooms appear on the trees in late winter and early spring, arriving before the leaves begin to form. Almond trees fall into two categories, sweet and bitter. Sweet almond trees produce lightly blushed white buds that open into mostly a white blossom, while bitter almonds produce striking light to bright pink buds that fade to a deep magenta at the center. Bitter almonds contain high levels of cyanide. The pink buds are used for their essential oils or as decoration. The blooms of sweet almond trees are utilized in a variety of culinary applications. Almond blossoms are monoecious, meaning each flower has male and female parts, but the flowers must still be cross-pollinated to produce fruit. Pollination of Almond blossoms relies heavily on the work of honeybees, and in areas with high almond production, like California, honeybees are trucked to orchards and released for a week to increase pollination and ultimately fruit production. There are more than 25 varieties of almonds grown throughout the Mediterranean and California. All parts of the tree can be utilized, with the blossoms and leaves used ornamentally in cosmetics and teas, the wood used for cooking, and the fruit in culinary applications.


Nutritional Value

The nutritional value of Almond blossoms has not been widely studied, but edible flowers are known to contain a variety of nutrients, including vitamin C to reduce inflammation, antioxidants to protect cells from free radicals, as well as folate, and dietary fiber. All parts of the almond tree are known to contain taxifolin, a flavonoid with potent anti-inflammatory and antioxidant effects that has been shown to reduce oxidative stress in the body.


Applications

Almond blossoms can be utilized fresh or dried and are highly aromatic with a mildly sweet and nutty flavor, making them ideal for a variety of culinary applications. The blooms can be placed whole on top of cakes, main dishes, or appetizers to create a stunning garnish. The petals can be separated and scattered over dishes, adding texture, flavor, and visual appeal to salads, rice and grain dishes, and different meats. The flowers can also be pressed into cheeses, bread, and cookies, layered into spring rolls, or incorporated into beverages and ice cubes as a decorative touch. Almond blossoms are an ideal garnish for confections. They can easily be added to custards, cakes, ice cream, and puddings, enhancing the flavors of recipes utilizing marzipan, maraschino cherries, and amaretto. The flowers are commonly used dried in herbal tea mixes. Honey harvested from bees who have fed on the flowers is quite popular, boasting a rich and nutty flavor with a cloying sweetness and earthy undertones. Almond blossoms should be harvested in the morning when they are at their peak color and the petals are firm. They should remain attached to the branches and in water until they are ready to be plated to avoid wilting and browning of the petals.


Ethnic/Cultural Info

Almond blossoms appear along the branches of the almond tree before the leaves have even begun to sprout, hinting at the emergence of spring. The arrival of these tiny white buds signifies the end of winter, and in many cultures, it has become a symbol of awakening and rebirth. In Israel, the almond tree and its blossoms play an important role in the Jewish religion and are a symbol of the holiday Tu B'Shevat. This holiday, often referred to as Jewish Arbor Day, is the day of the year that trees come of age, according to Jewish Kosher Laws. Tree fruit is only considered Kosher if the tree is at least three years old or the fruit is ripe on or after the 15th day of the month of Shevat. Traditionally, fruit harvested in the fourth fruiting season of the tree would be taken to the temple as a tithe or tax. Tu B'Shevat is often celebrated with a seder. The first Tu B'Shevat seder happened around 1600 CE and consisted of different types of fruit and nuts with specific spiritual meanings. Today, this meal is still enjoyed and consists of many dried fruits, nuts, wine, and candied fruit. The flowering almond trees are an important symbol of the holiday as these are often the first trees to flower in Israel during the month, signifying renewal, hope, and diligence. Flowering branches of almond trees are also taken to synagogues to celebrate spring and rebirth.


Geography/History

Almonds are native to Southwest and Central Asia and are one of the oldest known cultivated crops, with archeological evidence dating back to the Early Bronze age. Sweet almonds spread to the Middle East, Greece, Rome, and Egypt in the 1st century BCE, where they were used medicinally and in embalming rituals. By the early Middle Ages, almonds were being traded extensively throughout Asia and North Africa via the silk road and other common trade routes. Spanish explorers are responsible for bringing the small tree to North America, eventually cultivating the plant in central California. Today, California grows over 80% of the world's sweet almond supply. Wild almond trees can still be found growing in the Mediterranean, while sweet almonds have naturalized in semi-arid climates worldwide. Almond blossoms are harvested in many parts of the world for ornamental use or dried for use in teas and cosmetics. They can be found at local specialty stores, farms, and farmers markets.