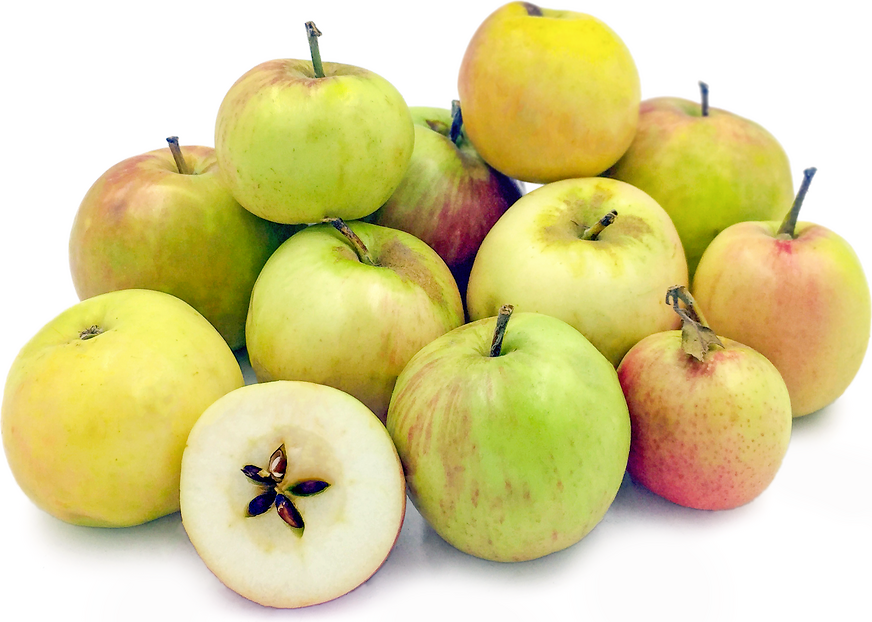 Ambri Apples
Inventory, lb : 0
Description/Taste
Ambri apples are a small to medium-sized varietal, averaging 5 to 8 centimeters in diameter and 158 to 292 grams in weight, and have an oblong to conical, slightly flattened shape. The size, shape, and appearance of the fruits will vary, depending on the growing environment, and the apples may exhibit some ribbing and irregularity. Ambri apples have semi-thick, smooth, taut, and chewy skin, showcasing yellow-green hues overlaid with red streaks and striping. Most of the red blush and streaking occurs on the side of the fruit exposed to direct sunlight. Underneath the surface, the white to ivory flesh is crisp, dense, and lightly aqueous with a crunchy consistency. The flesh also envelops a large central fibrous core filled with red-brown seeds. Ambri apples are aromatic, releasing a honeyed, subtly fruity scent. The fruits are high in sugar, ranging from 13 to 15.9 degrees Brix, creating a mild, sweet, and sugary taste.
Seasons/Availability
Ambri apples are harvested in the fall through early winter. Once picked, the apples are kept for extended periods in cold storage, creating year-round availability.
Current Facts
Ambri apples, botanically classified as Malus domestica, are a rare Indian variety belonging to the Rosaceae family. The sweet fruits are native to Kashmir in Northern India and are the country's only indigenous apple. Ambri apples are favored for their crisp flesh, aromatic nature, sweet taste, and extended storage capabilities. The variety was once one of the most popular apples in India, known as the "King of Kashmir." Ambri apples are primarily consumed fresh, but with the introduction of international cultivars in the late 20th century, the heirloom variety struggled to maintain a presence in commercial markets. Ambri apples are biennial bearers with low yields, producing fruits every other year. The variety is also vulnerable to diseases, has variability in appearance, and is slow to reach maturity, sometimes taking over 12 years for the tree to reach its fruit-bearing stage. In contrast, the international cultivars introduced in the late 20th century, mainly Red Delicious apples, were annual bearers with a uniform appearance and reached maturity within 4 years to produce fruits. Growers eventually removed Ambri apple trees from their orchards in favor of Red Delicious, leading Ambri apples to fade into obscurity. In the modern day, scientists have been working to improve Ambri apples and have created several cultivars using Ambri in their parentage. The most popular new variety of Ambri apples is the Lal-Ambri, a cross between Red Delicious and Ambri apples. Ambri apples are only grown in India and are relatively unknown outside Central Asia.
Nutritional Value
Ambri apples are a source of vitamin C to strengthen the immune system while reducing inflammation, vitamin A to maintain healthy organ functioning, and fiber to regulate the digestive tract. The apples also provide potassium to balance fluid levels within the body, calcium to build strong bones and teeth, copper to develop connective tissues, and other nutrients, including vitamin E, zinc, phosphorus, magnesium, and manganese. The apple's red hue indicates the presence of anthocyanins, pigments with antioxidant-like properties to protect the body against the damage caused by free radicals and oxidative stress.
Applications
Ambri apples have a mild and sweet taste suited for fresh and cooked preparations. In India, the variety is primarily consumed straight out of hand and is eaten as a snack or healthy dessert. Ambri apples can be sliced and served on appetizer platters, dipped in nut butter, sliced into salads, or added to slaws, side dishes, and dips. Try using the variety as a fresh topping over breakfast dishes such as parfaits, pancakes, or porridge or layering thin slices into sandwiches for added crunch. In addition to raw preparations, Ambri apples can be simmered into sauces, jams, jellies, and other preserves or roasted with meats as a savory dish. The apples can also be baked into cakes, pies, tarts, and muffins or sauteed in ghee and spices as a rich topping for ice cream. In Kashmir, Ambri apples are combined with mangoes into chutney, cooked into curries, or stirred into rice for a sweet addition. Ambri apples pair well with nuts such as cashews, almonds, walnuts, and pistachios, spices including mustard seed, cumin, cardamom, saffron, and nutmeg, mushrooms, tomatoes, legumes, potatoes, eggplant, and herbs such as lemongrass, cilantro, basil, and parsley. Whole, unwashed Ambri apples will keep for 1 to 4 months when stored in a cool, dry, and dark place such as the refrigerator. In professional cold storage, the variety is known for its extended capabilities, remaining fresh for several months.
Ethnic/Cultural Info
Apples are used in the Rajatarangini, an ancient text chronicling the history of the Kashmir region, to determine the successor to Queen Didda's throne. Rajatarangini translates from Sanskrit to mean "River of Kings" and was written by Kashmiri Brahman Kalhana in 1148 CE in Kashmir, India. The epic poem was divided into eight books and is comprised of accounts of the royal dynasties within Kashmir interwoven with mythical stories and legends that were prevalent during this time. In one account, Queen Didda, also known as the Catherine of Kashmir, a nod to her ruthlessness similar to Catherine the Great of Russia, was concerned with who would succeed her after her passing. The Queen was one of the few female monarchs in Indian history and ruled from 980 to 1003 CE. Legend has it that Queen Didda selected her successor after a trial by apples. The Queen summoned the sons of her brother Uday Raja into her court and placed a pile of apples before them. At her order, Queen Didda commanded that whoever gathered the most apples would be her successor. The brothers immediately lept onto the apple pile, furiously fighting with one another. Queen Didda watched the brothers scratch, claw, and wrestle among the apples, but one brother, Prince Sangram Raja, was not participating in the fight. Sangram Raja quietly stood to the side until it was time to present the apples. The bruised and battered brothers offered their apples to Queen Didda, but to her surprise, Sangram Raja also stepped forward with the same number of apples. Sangram Raja's apples were intact and undamaged, appearing more beautiful than the brother's apples. Queen Didda asked Sangram Raja how he acquired the apples, and the prince replied that he allowed his brothers to do his fighting and would slowly collect the apples that were separated from the chaotic pile. Sangram Raja's quick thinking and mastery over conflict lead Queen Didda to appoint him as her successor to the throne.
Geography/History
Ambri apples are thought to be native to India, specifically to the Himalayan foothills of the union territory Jammu and Kashmir and the state of Himachal Pradesh in Northern India. Much of the history of the variety is unknown, but horticulturalists theorize that the variety is a descendant of a wild species found in the forests of the Valley of Kashmir. Ambri apples were not defined as a distinct variety until 1945 when the apples were officially identified using scientific terminology. The apples thrived in the region's ideal climate, and Ambri apples were once one of the main varieties produced in the city of Shopian in Kashmir. In the mid-20th century, Ambri apples were a popular cultivar throughout India, and consumers valued the fruits for their extended storage capabilities and sweet flavor. The apples remained a desired variety until the 1960s and 1970s when consumer preferences switched to the newly introduced Red Delicious. Ambri apples struggled to compete with Red Delicious as they were slow-growers and alternate bearers, producing fruits every other year in smaller quantities. The variety was eventually pulled from orchards in Kashmir in favor of Red Delicious and other introduced cultivars, leading Ambri apples to almost go extinct. Despite their disappearance, there is a recent movement in the 21st century to modernize Ambri apples. In 2002, an Ambri research center was established in Shopian to develop Ambri apples with improved disease resistance, taste, and a faster maturation time. New versions of the heirloom apple have been presented in commercial markets in India and are being met with enthusiasm, creating a revival of Ambri apples in India. Today Ambri apples are found throughout Northern India, mainly in the markets in the cities of Sopore, Shopian, Pulwama, and Anantnag in Jammu and Kashmir and in areas of Himachal Pradesh. Ambri apples are also found in other regions of India in fresh markets.
Recipe Ideas
Recipes that include Ambri Apples. One

is easiest, three is harder.