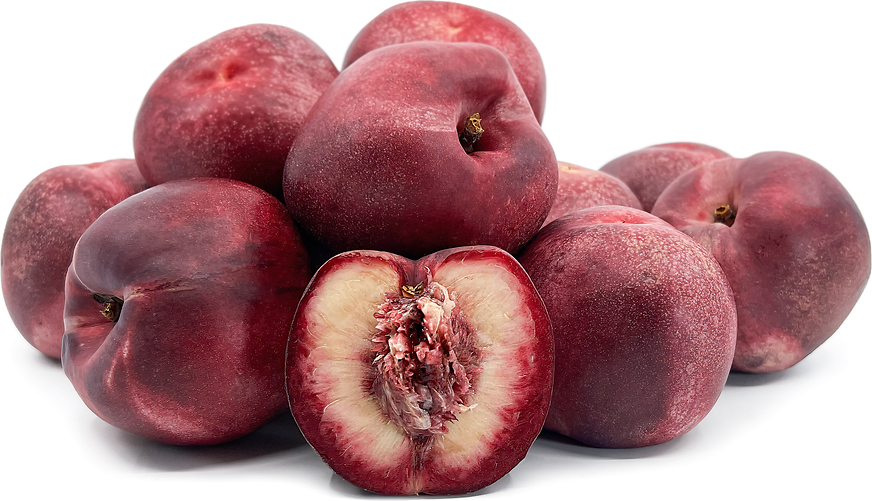 Blood Nectarines
Inventory, lb : 0
Description/Taste
Blood nectarines vary in size from small to medium fruits, depending on the specific variety, and have a round, oval, ovate, to slightly lopsided shape with a prominent suture line extending from the stem to the base. The fruit's skin is smooth, taut, semi-glossy, and thick, showcasing a burgundy, red-purple coloring covered in tan speckles and ruby and crimson mottling. Underneath the surface, the flesh is dense, semi-firm, and aqueous with a succulent nature, encasing a central pit that is easily removed from the flesh. Blood nectarines have a distinct flesh tone, ranging from dark red hues with faint golden veining to marbled red and white flesh with red streaking. The fruits emit an aromatic, honeyed scent and have a high sugar content, contributing to their rich and complex flavor. Blood nectarines have a sweet and floral, berry-like flavor, balanced with a tangy, tart aftertaste.
Seasons/Availability
Blood nectarines are available in the summer through early fall.
Current Facts
Blood nectarines, botanically classified as Prunus persica var. nucipersica, are rare, red-fleshed stone fruits belonging to the Rosaceae family. The name Blood nectarine is a general descriptor used in commercial markets to describe several varieties of smooth-skinned nectarines with dark red, speckled skin, and burgundy flesh. Each variety displays various amounts of red pigment within the flesh, with some cultivars showcasing solid crimson hues while others may be mottled or streaked with bright red tones. Blood nectarines are also known as Red-Fleshed Nectarines and French Blood Nectarines and were created from crossing blood peaches with white nectarines. In Europe, the most famous Blood nectarines were made in France under the marketing name Nectavigne®. The specialty line of Blood nectarines is comprised of seven different varieties, and the Nectavigne® cultivars are highly productive trees, protected under a Plant Variety Certificate or VOC, allowing the breeder to selectively choose who can sell the specialty fruits. Outside of Europe, the California Rare Fruit Growers Hybridizer Group has also created a type of Blood nectarine, known under the name Raspberry Red.
Nutritional Value
Blood nectarines are an excellent source of anthocyanins, pigments found within the flesh and skin that contain antioxidant-like properties to protect cells from free radical damage. The fruits are also a good source of vitamin C to strengthen the immune system, vitamin A to maintain healthy organ functioning, fiber to regulate the digestive tract, potassium to balance fluid levels within the body, and other amounts of folate, zinc, magnesium, copper, phosphorus, calcium, B vitamins, and vitamins E and K.
Applications
Blood nectarines are prized for their unusual flesh coloring and sweet flavor, utilized fresh in preparations that showcase their pigmented tones. The fruits can be consumed straight, out of hand, with the skin on or off, or they can be sliced, quartered, or halved and displayed on appetizer plates. Blood nectarines can also be cut and tossed into green salads, mixed into fruit bowls, placed as an edible topping over cereal, yogurt, and acai bowls, or eaten with sugar or cream as a dessert. In addition to serving the fruits in slices to appreciate their striking colors, the flesh can be blended or pureed to develop a rich, ruby hue. Blood nectarines add color to smoothies, sorbet, and syrups, or they can be incorporated into jams, jellies, compotes, and sauces. The fruits also have a firmer flesh that holds its shape when cooked, favored for baked goods, including pies, cobblers, cakes, and tarts. Blood nectarines can be roasted or caramelized, served over toast and crepes, poached with spices and citrus as a dessert, or grilled for a savory, rich flavor. Blood nectarines pair well with other fruits such as pomegranates, berries, cherries, and apricots, spices including cinnamon, ginger, and cloves, lemon verbena, vanilla, and cheeses such as goat, gorgonzola, and mozzarella. Whole, unripe Blood nectarines can be kept at room temperature until ripe, softening in approximately 1 to 3 days. Once mature, the nectarines should be stored in the refrigerator, where they will keep for a few additional days. It is recommended to eat ripe Blood nectarines immediately for the best quality and flavor. Blood nectarines can also be sliced and stored in a sealed container in the freezer for 3 to 4 months.
Ethnic/Cultural Info
Nectavigne® varieties were developed from crossing nectarines with the traditional vineyard peach, also known as a blood peach or "peche de vigne," translating to "peach of the vine." Peach trees were planted in French vineyards in the Coteaux du Lyonnais winemaking region in the 18th century to protect grapevines. Each day, winemakers would check the peach trees for signs of decay, as they are highly susceptible to disease and fungus such as powdery mildew, and if the trees exhibited damage, the grapevines would be immediately assessed and treated, saving whole crops of grapes and wine from destruction. French folklore states that the vineyard peach trees began to produce more antioxidants to protect against these diseases, resulting in pigmented flesh. In the 20th century, breeder René Monteux-Caillet took the rustic vineyard blood peaches and crossed them with nectarines to create a modern, red-fleshed nectarine with smooth skin, eventually making the Nectavigne®. In the present day, there are seven types of Nectavigne® fruits that ripen consecutively from July to early September. Nectavigne® Monly is the first to arrive in commercial markets, ripening in early July, followed by Nectavigne® Monsico and Nectavigne® Monpersi late in the month. Nectavigne® Monid appears in August, followed by Nectavigne® Monadine, Nectavigne® Monof, and Nectavigne® Montarsa in early September.
Geography/History
Blood nectarines are descendants of blood peaches, which are believed to be native to Southeastern Asia and were cultivated in China before the 11th century. Blood peaches were spread to Europe, where they have been produced for hundreds of years, and were also brought to North America sometime before the 16th century, either through early Asian settlers or through Spanish explorers. Blood nectarines were bred from traditional crossbreeding practices conducted through French breeder René Monteux-Caillet in the 1980s. The fruits were created from crosses between blood peaches and white nectarines, and it took many years of trials, research, and evaluations. Blood nectarines were released to commercial markets in 2004, and Monteux-Caillet partnered with Star Fruits, a distribution company in France, to market and regulate the nectarines under the Nectavigne® name. Today Blood nectarines are sold under proprietary names through select partners in Europe and are also found through specialty markets and distributors. Outside of Europe, the fruits are grown on a small scale or imported to North and South Africa, New Zealand, Australia, and North and South America.
Recipe Ideas
Recipes that include Blood Nectarines. One

is easiest, three is harder.