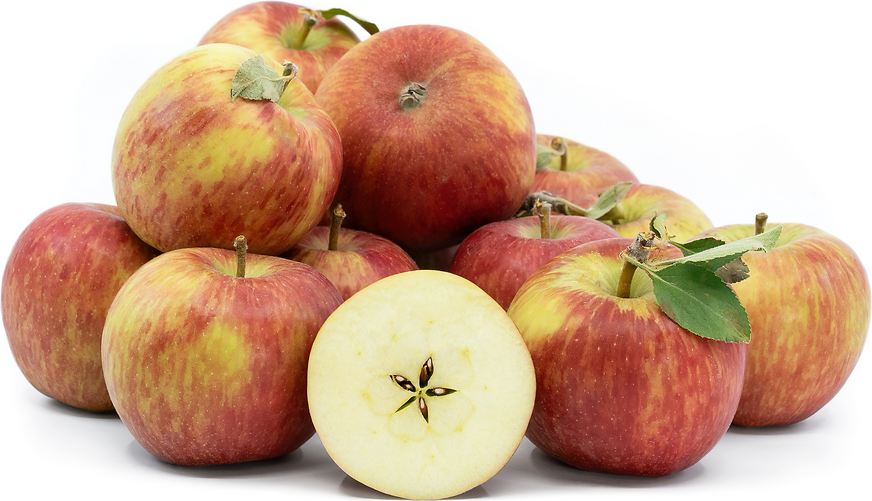 Braeburn Apples
Inventory, 125 ct : 0
This item was last sold on : 10/09/23
Description/Taste
Braeburn apples are a small to medium-sized varietal, averaging 6 to 7 centimeters in diameter, and have a round to conical appearance with flat shoulders, a broad middle, and a slightly tapered base. Some apples showcase slanted shoulders and ribbing, and the fruits have semi-thick, fibrous, light-brown stems. The apple's skin is thin but tough, able to resist most bruising, and the surface is relatively matte with a yellow-green base hue covered in large patches of red-pink blush and striping. The saturation of the blush will vary depending on the region and environment in which the apples are grown. Some parts of the blush and striping will be more translucent, allowing the yellow base color to shine through the red, creating an orange hue. Underneath the skin, the ivory to cream-colored flesh is firm, coarse-grained, and aqueous with a crisp and crunchy consistency, snapping clean with each bite. The flesh also encases a large central core filled with tiny dark brown seeds. Braeburn apples are aromatic, and the complex flavoring rushes over the senses when consumed. The variety has balanced sugar and acidity levels, creating a refreshing, sweet, and sharp taste without feeling sugary or overly tart. Braeburn apples also have a rich, cider-like undertone with cinnamon, nutmeg, pears, and citrus notes.
Seasons/Availability
Braeburn apples are grown in the southern and northern hemispheres, providing year-round availability in some markets. The variety is harvested in the late fall through spring and can be kept in professional cold storage for up to eight months.
Current Facts
Braeburn apples, botanically classified as Malus domestica, are a New Zealand variety belonging to the Rosaceae family. The cultivar was discovered growing as a chance seedling in the mid-20th century and was selected for commercial production for its complex and rich flavor. Braeburn apples were one of the first bi-colored apples to become popular in modern commercial markets. During the time of their release, most apples were either solid red or green, and Braeburn's bi-colored nature marked a new era within the apple industry. Growers favor Braeburn apples for their high yields, self-fertile nature, ease of cultivation, extended storage traits, and ability to be shipped without damage. The variety is not genetically modified and was developed through natural mutations. In the late 20th century, Braeburn apples were one of the top commercially produced apple varieties, favored for their rich, balanced flavor reminiscent of heirloom varieties that had disappeared from markets. Despite their global popularity, Braeburn apples were eventually overshadowed by newer, improved cultivars that were less susceptible to disease. The variety also struggled with too much flavor variation as it was being mass-produced worldwide without regulations to control sugar and acidity levels. In modern-day markets, Braeburn apples are still commercially produced on a smaller scale and are sold as an all-purpose cultivar, able to be utilized in fresh or cooked preparations.
Nutritional Value
Braeburn apples are a source of fiber to regulate the digestive tract, potassium to balance fluid levels within the body, and calcium to build strong bones and teeth. The apples also provide vitamin C to strengthen the immune system, vitamin A to maintain healthy organ functioning, vitamin E to reduce inflammation, and other nutrients, including copper, zinc, magnesium, manganese, and phosphorus. The apple's red blush is a sign of anthocyanins, natural pigments within the skin with antioxidant-like properties to protect the cells against free radical damage and oxidative stress.
Applications
Braeburn apples have a balanced, sweet-tart flavor suited for fresh and cooked preparations. Many consumers choose to showcase this flavor by consuming the apples straight out of hand. Braeburn apples can also be served slightly chilled, just below room temperature, to enhance their flavoring. Try chopping Braeburn apples for green salads, shredding them into slaws, or serving sliced on appetizer platters with soft and creamy cheeses such as brie, white cheddar, or camembert. Braeburn apples can also be used as a fresh topping over breakfast dishes, served in parfaits as a snack, or layered into sandwiches for added crunch. In addition to fresh preparations, Braeburn apples hold their shape when cooked, lending themselves to baked goods like tarts, muffins, crumbles, and scones. The variety can also be simmered into purees, sauces, jams, and jellies, roasted alongside root vegetables, cooked and served over meat main dishes, or sauteed in brown butter or sugar as a caramelized topping over ice cream. Beyond culinary preparations, Braeburn apples can be pressed into juice and mixed into cider blends, cocktails, and sparkling beverages. Braeburn apples pair well with spices such as nutmeg, ginger, cloves, and cinnamon, vanilla, salted caramel, maple syrup, meats such as pork, turkey, and poultry, and fruits including blackberries, blueberries, strawberries, citrus, and peaches. Whole, unwashed Braeburn apples will keep up to one month when stored in the refrigerator's crisper drawer. In cold cellars, the variety will keep for 2 to 4 months, and in professional storage, they can be stored for up to 8 months. Braeburn apples can also be dried or frozen for extended use.
Ethnic/Cultural Info
In Hawkes Bay, New Zealand, larger-than-life apples were featured in a collaborative art exhibition known as The Big Apple Project in 2022. The inaugural event was created by the Hastings District Council in partnership with Arts Inc, Heretaunga, to support the local apple industry and Hawkes Bay artists. The Big Apple Project consisted of 20 local artists painting designs on fiberglass apples, which were later displayed for three months in public spaces throughout Hastings. The artists were encouraged to paint whatever inspired them, and the apples ranged in colorful paintings of nature, culture, and abstract designs, while others were covered in metallic copper finishes or raised wood pieces. Two artists focused on painting apple varieties onto their apple canvas, including Braeburn apples, showcasing the most popular cultivars grown in Hawke's Bay. Over 40 varieties of apples are produced in Hawke's Bay, and the region is New Zealand's most prominent commercial apple area, accounting for approximately 64% of national production. After the apple artworks were displayed in public places for several months, they were eventually sold at a charity auction, raising over $200,000 for art programs and the Hawke's Bay community.
Geography/History
Braeburn apples are native to New Zealand and were discovered growing as a chance seedling in Upper Moutere, a locality in the Tasman District near Nelson on the South Island. Grower O. Moran found the apples on the side of the road in 1952. Moran stopped to examine the tree, and the fruits were distinct from any of the varieties he was familiar with. Moran picked some of the apples and brought them to Williams Brothers Nursery. The nursery determined it was a new variety and began grafting it onto rootstock for commercial production at Braeburn Orchards. The variety's parentage is unknown, but for many years pomologists thought it might have been created from Lady Hamilton and Granny Smith apples. In 2020, a study conducted on genetic distance assessed that Sturmer's Pippin and Delicious apples were the variety's parents, with Lady Hamilton being a sibling variety. Braeburn apples were selected for commercial production for their rich flavor and cultivation characteristics. Since its release as a commercial cultivar, Braeburn apples have also contributed to modern apple breeding, being a parent variety to well-known apples such as Jazz, Kanzi, Envy, and Sweetie. Several of these varieties have replaced Braeburn apples in some consumer markets as they carry improved disease resistance. Today Braeburn apples are still a commercially produced variety, growing in warm to temperate regions worldwide, especially in New Zealand, Australia, the United Kingdom, France, Italy, Chile, Canada, and the United States, mainly in Washington State. When in season, Braeburn apples are offered through grocers, farmer's markets, and distributors. They are also sold through nurseries for home garden planting.
Recipe Ideas
Recipes that include Braeburn Apples. One

is easiest, three is harder.
the other 108...
| | | |
| --- | --- | --- |
| Farm Flavor | | Apple-Cranberry Stuffed Pork Chops with Sauteed Apples |
| Olivia's Cuisine | | Poulet Valee D' Auge (Creamy Chicken with Apples |
| Meatless Mondays | | Savory Apple Pizza |
| Publix Aprons | | Crunchy Cranberry Waldorf Salad |
| Meatless Mondays | | Tri-Color Quinoa Salad |
| Karen's Kitchen Stories | | Cabbage Salad with Braeburn Apples & Spiced Pecans |
| Follow Your Heart | | Cheddar Rosemary Apple Pie with Brown Sugar Crumble |
| Italian Recipe Book | | Caramel Apple Pie Taquitos |
| Running to the Kitchen | | Brussels Sprouts Pumpkin and Apple Hash |
| Bonapetit | | Potato Pierogi With Sautéed Cabbage and Apples |
| The Spruce | | Sauerkraut and Apples |
| Eating Rules | | The Best Breakfast Potatoes Ever |
| Food Faith Fitness | | Moroccan Cauliflower Soup with Carrots, Apples and Pistachio Cream |
| Farm Flavor | | Baked Chicken with Apples and Barley |
| The Cake Blog | | Warm Apple Cake with Salted Caramel Gelato |
| Dessert for Two | | Brussel Sprout Apple Slaw and Chedder Cheese Cups |
| Foodista | | Thyme-Roasted Apples and Onions |
| Italian Recipe Book | | Apple Pie Stuffed Cheesecake |
| Italian Recipe Book | | Oven Braised Apple BBQ Pork Ribs |
| My Food Book | | Tuna Apple Bites |
| Italian Recipe Book | | Apple Drops (apple pie bites) |
| Good Food | | Apple and Honey Cake |
| Italian Recipe Book | | Sweet Potato Apple Pork Chops |
| The Spruce | | Skull Caramel Apples |
| Heather Christo | | Pasta with Apples, Bacon and Chantrelle Mushrooms |
| Wholefully | | Roasted Apple and Pumpkin Farro Salad |
| Weaver Orchard | | Apple-Stuffed, Maple-Pecan Chicken |
| Everyone Eat's Right | | Stuffed Roasted Acorn Squash |
| Publix Aprons | | Beef, Pork, and Bean Chili With Apples in a Nest |
| Call Me Cupcake | | Apple Cinnamon Bundt Cake |
| Wholefully | | Autumn Apple Rosé Sangria |
| Running to the Kitchen | | Butternut Squash and Apple Rice Bake |
| Bonapetit | | Roasted Apples and Turnips |
| Farm Flavor | | Peach-Apple Fruit Tart |
| Food & Wine | | Apple Snickerdoodle Muffins |
| Eating Rules | | Apple Pecan "Mummy" Dumplings |
| Season with Spice | | Roasted Five-Spice Sweet Potatoes & Apples |
| Relish | | Stuffed Acorn Squash with Barley, Apples and Walnuts |
| Honest Cooking | | Grilled Cabbage, Apple and Tofu Salad |
| Food Nouveau | | A Deep-Dish Apple Pie, Amsterdam Style |
| Fine Cooking | | Cider-Glazed Turnips & Apples with Sage & Bacon |
| Fine Cooking | | Celery Root & Apple Purée |
| Honest Food dot Net | | Pheasant and Apples |
| Cooking Classy | | Autumn Sausage Veggie and Apple Sheet Pan Dinner |
| The Kitchn | | Butternut Squash, Apple and Sage Soup |
| Paleo Leap | | Bacon Wrapped Sausage with Appels |
| Food & Wine | | Green Chile Salad Dressing with an Apple Salad |
| Real Simple | | Gingery Apple Crumb Pie |
| Real Simple | | Apple and Cheddar Fritters |
| My Retro Kitchen | | Apple Cream Cheese Quick Bread |
| Relish | | Pork Meatloaf with Apples and Sage |
| Bonapetit | | Ravioli With Apples and Walnuts |
| Real Simple | | Sautéed Cauliflower and Apples With Pecans |
| The Pretty Bee | | Cozy Cinnamon Applesauce |
| Farm Flavor | | Maple Apple Pork Medallions |
| Wellness Mama | | Apple Walnut Tuna Salad |
| Gimme Some Oven | | Apple Cider Baked Chicken |
| Food & Nutrition | | Butternut Squash and Apple Crumble |
| Stirring Stew | | Crispy Chicken Asian Salad |
| Food & Wine | | Souffléed Apple Pancake |
| Food & Wine | | Pumpkin Ricotta and Apple Frittata |
| Running to the Kitchen | | Pumpkin Tea Glaze Pork Chops and Apples |
| The Lemon Bowl | | Grilled Cheese Sandwich with Apple |
| Farm Flavor | | Apple Turkey Wrap |
| Paleo Leap | | Baked Blueberry-Stuffed Apples |
| Tarladalal | | Roasted Apple and Asparagus Salad with Chicken |
| Stirring Stew | | Apple, Almond, and Smoked Mozzarella Farro Salad |
| Hip Foodie Mom | | Cream Puffs with Caramelized Apples |
| All Things Considered Yummy! | | Tagine of Beef Short Ribs, Apples and Prunes |
| Fine Cooking | | Pork Wellington with Fennel, Apples, and Dijon |
| Relish | | Roasted Brussel Sprouts with Apples and Pancetta |
| Amy''s Healthy Baking | | Healthy Apple Pie Thumbprint Cookies |
| Cassie Craves | | Sausage-Stuffed Baked Apples |
| MT PB&J | | Pumpkin-Apple Spice Cheesecake with Rolled Oat Crumble |
| Woolworths | | Apple & Pear Pikelets |
| Healthy Seasonal Recipes | | Apple Cheddar and Sausage Breakfast Strata |
| Le Creuset | | Apple Rhubarb Crisp |
| Meatless Mondays | | Cabbage and Carrot Crunch Salad |
| Italian Recipe Book | | Smokey Apple Butter Onion Pizza |
| Nutrizonia | | Asian Beef Curry Stew with Appels |
| The Wanderlust Kitchen | | Apple & Bacon Mac 'n' Cheese |
| Food For Thought | | Sauteed Apples with Spiced Pork Tenderloin |
| Sustainable Dish | | Roasted Cauliflower with Apples and Bacon Balsamic Vinager |
| Karen's Kitchen Stories | | Apple and Ham Pizza |
| Karen's Kitchen Stories | | Braeburn Apple and Almond Tart |
| Call Me Cupcake | | Apple Pie with a Purple Blueberry Crust |
| Food to Love | | Caramel, Apple and Pear Danish |
| Saveur | | Apple and Chestnut Stuffed Goose with Egg Noodles |
| Delia Online | | Turkey Escalopes with Caramelised Apples and Cider Vinaber |
| Italian Recipe Book | | Dutch Apple Baby with Blackberry Hoisin Bacon |
| Good Food | | Maple, Apple and Walnut Pots |
| Running to the Kitchen | | Blue Cheese, Chicken, Potato and Apple Salad |
| Garnish with Lemon | | Apple Sage Stuffing Cups |
| The Lemon Bowl | | Rainbow Chopped Salad with Apples and Avocados |
| 24 Carrot Life | | Butternut Squash Apple Bread |
| Stirring Stew | | Cod with Apples and Onions |
| Karen's Kitchen Stories | | Holiday Apple Kuchen |
| Italian Recipe Book | | Apple Spice Crème Brûlée |
| Fine Cooking | | Pumpernickel Stuffing with Apples, Onions and Caraway |
| 24 Carrot Life | | Oatmeal Raisin Cookie Baked Apple |
| Woolworths | | Apple Tea Mocktail |
| From My Impossibly Tiny Kitchen | | Mini Rose Apple Pumpkin Pies |
| Delia Online | | Roast Goose with Forcemeat and Spiced Cranberry and Apple Stuffing |
| Fine Cooking | | Sausage, Potato & Apple Sauté |
| Domestic Gothess | | Apple and Mincemeat Filo Wreath |
| Andrew Zimmern | | Breakfast Hash with Ham, Potatoes & Apples |
| Relish | | Applesauce Breakfast Parfait |
| Bonapetit | | Roast Pork Tenderloin and Apples with Mushroom Sauté |