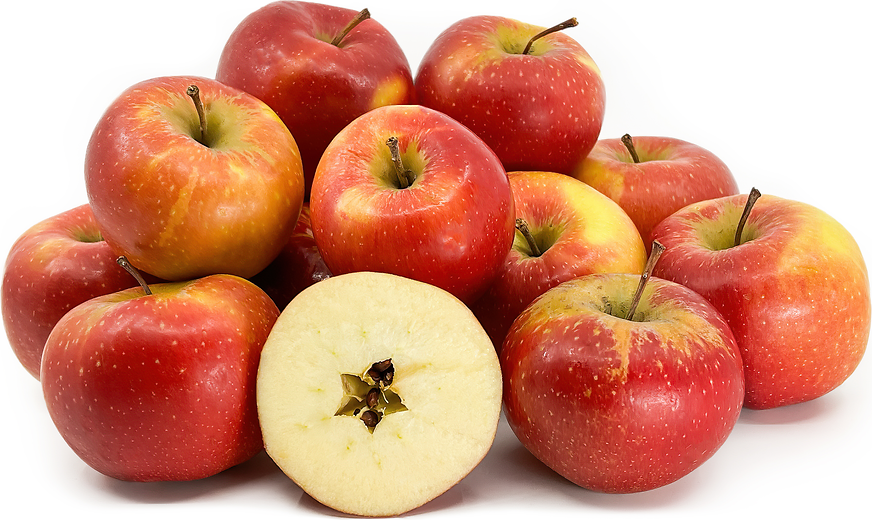 Freya® Apples
Inventory, lb : 0
Description/Taste

Freya® apples are a medium to large varietal, averaging 6 to 9 centimeters in diameter and 200 to 250 grams in weight, and have a round to oblate appearance with flat shoulders widening to a broad center. The apple's skin is smooth, taut, and semi-thick and contributes a subtly vegetal, grassy flavor that is unnoticeable in the fruit's overall taste. The apples also bear a characteristic russeting in the stem cavity, occasionally spilling onto the shoulders. This tan-to-green russeting has a light, sandy texture and is entirely edible, contributing a unique mouthfeel to the fruit's surface. The skin also showcases numerous prominent yellow-brown lenticels concentrated at the fruit's base, scattering and growing smaller in the center. Freya® apples have a golden yellow coloring, enveloped in a bright cherry red to dark red blush. The blush is mostly saturated and washes over the apple, but in areas where the red blush is more transparent, it gives the surface a faint orange hue. Underneath the skin, the ivory to pale yellow flesh is firm with a soft, delicate crispness. The fine-grained flesh also contains some juice and encases a moderately-sized central core filled with dark-brown, elliptic seeds ranging 5 to 7 millimeters in length. Freya® apples are primarily harvested between 13 to 14.5 degrees Brix, a unit of measurement for sugar levels, contributing to the fruit's sweet taste and faintly aromatic nature. Freya® apples are sweet-tart, tangy, and rich with bright, fruity, and floral undertones. The apples are often compared to the taste of Elstar apples, bearing a mild acidity with honeyed nuances of pears and


Seasons/Availability

Freya® apples are available in the early fall through winter.


Current Facts

Freya® apples, botanically classified as Malus domestica, are a modern Dutch variety belonging to the Rosaceae family. The bi-colored apples were released in the early 21st century and were intentionally bred to exhibit resistance to apple scab, a fungus that scars the fruit's surface and leaves, creating unsightly blemishes and cracks in the flesh. Freya® apples ripen in approximately 160 to 170 days and are generally harvested beginning in mid-September. The variety is kept in storage for 6 to 8 weeks to develop flavor before being sold in commercial markets and is favored by growers for the tree's vigorous nature, high yields, and disease resistance. The name Freya® is a registered trademark of Fresh Forward, a European fruit breeder, and the variety is often marketed with the slogan "The temptingly tart apple." Freya® apples are produced commercially as a fresh eating variety, primarily sold in Europe.


Nutritional Value

Freya® apples, like other bi-colored varieties, are a source of vitamin C to strengthen the immune system and fiber to regulate the digestive tract. The apples may also provide potassium to balance fluid levels within the body, vitamin K to assist in faster wound healing, calcium to build strong bones and teeth, vitamin A to maintain healthy organ functioning, and other nutrients, including manganese, zinc, copper, phosphorus, magnesium, and vitamin E. The vibrant red hues within the skin indicate the presence of anthocyanins, pigmented compounds with antioxidant-like properties to protect the cells against the damage and oxidative stress caused by free radicals.


Applications

Freya® apples have a sweet-tart, floral flavor suited for fresh and cooked preparations. The apples are primarily consumed straight out of hand to savor their bright and refreshing taste and are enjoyed as a snack or healthy dessert. Freya® apples can also be chopped and tossed into salads, sliced and layered on toast, in sandwiches or melts, or used as a topping over breakfast dishes such as parfaits, porridge, and waffles. The variety can be used in any preparation calling for sweet-tart, raw apple slices, and the flavorful flesh can be utilized as a serving vessel for rich dips, including caramel, nut butter, or chocolate. Try slicing Freya® apples and topping them with cheese as a bite-sized appetizer or blending the fruits into smoothies for added complexity. In addition to raw preparations, Freya® apples are an all-purpose cultivar occasionally used in some cooked recipes. The variety can be sliced and sauteed with browned butter and spices as a savory ice cream topping, baked whole as a dessert with cream, or simmered into a light applesauce. Freya® apples can also be incorporated into pies, cakes, crisps, crumbles, and other baked goods. Freya® apples pair well with spices such as cloves, cinnamon, ginger, and nutmeg, herbs including rosemary, cilantro, and mint, vanilla, maple syrup, and cheeses such as parmesan, gouda, and cheddar. Whole, unwashed Freya® apples will keep for several weeks when stored in a cool, dry, and dark place, such as the refrigerator's crisper drawer.


Ethnic/Cultural Info

The name Freya is derived from the Old Norse word "Freyja," meaning "lady" or "a noble woman." In Norse mythology, Freya was the name of a complex goddess often representing war, love, fertility, and death. Freya is present in many stories within Norse mythology and was widely worshipped in North Germanic tribes, especially among women. One belief was Freya's involvement in life after death, as half of the men and women who died in battle would be chosen to join her in her hall in Folkvagr, meaning "field of the people," while the other half were sent to reside with Odin in Valhalla. Freya was also rumored to have taught seidr, a form of magic that could foresee and alter the future. This magical association eventually led her to become known as a goddess of witchcraft. Legend has it that Friday the 13th was considered the most sacred day to Freya, as the word Friday is derived from Old English meaning "day of Frigg." Frigg was a name for another goddess in Norse mythology closely tied to love, and some historians believe that Freya and Frigg may have been the same goddess. Friday became the day of the week connected with feminine energy, love, and fertility, and among Norse peoples, getting married on Friday was considered good luck. Friday the 13th was celebrated among ancient Germanic peoples, but as other beliefs and religions rose over time, people groups against witchcraft began to spread rumors that Friday the 13th was a day of bad luck, leading to one of the many explanations for the feared superstitious day in modern times.


Geography/History

Freya® apples were developed in The Netherlands through Wageningen University in the late 20th century. The variety was created at the university's research center, often known under the acronym WUR, a breeding program that has been cultivating apples since the 1950s. The Wageningen University and Research Center is most famous for releasing Elstar apples, a popular commercial variety developed throughout Europe and a specialty cultivar in North America and Australia. Freya® apples were created by the research center to breed a new apple variety with increased resistance to apple scab and other diseases. The variety was also intentionally bred to showcase a vibrant red coloring, and the apples can be grown using organic farming methods. Freya® apples were developed from a cross between Elise apples and a proprietary apple variety in 1993 in Elst, Gelderland. In 2005, breeders selected a single plant from the cross and began propagating the new variety using grafting techniques. The variety was initially known under the name WUR37 and was granted a United States Plant Patent in 2017 under USPP# 28397P3. Over time, WUR37 was branded under the registered trademarked name Freya®. WUR37, or Freya® apples, were released to commercial markets by Fresh Forward, a breeding company that closely partners with Wageningen University and Research Center. Fresh Forward has been commercializing WUR apple varieties since 2014 and also markets Elstar, Elise, Wellant, Santana, and Natyra apples. Today Freya® apples are produced throughout Europe and are especially suitable for central to northwestern Europe. Some of the notable production regions include The Netherlands, Germany, and South Tyrol in northern Italy. The Freya® apples featured in the photograph above were sourced from Wochenmarkt Arkonaplatz in Berlin, Germany.