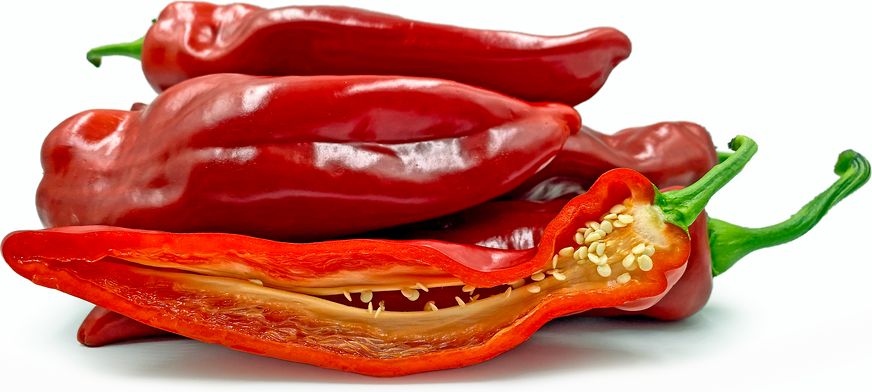 Holland Puntpaprika Peppers
Inventory, lb : 0
Description/Taste

Holland Puntpaprika peppers are elongated pods, averaging 17 to 25 centimeters in length and 5 to 6 centimeters in diameter, and have a conical shape that tapers to a rounded point on the non-stem end. The pods can be straight to curved with prominent ridges, and the skin is smooth, glossy, and taut, ripening from green to dark red, orange, or yellow when mature. Underneath the surface, the flesh is crisp, aqueous, and thin, encasing a central cavity filled with membranes and a few small, round, and flat, cream-colored seeds. Holland Puntpaprika peppers have a very sweet, semi-fruity flavor.


Seasons/Availability

Holland Puntpaprika peppers are available year-round, with a peak season in the summer through fall.


Current Facts

Holland Puntpaprika peppers, botanically classified as Capsicum annuum, are very sweet, mild peppers that belong to the Solanaceae or nightshade family. There are many different varieties that are generally labeled under the Holland Puntpaprika name, and Puntpaprika translates from Dutch to mean "pointed pepper." The peppers are also labeled as Sweet Pointed peppers, known as Zoete Puntpaprika in Dutch, and some Puntpaprika peppers are known by specific names including Sweet Palermo® and Ramiro. Holland Puntpaprika peppers were once unknown in Dutch markets, but as peppers increased in popularity and became a highly exported commodity, many Dutch growers expanded into the sweet pepper market. Holland Puntpaprika peppers are one of the most common sweet peppers seen at Dutch grocers in the present day, favored for their high sugar content, sweet flavor, and juicy and crunchy nature. The peppers are also cultivated for export across Europe and into Asia, especially into China, and the peppers are packed in multi-colored groupings for an appealing aesthetic. It has been reported that about eighty-five percent of the Netherland's sweet peppers are exported out of the country. In addition to fresh peppers, Holland puntpaprika peppers are made into consumer goods such as pasta sauces and chutney for economic gain.


Nutritional Value

Holland Puntpaprika peppers are an excellent source of vitamin C, which is an antioxidant that can help boost the immune system. The peppers are also a good source of vitamins A and E and contain potassium, which can help regulate fluid levels in the body, and fiber, which has been shown to help normalize digestion.


Applications

Holland Puntpaprika peppers are best suited for both raw and cooked applications such as grilling, roasting, steaming, frying, and sautéing. The peppers can be sliced and consumed fresh, out-of-hand as a snack, chopped into salads, salsas, and sauces, or layered on appetizer plates and served with dips. They can also be grilled and layered on sandwiches and paninis, stir-fried with other vegetables, tossed into soups, diced as a pizza topping, sautéed and blended into pasta sauces, or smoked to create a sweet and savory base to serve with meats. In the Netherlands, Holland Puntpaprika peppers are most commonly halved and stuffed with grains, cheeses, and meats. The peppers can also be dried and ground into a sweet seasoning for use in stews, soups, salads, and egg-based dishes. Puntpaprika pairs well with meats such as ground beef, lamb, fish, or poultry, tofu, onions, garlic, cheeses such as mozzarella, cream cheese, feta, and goat, corn, potatoes, rice, couscous, quinoa, acorn squash, herbs such as parsley, oregano, mint, coriander, and thyme, eggplant, spinach, zucchini, pine nuts, and pistachios. The fresh peppers will keep up to one week when stored whole and unwashed in the crisper drawer of the refrigerator.


Ethnic/Cultural Info

The Sweet Palermo® pepper is one of the most popular varieties of Puntpaprika found in the Netherlands. Created by Rijk Zwaan, a family-owned breeding company, Sweet Palermo® peppers are distributed throughout the Netherlands and Europe through authorized sellers who collectively make up the Sweet Palermo Growers Group. The protected peppers are a part of a retail plan to distinguish the very sweet pepper from other Puntpaprika varieties in order to control and retain consumer loyalty. Sweet Palermo® peppers are grown in technologically advanced greenhouses with ideal growing conditions to ensure optimum flavor, texture, and appearance. In 2012, the sweet peppers were awarded the title as the 'Best Dutch Pepper,' and since this award, the variety has seen an increase in consumption at markets as consumers have become familiar with the pepper through continued endorsements of journalists, chefs, and experts.


Geography/History

Holland Puntpaprika peppers are descendants of sweet pointed pepper varieties that were originally native to South America. As Spanish and Portuguese explorers introduced these original peppers into Europe in the 15th and 16th centuries, sweet pointed peppers became a widespread variety across Italy and Spain. It is unknown when the first pointed pepper arrived in the Netherlands, but many Dutch breeders used the Italian varieties to develop the new sweet pointed peppers sold in the Netherlands. Today Holland Puntpaprika peppers are widely found across the Netherlands in local markets and are also highly exported into Europe and Asia. Outside of being grown in greenhouses in the Netherlands, the peppers may also be found growing in warmer regions of Europe during the winter season to maintain year-round availability.