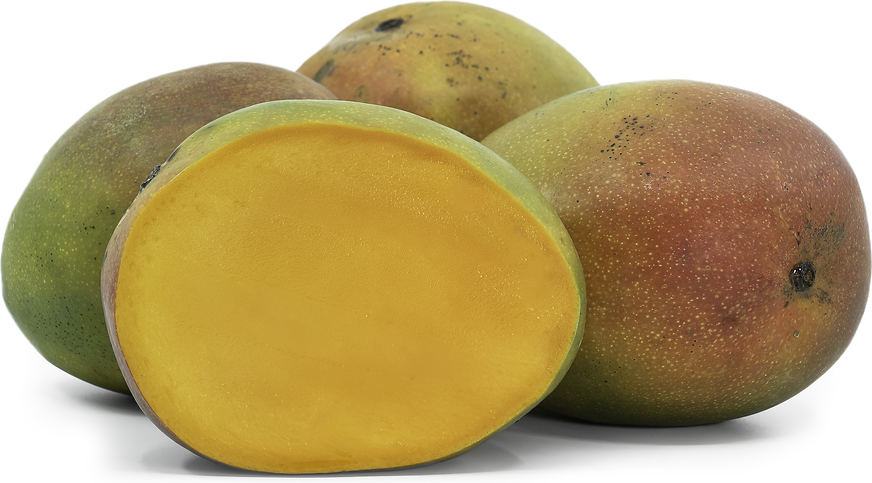 Kent Mangoes
Inventory, lb : 0
Description/Taste

Kent mangoes are a medium to large varietal, averaging 15 to 23 centimeters in length, and have an oval to oblong, uniform shape with blunt, curved ends. The variety is typically harvested at 340 to 907 grams in weight, depending on the growing environment, and the skin is semi-thick, leathery, taut, and smooth. The mango's surface showcases a yellow-green hue when ripe, often covered in large patches of dark red blush. This red coloring is developed through sun exposure, and some fruits may be entirely enveloped in a ruby red hue. The skin also exhibits pale yellow lenticels, and the number of dots increases as the fruit ripens. Underneath the skin, the orange flesh is dense, aqueous, and firm, with a tender, succulent, and melting consistency. The flesh is also low in fiber and has a small, inedible seed. Kent mangoes emit a fragrant, tropical aroma, and the fruits will have a strong scent around the stem when ripe. Select fruits that have a slight give when gently squeezed. Ripe Kent mangoes have a rich, sweet, and tangy taste with fruity, caramel, and spice-filled undertones.


Seasons/Availability

Kent mangoes are available in the late spring through early fall in the Northern Hemisphere and in the summer through winter in the Southern Hemisphere. Each region will have a varying season, depending on climate and growing environment. In Florida, Kent mangoes are harvested July through August, sometimes extending into September.


Current Facts

Kent mangoes, botanically classified as Mangifera indica, are an American variety belonging to the Anacardiaceae family. The large mangoes grow on upright, spreading trees reaching 9 to 18 meters in height and are a monoembryonic variety, meaning their seeds do not produce new Kent seedlings. Kent mangoes were discovered in Florida and are considered one of the best late-season mangoes among growers in South Florida. Outside of Florida, Kent mangoes have expanded internationally and are commercially produced for their high yields, even ripening, and ability to be shipped long distances without losing quality. In the modern day, Kent mangoes are a versatile variety sold in markets as a fresh eating fruit. The variety is also utilized in sweet and savory cooked culinary preparations.


Nutritional Value

Kent mangoes are a source of calcium to build strong bones and teeth, fiber to regulate the digestive tract, and potassium to balance fluid levels within the bloodstream. The variety also provides vitamin A to maintain healthy organ functioning, vitamin C to strengthen the immune system, copper to develop connective tissues, and other nutrients, including folate, phosphorus, vitamin B6, iron, thiamine, riboflavin, and niacin.


Applications

Kent mangoes have a rich, sweet taste suited for fresh and cooked preparations. The variety is favored for its tender, succulent flesh and is typically consumed straight out of hand, discarding the skin and seed. Kent mangoes are also low in fiber, allowing the flesh to be sliced and served on cheese plates, mixed into green salads, or used as a topping over yogurt, oatmeal, and pancakes. Try dicing the mangoes and adding the flesh to salsas, ceviche, or herb-based side dishes. Kent mangoes can also be served slightly chilled as a healthy, simple dessert. In addition to fresh preparations, Kent mangoes can be pureed into fillings for cakes, puddings, panna cotta, bars, and mousses, or they can be frozen into ice cream, sorbet, and granita. In Florida, Kent mangoes are commonly blended into smoothies, milkshakes, and fruit juices. The variety can also be dried into thick, chewy strips and used in granola, on cereal, or as a stand-alone snack. Kent mangoes pair well with herbs such as cilantro, basil, and mint, fruits including bananas, kiwis, pineapples, and coconut, maple syrup, vanilla, and heavy cream. Whole, un-ripened Kent mangoes should be left at room temperature to mature. Once ripe, the variety will keep for 3 to 5 days at room temperature and up to one week in the refrigerator.


Ethnic/Cultural Info

Kent mangoes were named after Leith Dunlop Kent, mango enthusiast and discoverer of the variety. Leith Kent resided in Coconut Grove, Florida, and planted the first Kent mango tree in 1933. It is said Leith Kent was given his first mango seedling for Christmas when he was a kid, and the seedling was a Brooks mango. Later in his life, Leith Kent noticed one of his Brooks mango trees on his property was producing distinct fruits. Leith Kent gave sample fruits to members of the Florida Mango Forum, and over time, the variety became a prevalent cultivar throughout South Florida. The new variety was named after Leith Kent, and Leith later went on to be elected president of the Florida Mango Forum in the 1950s.


Geography/History

Kent mangoes are native to Florida and were discovered growing as a chance seedling in Leith Dunlop Kent's garden in Coconut Grove. The original tree was a Brooks variety planted in 1933 on Kent's property. In 1938, the tree began producing unique fruits, and it was determined that the fruits were a new variety named Kent, after the property owner. For several years, it was unknown what cultivar was the pollination parent of Kent mangoes, but in 2005, a pedigree analysis was conducted, revealing that Haden mangoes were the pollinating parent. Kent mangoes were released commercially in 1945 and quickly became a favored variety among growers in South Florida for their low-fiber flesh. The variety was also introduced to other regions worldwide as a commercially produced cultivar. Today, Kent mangoes are grown in Florida, Mexico, Central and South America, Africa, Australia, and Israel. The variety is also exported to Asia and Western Europe and is sold through fresh markets, grocers, and distributors.