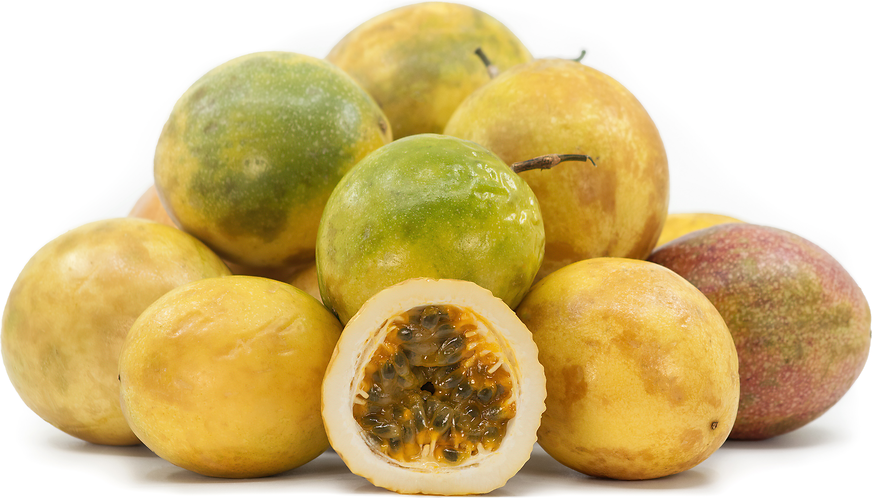 Maracuya Passionfruit
Inventory, lb : 0
Description/Taste
Maracuyas, also known as Yellow passionfruit, are larger than purple passionfruit, averaging 4 to 5 centimeters in diameter and 7 to 8 centimeters in length, and have a round, ovoid, to oblong shape with blunt, curved edges. The golden-hued passionfruit generally weighs between 60 and 90 grams, and the rinds are thick, tough, and fibrous with a shiny, waxy nature. Maracuyas appear in shades of speckled bright yellow, pale yellow, to yellow-green, depending on the variety and growing environment, and the fruits are smooth, firm, and taut when picked, eventually condensing, wrinkling, and softening with maturity. Underneath the surface, a layer of white, spongy, cottony, and slightly bitter pith encases a hollow cavity filled with pulp and seeds. The seeds are small and dark brown with an angled flat shape, enveloped in membranous sacs filled with pigmented, pulpy juice. The sacs range in color from golden yellow to yellow-orange, and when consumed, the gel-like, slippery feel of the pulp combined with the soft crunch of the seeds creates a contrasting sensory experience. Maracuyas release a perfumed floral aroma, and the fruits should feel heavy for their size. If the fruit feels light, it is more likely to have less juice and drier pulp inside the cavity. Both the seeds and pulp are edible and have a refreshing, sweet-tart, acidic taste with musky, tropical nuances of melons, pineapples, kiwis, and citrus.
Seasons/Availability
Maracuyas are available year-round in tropical climates, with a peak season in the early summer through winter.
Current Facts
Maracuyas, botanically classified as Passiflora edulis f. flavicarpa, are a tropical species belonging to the Passifloraceae family. The fruits grow on vigorous, evergreen climbing vines that naturally creep along nearby bushes, trellises, walls, fences, and trees. The name Maracuya translates from Spanish to mean "passionfruit" and is a term primarily used to describe varieties of Yellow passionfruit, also known as Golden passionfruit. Within the Passiflora edulis species are two types of passionfruit: purple passionfruit or Passiflora edulis f. edulis, and Maracuya, Passiflora edulis f. flavicarpa. In Latin, flavicarpa means "yellow or gold." It is also important to note that Maracuyas are distinct from granadillas, also known as sweet granadillas, which are fruits from a different species within the Passifloraceae family. Maracuyas are generally larger, heavier, and brighter yellow than granadillas. Historically, Maracuyas were a staple fruit in tropical to subtropical climates throughout South and Central America, and over time, new varieties have been developed and introduced worldwide. Maracuyas are favored for their sweet-tart taste and are primarily utilized fresh in beverages and culinary preparations.
Nutritional Value
Maracuyas are a source of vitamin C to strengthen the immune system, potassium to balance fluid levels within the bloodstream, and calcium to build strong bones and teeth. The fruits also provide beta-carotene, which is converted into vitamin A in the body, iron to develop the protein hemoglobin for oxygen transport through the bloodstream, and other nutrients, including vitamin K, phosphorus, riboflavin, and niacin. Maracuyas are used in natural medicines as a source of antioxidants to reduce inflammation within the body.
Applications
Maracuyas have a sweet, tart, and tangy taste suited for raw and cooked preparations. The fruits can be consumed straight out of hand by cutting them in half and scooping the flesh from the rind. Some consumers may consider the pulp and seeds too sour, so sugar can be added to create a sweeter taste. In South America, Maracuyas are also eaten with cream and sugar. Fresh pulp and seeds can be layered over parfaits, drizzled over salads, or stirred into yogurt. The juicy, crunchy nature of the pulp and seeds can also be used as an edible topping over cheesecakes, mousse, flan, ice cream, and other desserts. Maracuyas are popularly used in Colombia in a layered cake known as postre de Maracuya. The fruits can also be simmered into sauces, syrups, jams, and jellies or used to flavor creams and fillings. In Hawaii, Maracuyas are known as Lilikois and are used in shaved ice and ice cream. Beyond flavoring culinary dishes, Maracuyas are often used for their juice. The seeds are extracted, and water and sugar are added to create an aromatic juice. Once prepared, the juice can be added to smoothies, agua frescas, and cocktails. The juice can also be used to marinate meat and seafood and is sometimes added to ceviche in South America. Maracuyas pair well with fruits such as citrus, coconut, mango, and banana, chocolate, honey, vanilla, and herbs such as cilantro, mint, and rosemary. Whole, unopened Maracuyas will keep up to five days when stored at room temperature and for 1 to 2 weeks when placed in the refrigerator. The pulp can also be removed from the rind and frozen in a sealed container for up to three months.
Ethnic/Cultural Info
In Jamaica, Maracuyas, or Yellow passionfruit, are rumored to be plants that can "draw tears" or "tear draws." The developing fruits on the vine are said to resemble teardrops, and locals throughout the island nation claim that eating the fruits will increase emotions in the body, making them prone to excessive crying. There is also another belief connecting passionfruit to desire. The fruits are considered an aphrodisiac and can instill passion into any couple who consumes the fruits. Beyond the cultural rumors, Maracuyas are popularly added to fruit juices and cocktails throughout Jamaica, and the refreshing, zingy nature of passionfruit juice is incorporated into Jamaican hot sauces.
Geography/History
Maracuyas are native to South America and were thought to have a center of origin in the Amazon Rainforest in Brazil. The species thrives in lowland tropics and has been growing wild since ancient times. Much of the fruit's history is unknown as it has been cultivated since pre-Hispanic times, but some scientists hypothesize that Maracuyas may have been a hybrid of purple passionfruit and sweet granadillas. Ultimately, this theory has yet to be proven, and other theories claim it was developed as a natural mutation in the wild. Maracuyas eventually spread from their center of origin throughout South and Central America, and in the 16th century, Spanish missionaries adopted the plant's showy flowers as a visual representation of the story of the Christian gospel. The flowers became known as the Flor de Las Cinco Lagas, or the Flower of the Five Wounds, connecting the blooms to Christ's crucifixion. Maracuyas were later introduced to Australia sometime before the 20th century and were carried from Australia to Hawaii, where the species naturalized and flourished in home gardens. Seeds were also sent from Argentina to the United States Department of Agriculture in 1915. Today Maracuyas are grown in tropical to subtropical regions worldwide and thrive in warm growing conditions. The fruits are sold through fresh markets in Asia, Southeast Asia, South America, Central America, the Caribbean, Australia, and in Hawaii, California, and Florida in the United States.
Recipe Ideas
Recipes that include Maracuya Passionfruit. One

is easiest, three is harder.