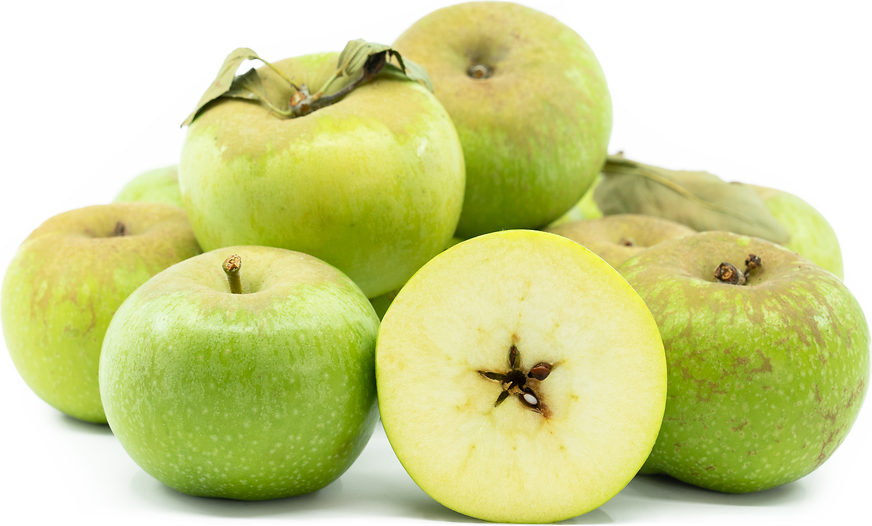 Newtown Pippin Apples
Inventory, lb : 0
Description/Taste

Newtown Pippin apples are generally a medium to large varietal and have a round to conic shape with a sometimes flattened nature. The apple's stem is thin, woody, green-brown, and fibrous, ranging from short to elongated, and the surrounding stem cavity and shoulders often bear a raised light brown, rough, and sandy russet. Newtown Pippin apples have some ribbing, and the skin is semi-thick, smooth, and taut with prominent lenticels. The skin showcases variegated yellow-green hues, and with increased sun exposure, the surface may develop a faint, dull red-pink blush. Underneath the skin, the ivory to pale yellow flesh can be tinged with green and is aqueous, dense, fine-grained, and firm with a crunchy, succulent consistency. The flesh also envelops a small central core filled with tiny, black-brown seeds. Newtown Pippin apples release a light, fruity scent and are initially tart and acidic when freshly harvested. After a storage period, the apple's flavor mellows and develops a balanced, sweet, tart, and tangy taste with tangerine and pineapple-like nuances.


Seasons/Availability

Newtown Pippin apples are harvested in the late fall through winter and can be stored through the spring.


Current Facts

Newtown Pippin apples, botanically classified as Malus domestica, are an American variety belonging to the Rosaceae family. The late-season apples were discovered growing as a chance seedling in New York in the late 17th century and were selected for their extended storage capabilities and refreshing flavors. Newtown Pippin apples are one of the oldest commercial varieties in the United States and were regarded as a favored winter apple, meaning the fruits would stay fresh during the winter, actually improving in flavor over time. The name Newtown was taken from the apple's site of origin in New York, and pippin is a descriptor derived from French that describes any apple variety grown from seed. Newtown Pippin apples are also known as Albemarle Pippin apples, American Newtown Pippins, Newton apples, Green Newtown apples, and Yellow Newtown apples. There is some debate among apple growers on whether Green Newtown Pippins and Yellow Newtown Pippins are different cultivars or the same apple. It has generally been decided that the two apples are the same. Newtown Pippin apples may vary in coloring, depending on their growing conditions, and develop a yellower or greener hue based on terroir and climate. Since their release, Newtown Pippin apples experienced a rise in commercial production for several centuries but later declined in popularity as modern varieties, such as Granny Smith apples, began to replace their presence in retail markets. In the modern day, Newtown Pippin apples are no longer commercially produced and are grown as an heirloom variety utilized in a wide array of sweet or savory preparations.


Nutritional Value

Newtown Pippin apples have not been studied for their nutritional properties. Like other apple varieties, the fruits are a source of fiber to regulate the digestive tract, potassium to balance fluid levels within the body, and vitamin A to maintain healthy organs. The apples also provide vitamin C to strengthen the immune system, vitamin K to assist in faster wound healing, vitamin E to protect the cells against the damage caused by free radicals, and other nutrients, including calcium, copper, manganese, magnesium, and B vitamins.


Applications

Newtown Pippin apples have a sweet-tart taste suited to fresh and cooked preparations. The variety is traditionally consumed fresh after it has been placed in a period of storage to reduce its acidity and concentrate sugars. Raw Newtown Pippin apples can be eaten as a snack, sliced and served on cheese boards, or chopped and tossed into fruit and green salads. The flesh oxidizes and browns quickly when exposed to air, so this should be considered when adding to fresh preparations. Newtown Pippin apples can also be dipped into caramel as a sweet and tangy treat, layered into grilled sandwiches and burgers, or blended into smoothies and fruit juices. In the 18th and 19th centuries, the variety was favored for cider making. Newtown Pippin apples were also once used in the blend for Martinelli's Sparkling Cider, a famous beverage company based in Watsonville, California. In addition to raw dishes, Newtown Pippin apples are a favored cooking apple. The variety is simmered into sauces, jams, chutney, and other preserves, baked into muffins, pies, cakes, and bread, or incorporated into desserts such as crisps, cobblers, dumplings, and fritters. The apples are also sauteed in spices, browned butter, and brown sugar to create a decadent topping for desserts and ice cream. Newtown Pippin apples pair well with spices such as nutmeg, cinnamon, cloves, and cardamom, honey, maple syrup, brown sugar, vanilla, and nuts, including pecans, walnuts, and almonds. Whole, unwashed Newtown Pippin apples will keep for 2 to 4 months when stored in a cool, dry, and dark location such as a cellar or refrigerator.


Ethnic/Cultural Info

Newtown Pippin apples were introduced to Virginia through a loss in battle. In 1755, General Edward Braddock and his team were defeated by the French in a battle in eastern Pennsylvania. Notable members of his army included a physician known as Captain Thomas Walker and commander George Washington. Walker resided in Castle Hill, Virginia, but before he left Pennsylvania, he filled a bag full of tree cuttings, which included a cutting from a Newtown Pippin apple tree. Walker planted the cuttings on his property in Virginia, and by the late 18th century, Newtown Pippin apples were being widely cultivated throughout the state. After their introduction into Virginia, Thomas Jefferson notably planted Newtown Pippin apple trees at his Monticello Estate. Monticello was constructed in 1769 and resided in Albermarle County, the same county where Captain Thomas Walker lived. Newton Pippin apples were one of Thomas Jefferson's favorite apple varieties, and he often referred to them as the "Prince of Apples." Jefferson planted over fifty Newtown Pippin apple trees, known as Albemarle Pippin apples, in Virginia between 1769 and 1814, and the apples were consumed as a winter dessert cultivar and cider apple. Historians report that Jefferson only chose four varieties for his gardens: the Newtown Pippin, Esopus Spitzenburg, Taliaferro, and Hewes' Crab, and these varieties were primarily used for cider making, pies, and fresh eating.


Geography/History

Newtown Pippin apples are native to the United States and were developed from apple seeds carried from England. Years after the seeds were planted, new apples appeared on a chance seedling on the Gershom Moore Estate in the village of Newtown in Long Island, now known as Elmhurst in the present day. Moore was responsible for acquiring pippin seeds in England as early as 1666 and planted the seeds on his property. After discovering the new apple variety, Moore began propagating the cultivar and sharing it with other growers. Newtown Pippin apples were promoted by William Smith Nurseries in Williamsburg, Pennsylvania, in 1755, and Thomas Sorsby also contributed to the apple's spread in production in 1763. In 1777, Colonel Thomas Walker transported cuttings of a Newtown Pippin apple tree into Virginia, where the variety became famous for home gardens and private orchards. Newtown Pippin apples became known as Albemarle Pippin apples in Virginia, and the variety is often credited with being one of the first commercial apples to be grown and sold within the United States. In the 19th century, American minister to Great Britain, Andrew Stevenson, gave Queen Victoria of England a basket of the apples as a gift. The gift basket was received with such high favor that the Queen lifted the tariff on the imported variety to allow the fruits to be exported into England. Newtown Pippin apples quickly became a coveted specialty cultivar in England, and wealthy English households paid triple the price of local varieties to sample the American variety. The apples were also concentrated in sugars by the time they arrived in English markets, creating an exceptionally flavored apple that was anticipated each year by apple enthusiasts. The cultivar remained a staple apple in English markets until World War I when levied duties were reinstated on non-Commonwealth fruits. Newtown Pippin apples were mentioned on the London Horticultural Society's List of Apples in 1807, and throughout the 19th century, the variety was widely commercially grown. Over time, Newtown Pippin apples faded from production as they were replaced with modern, more aesthetically attractive cultivars. Today, Newtown Pippin apples are a specialty variety grown in home gardens and select orchards in the Northeastern United States, California, the Pacific Northwest, Canada, and England. When in season, the variety is sold directly through growers or farmer's markets.