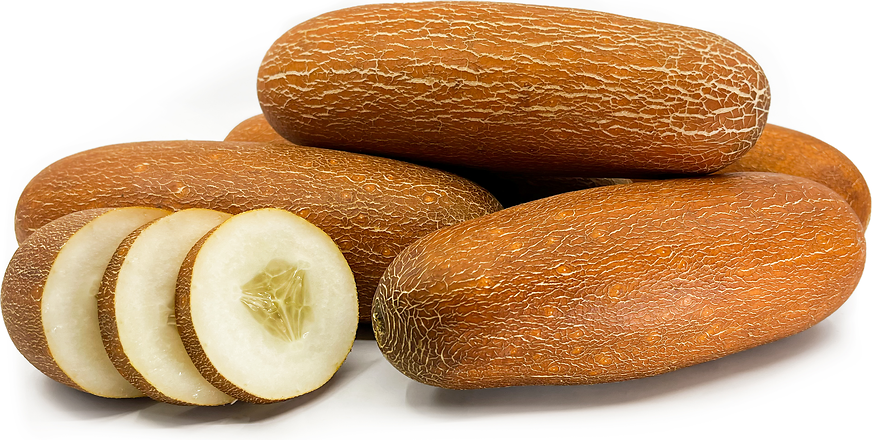 Old Cucumbers
Inventory, lb : 0
Description/Taste
Old cucumbers are large in size, averaging 15 to 25 centimeters in length, and have a thick, straight, and oblong shape with blunt, curved ends. The cucumber's skin ranges in color from yellow-orange to golden-brown and has a crackled, rough, and leathery texture. Underneath the surface, the flesh is a pale white with green tinges and is firm, crisp, and dense. There is also a central cavity in the flesh encasing many flat, ivory, fibrous, and oval seeds suspended in a slippery liquid. Old cucumbers have a mild, sweet, and tangy, slightly grassy flavor, sometimes containing bitter nuances depending on the fruit's age and growing conditions.
Seasons/Availability
Old cucumbers are generally available in Asia in the late spring through summer. In some regions of China, the cucumbers are grown year-round.
Current Facts
Old cucumbers, botanically classified as Cucumis sativus, are cucumbers that have been left on the vine to harden and mature, belonging to the Cucurbitaceae family. The firm, dense cucumbers are believed to be developed versions of the Chinese yellow cucumber and are also known as Timun Tua in Malaysia and Lou Wong Kua in China, translating to mean "old yellow gourd." Old cucumbers are a favorite ingredient consumed in Asia and are believed to contain cooling properties to counteract heat in the sweltering summer months. The mature cukes have been utilized in soups for thousands of years and are deeply intertwined into traditional medicines, culinary recipes, and cultural references. In China, there is a well-known proverb that refers to an old person who desires to act and look young as an "Old cucumber that paints itself green."
Nutritional Value
Old cucumbers are an excellent source of fiber to stimulate the digestive tract and are a source of iron to build the protein hemoglobin to transport oxygen through the bloodstream. The cucumbers also contain calcium to strengthen bones and teeth, vitamins A and C to reduce inflammation and boost collagen production, and vitamin B6 to ensure a healthy metabolism and central nervous system. In China, Old cucumbers are believed to contain anti-aging properties and are consumed to improve skin complexion.
Applications
Old cucumbers contain thick, firm flesh best suited for cooked applications such as boiling, simmering, braising, and stir-frying. In Asia, Old cucumbers are traditionally incorporated into soups, and the skin is scrubbed and left intact to keep the flesh from turning to mush during the cooking process. The flesh is also sliced, removing the seeds, and the cucumber pieces are simmered for hours with vegetables, meats, and aromatics to develop a soft, tender, and smooth consistency. Old cucumbers can also be braised in a mixture of dark and light soy sauces, chili oil, and garlic as a savory side dish, or they can be stir-fried with vegetables and meats as a nutritious main dish. In stir-fried and braised recipes, the skin is typically peeled, and the seeds are removed to speed up the cooking process. Beyond cooked preparations, Old cucumbers are sometimes used to make pickles and are a favored salty snack in Nepal. Old cucumbers pair well with honey dates, dried red dates, dried figs, corn, lentils, red adzuki beans, meats such as poultry, pork, and fish, and dried seafood including oysters, scallops, abalone, and cuttlefish. Whole, unsliced Old cucumbers will keep for 1 to 2 weeks when stored in a ventilated container in the refrigerator.
Ethnic/Cultural Info
In China and Malaysia, Old cucumbers are famously used in lao huang gua tang or Old cucumber soup. The mature cucumbers are highly favored for their nutritional properties and are considered a yin or cooling ingredient. In traditional Chinese medicine, yin and yang foods are consumed to balance the body, and yin foods contain cooling properties, while yang foods are heat-inducing. When the weather is warm, yin foods are eaten to cool the body, and when the weather is cold, yang foods are consumed to bring warmth. Old cucumbers are specifically eaten during the hot summer months in Asia as a way to reduce the buildup of heat within the body. The cucumbers are sliced and combined with other cooling ingredients such as carrots, beans, tangerine peels, and watercress and are slowly simmered for multiple hours to infuse flavors. Old cucumber soup is also cooked with pork, poultry, or dried, salty seafood for added flavor. In addition to acting as a cooling ingredient, Old cucumber soup is a popular home remedy in Cantonese culture to detoxify the digestive tract, help soothe sore throats and coughs, and contribute anti-aging benefits.
Geography/History
Cucumbers are native to the Indian subcontinent and were spread to China through ancient trade routes thousands of years ago. Since the cucumber's introduction, they were quickly adopted into Chinese culture, and many different varieties were selectively bred over time to exhibit distinct characteristics. Cucumbers were also carried to other regions of Southeast Asia through migrating peoples, where they were eventually brought to Malaysia. Old cucumbers are developed from cucumbers that have been left on the vine to fully mature and somewhat harden. Many experts believe Old cucumbers are the mature form of the Chinese yellow cucumber. Today Old cucumbers are primarily localized to markets in Southeast Asia, China, and Korea. Outside of Asia, Old cucumbers are challenging to find and may be occasionally sold through specialty grocers and Asian markets in the United States.
Recipe Ideas
Recipes that include Old Cucumbers. One

is easiest, three is harder.