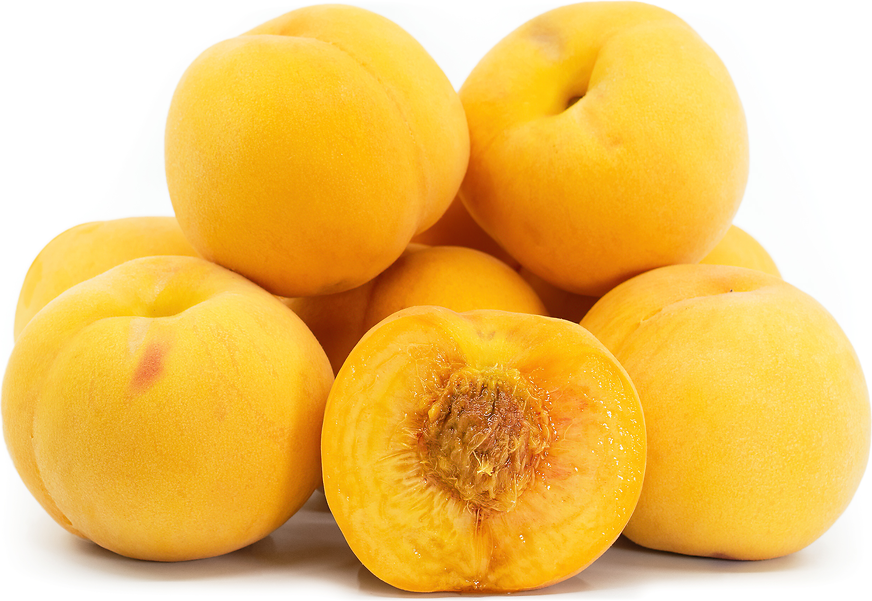 Ougon Peaches
Inventory, lb : 0
Description/Taste
Ougon peaches are generally medium to large in size, averaging 225 to 300 grams in weight, and have a round, oval, to ovate shape. Each peach, depending on the variety, exhibits a prominent suture line extending the length of the fruit, and some varieties have flat shoulders, tapering to a point on the non-stem end. The fruit's skin is thin, smooth, and taut, showcasing a bright yellow to golden yellow-orange hue, and a fine layer of downy fuzz envelops the surface. Ougon peaches also have faint lenticels speckled on the skin, and their outward appearance is distinguished from other yellow peach varieties by the absence of red blush, a trait common in many yellow cultivars. Underneath the surface, the golden yellow flesh is semi-firm with an aqueous, tender, dense, and lightly chewy texture. The flesh also encases a central, light brown pit that is inedible and should be discarded. When ripe, Ougon peaches develop a melting, succulent, and smooth consistency. Ougon peaches are aromatic and emit a honeyed, fruity scent with notes of mango. The peaches should feel heavy for their size when ripe and be relatively blemish free. Ougon peaches contain a high sugar content, ranging from 14 to 16 Brix, and have moderate acidity, creating a balanced, sweet, and tangy flavor with fruity, apricot, and mango nuances.
Seasons/Availability
Ougon peaches are available in the late summer through early fall in Japan.
Current Facts
Ougon peaches, botanically classified as Prunus persica, are a category of Japanese peach varieties belonging to the Rosaceae family. The name Ougon translates from Japanese to mean "golden," referring to Yellow or Golden peach cultivars. Many varieties of Golden peaches are grown commercially across Japan, and the large fruits are cultivated in strict settings to create their signature hue. Ougon peaches are individually hand-bagged on the tree when the fruits are young to protect the fruit's surface from sun exposure, insects, and cracking. Bagging the fruit prevents the skin from developing a dark red blush and incurring heat damage. Ougon peaches are only available for a short season, and the peaches are favored for their soft, juicy texture and sweet and tangy flavor. In Japanese markets, Ougon peaches may also be known as Ogonto, Ogon-to, Ougon Bijin, Ogonmomo, Ougontou, and Golden peaches, and notable varieties include, Okihi, Huang Guifei, Sweet Kouki, Kurara No Kiwami, Takinosawa Gold, Koganemomo, Kougou, Kihi, Hikari, Yellow Kiwami, Kirei, and Kimiko. Ougon peaches are a seasonal specialty primarily sold for fresh eating. The fruits are also packaged in ornate boxes and are given as gifts during celebrations and special events.
Nutritional Value
Ougon peaches are a source of vitamin C to boost the immune system, potassium to balance fluid levels within the body, and vitamin A to maintain healthy organ functioning. The fruits also provide antioxidants to protect the cells against free radical damage, fiber to regulate the digestive tract, calcium to strengthen bones and teeth, iron to build the protein hemoglobin for oxygen transport through the bloodstream, and other nutrients, including magnesium, phosphorus, copper, folate, niacin, vitamin E, and manganese.
Applications
Ougon peaches have a sweet flavor and juicy, soft flesh suited for fresh preparations. The rare fruits are challenging to find in local markets, and once found, the peaches are consumed straight out of hand to savor and appreciate the fruit's authentic flavor. The peaches can be consumed with the skin on or peeled, depending on preference, and they can be sliced and tossed into salads, used as a fresh topping over cereal, pancakes, toast, and waffles, or blended into smoothies and fruit juices. Ougon peaches can also be sliced into fruit bowls, paired with other fruits in anmitsu, a Japanese dessert with fruits, red bean paste, and jelly, or made into premium liquor products, including golden peach wine, sake, or shochu. Beyond fresh uses, Ougon peaches are rarely cooked or incorporated into desserts as the fruits are generally expensive and rare. In Japan, the golden yellow peaches are often sold carefully wrapped in Styrofoam or placed in decorative packages to protect the fruit's delicate skin. Ougon peaches pair well with other fruits such as strawberries, blueberries, kiwis, cherries, plums, and apricots, cheeses including mascarpone, burrata, and feta, and herbs such as mint, basil, lavender, and marjoram. Whole, unwashed Ougon peaches should be ripened at room temperature away from direct sunlight. The fruits should never be squeezed to check for maturity as the skin is easily damaged. Instead, the peaches should be gently pressed around the stem, and if the flesh yields to the touch, they are ready to eat.
Ethnic/Cultural Info
In the Nagano Prefecture in Japan, there is a type of Ougon peach known as the Kira-Kira, or "glitter peach," which is considered the rarest of all the Ougon peaches. Kira-Kira peaches are annually selected by the Kawanakajima Co-Selection Office in Nagano, and the peaches must contain at least a sugar content of 13 Brix. These types of peaches are scanned using a sensor to measure sugar levels and are sold as a luxury fruit. Peaches, in general, are a highly prized, seasonal fruit in Japan and have historically symbolized friendship, exchanged between family and friends. Ougon peaches can be found in expensive gift boxes in Japanese supermarkets when they are in season. Ougon peaches are also treasured for their unusual golden hue, and there is a specialty type of Hi-Chews flavored with Ougon peaches in Japan.
Geography/History
Ougon peaches are native to Japan and are thought to be a descendant of the white peach known as Kawanakajima. The exact date of origin for Ougon peaches is unknown, but the variety arose as a chance seedling in the Nagano Prefecture. Over time, the golden peaches were selected for commercial cultivation, and modern varieties were bred, creating a new category of peaches within the Japanese market. Yellow-fleshed peaches were historically grown in Japan for processing and canning purposes. Before the arrival of Ougon peaches, yellow-fleshed peaches were firm, somewhat tart, and not pleasant to eat raw. Ougon peaches introduced a new type of yellow-fleshed peach that was designed to be consumed fresh, and these varieties transformed yellow peaches from a processed item to a specialty fruit. Today Ougon peaches are primarily grown in the Yamanashi, Nagano, Yamagata, Fukushima, and Akita prefectures and are sold through specialty distributors, local farms, and high-end fruit retailers.
Recipe Ideas
Recipes that include Ougon Peaches. One

is easiest, three is harder.