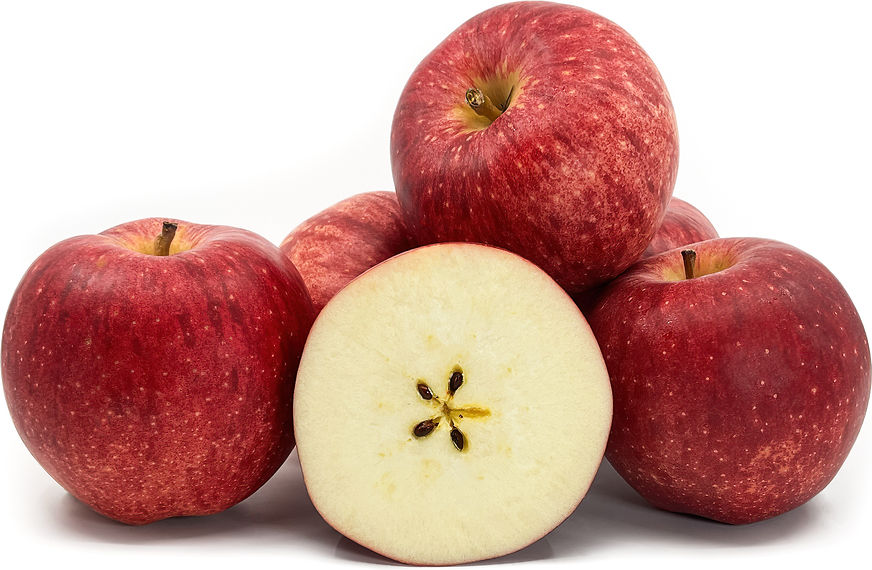 Sekai Ichi Apples
Inventory, lb : 0
Description/Taste
Sekai Ichi apples are one of the largest apple varieties, averaging 11 to 46 centimeters in diameter, depending on cultivation, and have a uniform, round to slightly conical appearance. The apple's skin is semi-thick, chewy, and matte with a yellow-green base, almost entirely covered in pink, red to crimson blush, striping, and speckling. The red coloring found on the surface is largely determined by the amount of sunlight the apple receives in cultivation. The skin also showcases prominent yellow lenticels and is smooth and taut. Underneath the skin, the ivory flesh is firm, aqueous, and textured with a light grain, creating a crisp but semi-soft consistency. The flesh also encases a central fibrous core filled with tiny dark brown seeds. Sekai Ichi apples release a faint, subtly sweet aroma and have a mild and sweet, delicate flavor. The apple's skin may exhibit a hint of bitterness, depending on cultivation methods, but the flesh is low in acidity, creating a generally mild eating experience.
Seasons/Availability
Sekai Ichi apples are available in the fall through early winter.
Current Facts
Sekai Ichi apples, botanically classified as Malus domestica, are a modern Japanese variety belonging to the Rosaceae family. The mid to late-season apples were developed in the late 20th century in Japan and were bred from a cross between two globally famous cultivars, red delicious and golden delicious apples. Sekai Ichi apples can be very large in size, sometimes weighing over two pounds each, and are painstakingly cultivated to create a uniform, aesthetically pleasing apple with consistent flavor and texture. Sekai Ichi apples are commercially produced in Japan as a premium apple variety highly valued for their large size, appearance, and mild taste. The apples are primarily given as gifts to family, colleagues, and friends, and they are customarily consumed fresh, out of hand, to savor the entire eating experience.
Nutritional Value
Sekai Ichi apples are a source of vitamin C to strengthen the immune system, fiber to regulate the digestive tract, and potassium to balance fluid levels within the body. The apples also provide some vitamin E to protect the cells against free radical damage, copper to develop connective tissues, vitamin A to maintain healthy organ functioning, and lower amounts of manganese, iron, calcium, phosphorus, and boron.
Applications
Sekai Ichi apples have a very mild and subtly sweet flavor well suited for fresh preparations. The enormous apples are primarily served fresh, out of hand, to showcase their size, uniformity, and rich coloring. Eating the apples raw also allows the delicate flavor to be savored. Sekai Ichi apples can be displayed as a decorative centerpiece on a fruit platter or sliced or chopped for salads and fruit mixes. The flesh can also be used as a fresh topping over pancakes, oatmeal, and parfaits, or they can be sliced and dipped in melted chocolate, caramel, or nut butter. While less common, Sekai Ichi apples can be blended into smoothies, sliced and layered into sandwiches, or incorporated into any cooked preparation calling for apples, such as applesauce. It is important to note that the apple's soft flesh and neutral flavor will not hold up well to heating and would need to be mixed with other varieties to develop a more complex taste. Sekai Ichi apples pair well with fruits such as pears, blackberries, blueberries, plums, oranges, mangoes, and pomegranates, herbs including basil, parsley, and mint, vanilla, caramel, soft cheeses, and spices including cinnamon, cloves, and nutmeg. Whole, unwashed Sekai Ichi apples will keep 3 to 4 months when stored in the refrigerator's crisper drawer.
Ethnic/Cultural Info
The name Sekai Ichi translates from Japanese to mean "the best in the world," or the "world's number one." The large apple variety received its "world's best" moniker from the complex cultivation techniques required to produce one Sekai Ichi apple. In Japan, each Sekai Ichi apple tree is hand-pollinated using tiny wands to effectively distribute the pollen and ensure the correct variety is fertilizing the tree. Once the fruits begin to grow, the tree is thinned to only produce a few apples, allowing the trees to give the fruits enough nutrients to develop into their characteristic large size. Even with thinning, it is difficult for the trees to carry such heavy apples without branches breaking, leading growers to closely monitor the trees to protect the specialty fruits. This also prevents growers from mass-producing the variety, which increases the apple's rarity as they are only offered in limited quantities each season. Sekai Ichi apples are washed in honey as they mature, and once ready for market, they are hand-harvested and inspected for blemishes, only keeping fruits with a uniform appearance, color, and shape. This rigorous and time-demanding cultivation practice has led Sekai Ichi apples to be considered one of the most expensive apples in the world, sometimes costing more than $21 per apple. It is important to note that several grades of Sekai Ichi apples will be found in markets, assessed according to size, cultivation techniques, and appearance. In Asia, Sekai Ichi apples are traditionally given as gifts for special occasions and business transactions. The apples are also commonly offered as a luxury fruit at 5-star hotels in Shanghai and Hong Kong.
Geography/History
Sekai Ichi apples are native to Japan and were developed at the Prefectural Experiment Station in Morioka, Japan, in 1930. The apples were bred from a cross between golden delicious and red delicious apples and were released to commercial markets in 1974. In the modern-day, Sekai Ichi apples are primarily grown in the Northern Aomori Prefecture of Japan, and the apples are sold domestically and exported to other countries in Asia, including China and Singapore. Outside of Asia, Sekai Ichi apples are cultivated on a few farms in the United States, but the variety is considered a novelty that is not monitored and held under such strict growing requirements as the apples produced in Japan. The Sekai Ichi apples featured in the photograph above were sourced from Meidi-Ya Supermarket in the Millennia Walk in Singapore.
Recipe Ideas
Recipes that include Sekai Ichi Apples. One

is easiest, three is harder.