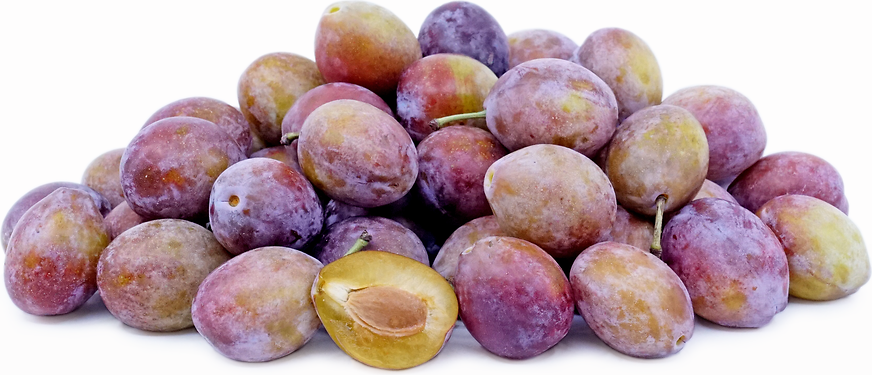 Sugar Plums
Inventory, 20 lbs : 0
Description/Taste
Sugar plums are small to medium-sized fruits with an elongated, oval to oblong shape. The plums are typically broad in the middle and taper slightly to blunt curved ends. The fruit's skin is thin, smooth, and taut, showcasing variegated dark red, purple, red, yellow, to purple-blue hues. The skin is also covered in a powdery white bloom that can be easily removed and has a snappy texture, creating an initially crisp mouthfeel. Underneath the surface, the golden-yellow to yellow-green flesh is dense, firm, and aqueous with a tender, succulent consistency. Sugar plums also develop a soft and chewy texture when cooked or dried. The flesh encases a central light brown pit that does not extend fibers into the flesh, allowing it to be easily removed, also known as a freestone variety. When selecting fresh Sugar plums, look for softer fruits for eating out of hand and firmer fruits for cooked preparations. Plums in markets with a slightly shriveled nature are still edible and have a concentrated, sweeter taste. Fresh Sugar plums have a high sugar content, contributing to their sugary-sweet and subtly tart flavoring with warm spice and brown sugar undertones.
Seasons/Availability
Sugar plums are cultivated in both hemispheres and are available in the late summer through fall.
Current Facts
Sugar plums, botanically classified as Prunus domestica, are a rare type of stone fruit belonging to the Rosaceae family. The small fruits typically grow on compact trees reaching 3 to 4 meters in height and are favored by growers for their productive nature and low maintenance. The name Sugar plum is a category of plum varieties that are high in sugar, self-fertile, and are mid to late-season ripening. Several varieties of Sugar plums are some of the oldest plums in cultivation, and the fruits are also known as Italian plums, Italian Prune plums, French plums, French Prune plums, European plums, and Quetsche plums. Sugar plums are multi-purpose stone fruits consumed fresh, cooked, or dried into prunes, savored for their concentrated sugar levels.
Nutritional Value
Sugar plums are a source of potassium to balance fluid levels within the body, vitamin C to strengthen the immune system while boosting collagen production within the skin, and calcium to build strong bones and teeth. The plums also provide copper to develop connective tissues, vitamin A to maintain healthy organ functioning, fiber to regulate the digestive tract, and other nutrients, including phosphate, B complex vitamins, vitamin K, and manganese. The fruit's red-purple skin indicates the presence of anthocyanins, colored pigments with antioxidant-like properties to reduce inflammation and protect the cells against the damage caused by free radicals and oxidative stress.
Applications
Sugar plums have a rich, sugary, and subtly tart taste suited for fresh and cooked preparations. The fruits can be consumed fresh as a snack, and it is recommended to choose slightly softer plums for fresh eating. The plums can also be sliced and tossed into salads, complementing savory and sweet ingredients. In addition to raw preparations, Sugar plums can be simmered into jams, jellies, and preserves or cooked down into a chunky, syrup-like consistency and poured over ice cream. The fruits also develop a rich sauce that complements the flavors of fowl. Sugar plums hold their shape well when cooked in specific preparations, allowing them to be baked into cakes, cobblers, bread, pies, and pastries. When heated, the flesh also develops a deeper, complex flavoring, and the coloring transforms into a vibrant, fuchsia hue. In France, Sugar plums are popularly incorporated into tarte aux quetsches or a sweet plum tart, and in Germany, the fruits are added to plum dumplings, known as zwetschgenknoedel, developing a crisp exterior and a sweet and savory, soft interior. Beyond using Sugar plums fresh, the fruits can be canned, infused into wine, or dried into prunes. Dried Sugar plums can be chopped and stirred into trail mix, baked into desserts, or tossed into salads and grain bowls. Sugar plums pair well with nuts such as walnuts, almonds, and pecans, vanilla, spices including nutmeg, cinnamon, and ginger, citrus, arugula, Périgord truffles, and herbs such as fennel, basil, and mint. Whole, unwashed Sugar plums should be ripened at room temperature. Once ripe, they will keep up to one week when stored in the refrigerator. Dried Sugar plums will keep for a couple of months when stored in a cool, dry, and dark place in a sealed container. They can also be kept in the refrigerator for up to six months.
Ethnic/Cultural Info
Sugar plum is a familiar term spoken throughout the Christmas season, but despite its shared name, the descriptor is unrelated to Sugar Plum fruits. Historically, sugar plums referred to an ancient type of sugar candy crafted in Europe as a treat for nobility. Sugar was introduced to Europe in the 16th century and was prized as a rare ingredient, initially thought to have healing properties, and members of the royal household in England would consume sugar-coated fruits to aid in digestion. Over time, apothecaries began prescribing sugar-coated fruits to common patients, and the sugar-coated fruits were disseminated to candy stores, where they acquired the name "plum" as a descriptor of the treat's size and shape. Sugar-covered candies eventually became known as comfit, and the treats were comprised of a seed, nut, or dried spice coated in many layers of sugar. In the 17th century, sugar plum was a slang phrase in Europe to describe someone who may be deceitful with their intentions. It was common for people to say others had "a mouth full of sugar plums," meaning the words sound sweet, but the intentions may have ulterior motives. Plum became a common word for "sweet things" throughout the 17th and 18th centuries, and in 1823, it became the focal point of children's dreams in the American poem "A Visit from St. Nicholas," now known as "The Night Before Christmas," written by Clement Clark Moore. The poem recounts that "The children were nestled all snug in their beds, while visions of sugar plums danced in their heads," sugar plums referring to comfit, the crunchy candy treats. Even though Sugar plum fruits are unrelated to the popular cultural sugar plum references, the dried fruits are utilized in Christmas traditions throughout Germany. Dried Sugar plum fruits are constructed into zwetschgemännle or "plum people dolls," and the shriveled fruits are used as the arms and legs of the figurine. Plum people dolls are given as gifts during the holiday season in Germany, and each doll is customized with various outfits and accessories, the most traditional dressed as a chimney sweep. The dolls are thought to bring good luck and fortune.
Geography/History
Sugar plum varieties are believed to have been developed in the Mediterranean and are descendants of plum cultivars transported from Asia and Syria into Europe. The exact history of Sugar plums is unknown, but experts hypothesize these ancient Asian and Middle Eastern varieties were at some point grafted onto local European plum rootstock, creating several new plum cultivars in the Mediterranean. Sugar plums were gradually spread across Europe through trade routes and traveling peoples, as the fruits were a favorite dried nutritional food source to carry on long journeys. The oval plums were also brought to the United States sometime in the mid-19th century as stone fruit farms began booming in California during the Gold Rush. Today Sugar plums thrive in arid, Mediterranean climates with mild, cool winters and hot, dry, and extended summers. The plums are cultivated in Europe, North America, and Australia, sold locally through farmer's markets, select grocers, and specialty distributors. When the plums are dried into prunes, they can be shipped worldwide.
Recipe Ideas
Recipes that include Sugar Plums. One

is easiest, three is harder.
Podcasts