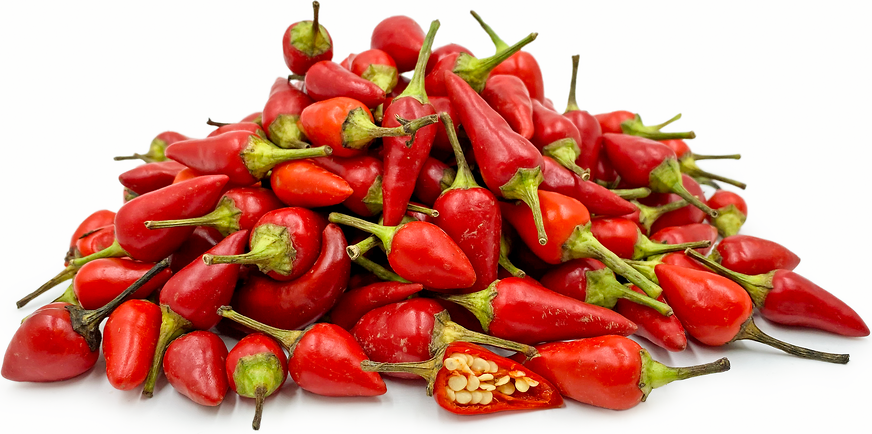 Uzbek Hot Chile Peppers
Inventory, lb : 0
Description/Taste

Uzbek Hot chile peppers widely vary in size and appearance from short, small, and squat to elongated and slender, depending on the variety and growing conditions. Generally, the pods have a conical, tapered shape, and the skin may be smooth, waxy, and glossy, ripening from pale green to red when mature. Underneath the skin, the flesh is crisp, aqueous, and ranges in hues of pale green or red depending on maturity. The flesh also encases a central cavity filled with many flat and round, cream-colored seeds. Uzbek Hot chile peppers are subtly sweet and earthy with a moderate to pungent level of spice.


Seasons/Availability

Uzbek Hot chile peppers are available in the summer through fall.


Current Facts

Uzbek Hot chile peppers, botanically classified as Capsicum annuum, are moderately hot to spicy pods that belong to the Solanaceae or nightshade family. There are many different varieties of hot peppers found in Uzbekistan that are generally labeled as Uzbek Hot chile peppers in commercial markets. Since 2018, Uzbekistan has widely increased the production of hot pepper varieties due to a governmental decree to diversify crop cultivation to create a long-term, sustainable agricultural plan. The peppers are also being marketed as an export commodity that will be sent to surrounding Asian and European countries such as Russia and Kazakhstan. Since the initiative was instated, hot pepper sales have significantly increased, and at one point in 2019, the pepper's sales were higher than reported car sales. With this increased cultivation, many Indonesian hot pepper varieties have been imported for production in addition to the native varieties such as margilan, tallang, pikantny, and uchkun. In local markets, Uzbek Hot chile peppers are used both fresh and dried and are favored for their added heat. The plants are also a favorite home garden crop as they are ornamental with the brightly colored pods, highly productive, and compact with the ability to be grown indoors and in small spaces.


Nutritional Value

Uzbek Hot chile peppers are a good source of vitamins A, C, E and K, manganese, iron, copper, folate, and potassium. The peppers are also a source of capsaicin, which has anti-inflammatory properties to improve the overall health of the body.


Applications

Uzbek Hot chile peppers are best suited for both raw and cooked applications such as roasting, boiling, sautéing, and frying. When fresh, the peppers can be sliced thinly and tossed into salads, chopped into marinades, or blended into sauces and dressings. The peppers can also be preserved in oil or vinegar to add flavor and heat. In cooked applications, Uzbek Hot chile peppers are used as a flavoring and are incorporated into soups and stews, served with cooked meats, or are used as a garnish over bread and main dishes. In Uzbekistan, the peppers are simmered in lagman, which is a soup made with hearty ingredients such as lamb, tomatoes, carrots, peppers, and onions. The soup can be served with noodles in the mixture or can be poured over pasta just before serving. Uzbek Hot chile peppers are also used to flavor pilaf or plov, the country's national rice dish, and it is sparingly used in fresh tomato and onions salads. In addition to fresh and cooked preparations, the peppers are commonly dried and ground into powder for use as a spice on grilled meats, potatoes, and soups. They can also be canned for extended use during the winter season. Uzbek Hot chile peppers pair well with spices such as cinnamon, coriander, mint, parsley, dill, and cilantro, tomatoes, onions, garlic, ginger, cabbage, carrots, meats such as beef, pork, poultry, lamb, and fish, potatoes, and rice. The fresh peppers will keep 1-2 weeks when loosely stored whole and unwashed in a paper or plastic bag in the refrigerator.


Ethnic/Cultural Info

In an effort to increase cultivation and exports, many research centers are being established in Uzbekistan to develop new pepper varieties with improved characteristics. Breeding centers such as the Uzbek Research Institute of Plant Industry and Quality Seeds and the World Vegetable Center have created local offices to study the current pepper cultivars grown in the country and to develop new varieties that will have longer storage capabilities, higher yields, and improved flavor. Many of these centers are launching long-term breeding programs and conduct extensive field trials to supply local farmers with varieties to cultivate and sell at a premium price. Cultivars such as the uchkun, tillarang, and mumtoz have been recent hot chile pepper varieties released and are seeing commercial success within the market for their high yields. These new pepper varieties are also gaining recognition through field days in the Tashkent region. These field days are hosted by a network of growers, distributors, and nurseries, and participants can learn about the new pepper varieties being grown through a tour of the pepper fields. After the trip, participants can network and take part in a communal dinner.


Geography/History

Uzbek Hot chile peppers are descendants of original pepper varieties native to Central and South America. Through Spanish and Portuguese explorers, peppers were brought back from the New World and used as a trade commodity in Asia around the 16th century. Once introduced to the port cities, the seeds of the peppers were sold along the Silk Road and became established across the entire continent of Asia. With increased cultivation, many new varieties were created over time and are still being created in the modern-day. Uzbek Hot chile peppers are grown in all regions of Uzbekistan in home gardens, small farms, and through larger commercial companies, and the peppers are sold locally in fresh markets. They are also highly exported in dried and fresh forms to countries such as Russia, Kazakhstan, South Korea, India, Kyrgyzstan, Georgia, Poland, and Moldova. The peppers in the photo above were sold by an Uzbek family at the Golden Horde market in Almaty, Kazakhstan, and are a favored pepper among locals for its flavor and heat.