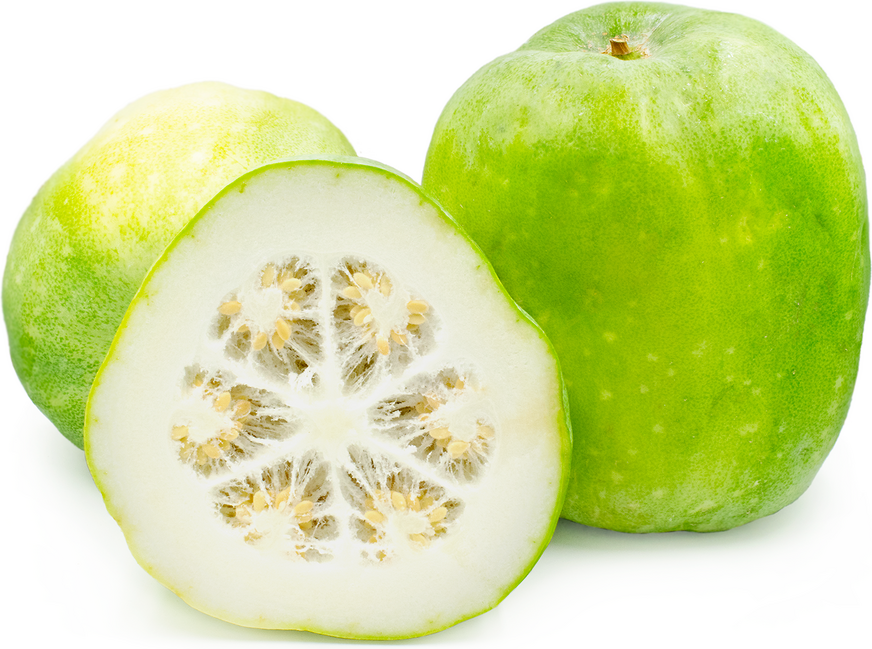 Winter Melon
Inventory, lb : 0
This item was last sold on : 05/29/22
Description/Taste
Winter melons are large fruits, averaging 15 to 80 centimeters in length, and have a bulbous, round to oblong shape with blunt, curved ends. The melons are covered in a thin but tough, light to dark green skin, often enveloped in a textured, chalky layer of wax, depending on the variety. Young Winter melons also bear a pale, fuzzy coating of hair that disappears as the fruit matures. Underneath the hard surface, the flesh is thick, firm, aqueous, and white, encasing a large central cavity filled with pithy membranes and cream-colored oval seeds. The seeds are edible once cooked and have a nutty, neutral taste. Winter melons are not typically consumed raw and contain a mild, vegetal, and subtly grassy flavor reminiscent of a watermelon rind or cucumber. When cooked, the flesh becomes transparent and softens, absorbing accompanying flavors.
Seasons/Availability
Winter melons are available year-round, with a peak harvest in the late summer through fall.
Current Facts
Winter melons, botanically classified as Benincasa hispida, are an ancient fruit that grows on creeping vines belonging to the Cucurbitaceae family. The large fruits are native to Asia and are a medicinal and culinary ingredient favored for their filling nature and neutral flavor. Winter melons are known by many names worldwide, including Wax gourd, Winter gourd, Ash gourd, Chinese Preserving Melon, Pethakaddu in Hindi, Dong Gua in Chinese, Kundol in Tagalog, and Tougan in Japanese. The melons received their winter moniker from their extended storage capabilities. The fruit's surface is coated in a waxy layer, allowing the melon to be harvested in the fall and stored through the winter, providing a nutritious food source during the scarce winter months. Some experts also believe the powdery, white coating on the melon's surface reminded consumers of snow, another explanation for the melon's wintery name. In the present-day, Winter melons are often sold pre-sliced in local markets due to their large size. Though they are botanically a fruit, Winter melons are cooked and consumed similarly to vegetables and are prevalently seen in soups, curries, and stir-fries in Indian and Chinese cuisine.
Nutritional Value
Winter melons are an excellent source of vitamin C to strengthen the immune system and fiber to stimulate and regulate the digestive tract. The fruits also provide antioxidants to protect the body against environmental aggressors, magnesium to maintain healthy nerve functioning, phosphorus and calcium to promote strong bones and teeth, and contain lower amounts of folate, zinc, and iron. In Traditional Chinese Medicine, Winter melons are viewed as a cooling or yin ingredient and are used to reduce inflammation and balance the body through their alkaline properties.
Applications
Winter melons have neutral flesh that readily absorbs accompanying flavors, best suited for cooked applications such as steaming, stir-frying, simmering, and braising. The skin is inedible and is typically discarded, but sometimes the melons are hollowed and used as a decorative serving bowl. The seeds are also removed from the flesh before cooking, but they are edible once cooked and can be roasted or fried as a crunchy snack. Once trimmed and deseeded, Winter melons can be sliced or cubed into smaller pieces and are commonly incorporated into soups, curries, and stews. The flesh is also stir-fried with robust spices and herbs, or it is stuffed with meat and cooked, mixed into casseroles, used as a substitute for zucchini, or quick-pickled for a tangy flavor. In addition to savory dishes, Winter melons are blended into smoothies or juices and are combined with sweet fruits, lemon, salt, and pepper, or the flesh is simmered with sugar to create a syrup that is popularly incorporated into tea. Winter melons are also used as a filling in cakes, pastries, and pies, or they are cooked into candy. Winter melon pairs well with watermelon, savory meats such as pork, chicken, duck, and ham, seafood, including shrimp and scallops, mushrooms, scallions, ginger, bamboo shoots, peas, and lentils. Whole Winter melons will keep for 3 to 5 months when stored in a cool, dark place away from direct sunlight. Once sliced, the melon pieces will keep up to one week when stored in a plastic bag in the refrigerator's crisper drawer. Peeled and raw Winter melon chunks can also be frozen for extended use.
Ethnic/Cultural Info
In China, Winter melons are most famously simmered into savory soups as a filling, neutral ingredient. The large melons are utilized as serving vessels in traditional Chinese banquets, hollowed and filled with cooked soup as a dish to impress guests. For increased visual appeal, the surface of the Winter melon is also carved with elaborate motifs incorporating important mythical creatures such as the dragon and phoenix. During the banquets, Winter melon pond, also known as Winter melon soup, can be prepared with a few simple ingredients, or it can be made with eight ingredients as a sign of wholeness and a blessing for wealth. The melon pieces are sliced and simmered in flavorful pork, poultry, or seafood-based broth with other ingredients such as rehydrated mushrooms, ginger, green onions, or dried dates. Winter melon soup is prepared across China, with each region using slightly different ingredients to flavor the mild melon flesh. Winter melon is also used in the famous wife cake, also known as lou po beng, sweetheart cake, and marriage pie. Wife cakes are an ancient pastry native to the southern province of Guangdong, and the flaky treat is still widely made in bakeries in the modern-day. Wife cakes are made from a mixture of candied Winter melon, sugar, sesame seeds, and other sweet ingredients and are wrapped in dough and baked to develop a crisp exterior with a soft, sweet filling. In China, there are many legends surrounding the origins of the dessert, many of the stories involving war and multiple love stories, which has resulted in the pastries becoming a traditional dessert or snack also served at Chinese weddings.
Geography/History
Winter melons are native to Asia and Southeast Asia, where they have been cultivated since ancient times. The vining plants are believed by experts to have been used in culinary and medicinal preparations in China as early as 500 CE, and over time, the species was established as a common garden cultivar in Japan, Indonesia, and India. Today Winter melons are grown in warm climates worldwide and sold through local markets, specialty grocers, and Asian markets in the Americas, Australia, Asia, Africa, and Europe.
Recipe Ideas
Recipes that include Winter Melon. One

is easiest, three is harder.
the other 5...