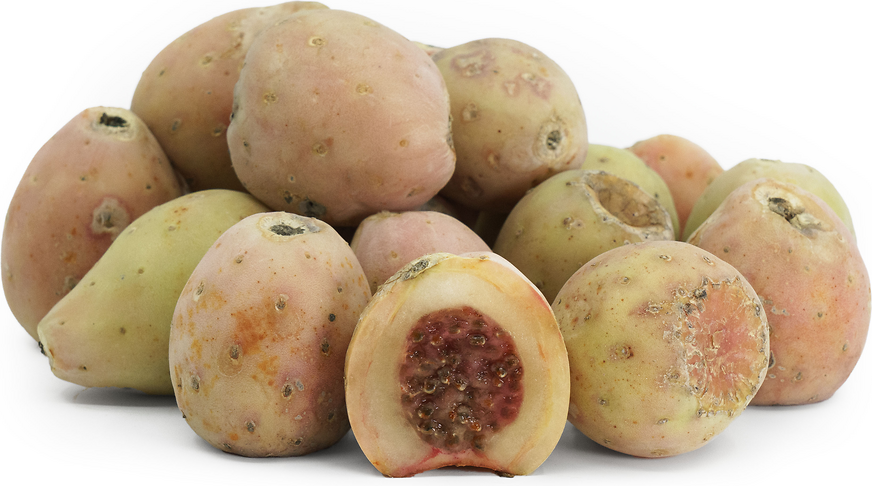 Xoconostle Cactus Fruit
Inventory, lb : 0
Description/Taste
Xoconostle cactus fruit grows at the end of nopales, or cactus paddles, sometimes in clusters of up to a dozen on one paddle. Xoconostle cactus fruit is pear-shaped, tapering to a point. The small fruit is 5 to 7 centimeters long and around 4 to 5 centimeters in diameter. It has a pale green skin with a muddled hue and will attain a pale pink blush once ripe. Xoconostle cactus fruit, like its prickly pear cousin, is covered in clusters of small spines that once removed, leave little circular scars. The flesh of this cactus fruit variety is bright green to a pale peach or pink and has a smooth, juicy texture. The seed cavity of the Xoconostle is centralized, whereas other prickly pear varieties have seeds embedded throughout the flesh. The bright red center of the Xoconostle cactus fruit has a few dozen, small edible seeds that have an appearance similar to the seeds of a passion fruit. The flavor is described as complex with a sour tang and an acidic finish.
Seasons/Availability
Xoconostle cactus fruit is available at the end of the summer and through the fall months.
Current Facts
Xoconostle (pronounced choko-nose-leh) cactus fruit is a sour prickly pear variety, botanically classified as Opuntia matudae. The name "xococ" in the ancient Nahuatl language means 'sour' which differentiated it from the sweet cactus fruits of other Opuntia species. They are sometimes called Tuna Agria. Xoconostle cactus fruit is one of the few sources of betalain, a phytonutrient responsible for the deep red color of the seeds and red blush on the fruit. The pigment also gives red beets their rich burgundy color.
Nutritional Value
Xoconostle cactus fruit is rich in fiber, vitamin C and calcium, as well as phytonutrients like betalains that offer anti-oxidant benefits. Xoconostle cactus fruit along with red beets, are one of the few sources of the pigment betalain (or betacyanin) which has both anti-oxidant and anti-microbial properties. The antioxidant properties of the Xoconostle seeds (where the red pigment is concentrated) are believed to be higher than that of raspberries, red plums and strawberries. The seeds have a higher fiber content than the flesh of the Xoconostle cactus fruit. The sour cactus fruit also contains carotenoids and vitamin E.
Applications
Xoconostle cactus fruit lends a sour flavor to sauces and salsas, as well as the traditional mole sauce, Mole de Olla, in Mexico. Remove the peel to use the raw flesh for pureeing or roasting, or roast the Xoconostle cactus fruit whole in the oven or on a traditional clay comal. Cut the fruit in half and scoop out the seeds and flesh. Xoconostle cactus fruit is often used in savory applications but can be used to make jellies and jams or chutneys. Use the flesh of the Xoconostle cactus fruit to make beverages, like green juices and smoothies. Xoconostle cactus fruit juice would make an idea marinade or salsa for chicken, pork or fish dishes. Peeled, deseeded and sautéed Xoconostle is added to a molcajete with peppers, garlic and onion to make salsa de borracha (rubber salsa). The fruit can be candied or dehydrated to preserve. Xoconostle cactus fruit will keep for up to five days in the refrigerator.
Ethnic/Cultural Info
In Mexico, Xoconostle cactus fruit is found both in the wild, as well as in home gardens and is cultivated. Xoconostle are sprinkled with chile powder and lemon juice and dehydrated for a snack. The juice of the sour cactus fruit is used to make traditional aguas frescas and to flavor homemade pulque (the liquid of the mescal plant). Commercially, Xoconostle cactus fruit is used to make jams, liquor, and syrups.
Geography/History
Xoconostle cactus fruit is native to Central Mexico, and has likely been used for thousands of years by the indigenous peoples of Mexico. They are prolific in semi-arid highlands of northern and central Mexico, as well as regions along the Gulf of California. Over 15 recognized cultivars of Xoconostle cactus exist in Mexico, though there may be other wild varieties unknown to botanists. Two commercial varieties are cultivated, Cuaresmeño and Burro. Commercial use of the fruit for making beverages and foods is limited to the use of the flesh, leaving the seeds and peel to waste. Because of the high fiber and antioxidant benefits of the seeds and skin, research is being conducted to encourage companies to utilize the whole fruit. Availability of Xoconostle cactus fruit is limited to its native region, specialty stores and small farms and farmer's markets in Mexico and the Southwestern United States. They are found growing in the wild throughout their native region.
Recipe Ideas
Recipes that include Xoconostle Cactus Fruit. One

is easiest, three is harder.