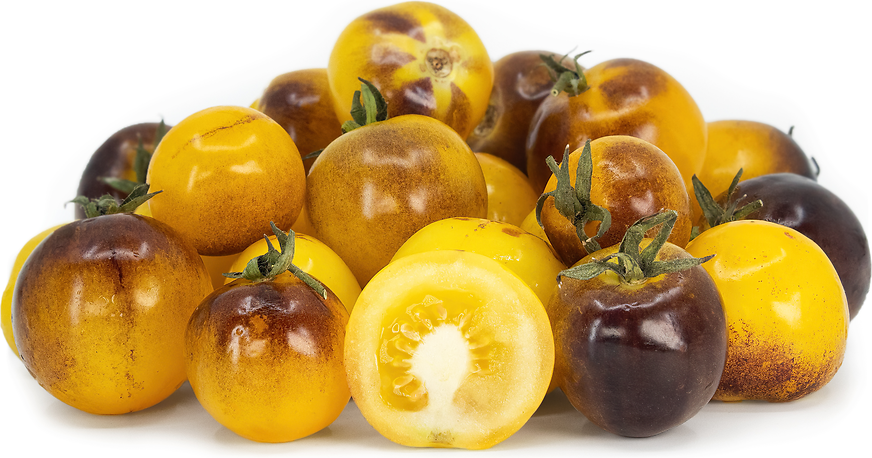 Bosque Bumblebee Heirloom Tomatoes
Inventory, lb : 0
Description/Taste
Bosque Bumblebee is a rare eye-catching tomato that is bright yellow, with dark blue marbled shoulders. They develop the blue-purple color as they grow, and the more sun that each tomato receives, the deeper that color becomes. Bosque Bumblebee is a small salad-type tomato, though still larger than a cherry tomato at about two inches in size, and it has a mild, almost citrusy flavor with an appealing juicy texture. The tough indeterminate, or vining, Bosque Bumblebee tomato plants can grow to an average of six feet, and they produce abundant yields of the round fruit throughout the season right up until frost.
Seasons/Availability
Bosque Bumblebee tomatoes are available mid-summer.
Current Facts
Bosque Bumblebee is part of the nightshade family, and as a tomato variety its scientific name is Solanum lycopersicum, formerly Lycopersicum Esculentum. Bosque bumblebee is a created heirloom, as it was stabilized after an intentional cross-pollination, and it is considered an open-pollinated cultivar, meaning that saved seed will reproduce plants identical to the parent. Bosque Bumblebee, often called Bosque Blue Bumblebee, is not to be confused with the bosque blue tomato, which is a totally different variety that was released by the same farm in 2011. Bosque Bumblebee has also been offered under the name Purple Yellow Light Bulb.
Nutritional Value
Bosque Bumblebee tomatoes are most widely known for their high levels of anthocyanin, a naturally occurring antioxidant found also in blueberries and red cabbage that shows itself in the blue-purple pigmentation, and is reported to combat disease. In addition, tomatoes contain high levels of vitamin C and lycopene, another antioxidant being studied for its potential health benefits, including its role in preventing certain types of cancer. Tomatoes are a good source of calcium and iron, and they also contain decent amounts of phosphorus, sulfur, potassium, and vitamins A and B.
Applications
Bosque Bumblebee tomatoes are great for fresh snacking, and their unique look makes them a great addition to salads. They can be used in fresh salsas, or try chopping them and tossing with fresh basil, balsamic vinegar and olive oil to make a colorful bruschetta topping for a baguette. Tomatoes pair especially well with classic Italian flavors like oregano, garlic, or fresh mozzarella cheese, but they also go nicely with parmesan cheese, bacon, eggs, rice, mushrooms, onion, avocado, parsley, citrus such as lemon and lime, pineapple, mint, cilantro, seafood, and roasted meats and poultry. Like all tomatoes, store Bosque Bumblebee tomatoes at room temperature until ripe, after which refrigeration can be used to slow the process of decay.
Ethnic/Cultural Info
Blue tomatoes like Bosque Bumblebee are purposefully bred in the United States for the health benefits of their anthocyanin content. Until the 21st century, tomatoes grown in home gardens have had the beneficial pigment only in their leaves and stems, which are inedible, while only a few wild tomato species had anthocyanins in their fruit. J&L gardens, the farm that developed Bosque Bumblebee, has been farming unique artisan varieties in the upper Rio Grande river valley near Espanola, New Mexico in the United States since the late 1980s.
Geography/History
Bosque Bumblebee was developed by J&L gardens and was first offered in their catalogue in July 2012. Bosque bumblebee is thought of as a tender cultivar, so before planting outside, wait until your soil temperatures are warm and the night temperature is well above freezing. Keep in mind that the color of these rare tomatoes is darkest in slightly cooler weather and in full sunlight.
Podcast