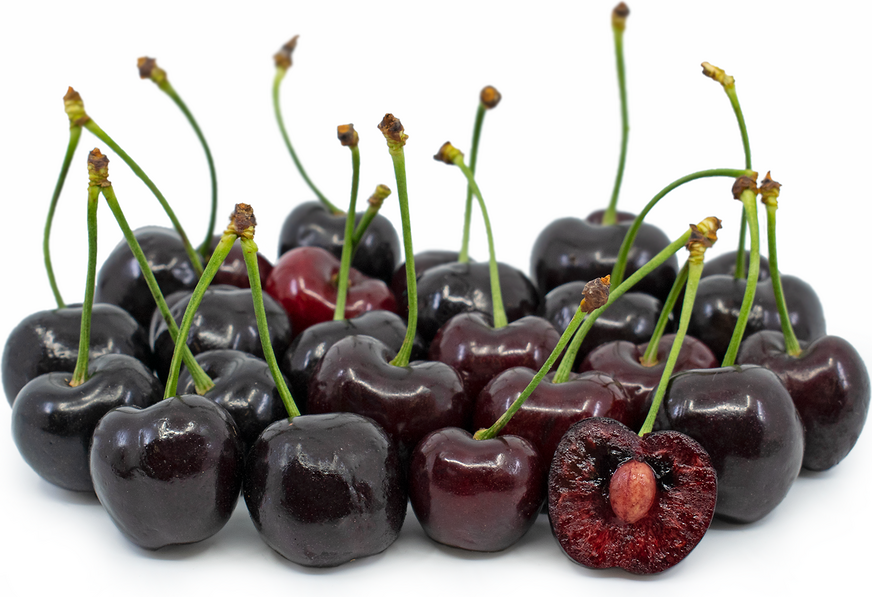 Cherries
Inventory, 18 lbs : 0
This item was last sold on : 08/29/23
Description/Taste
Cherries are small stone fruits, generally averaging 2 to 4 centimeters in diameter, and have a round, oval, ovate, to cordate shape, attached to slender, pliable, and fibrous green to brown stems. The fruit's surface is taut, smooth, glossy, and semi-thin, ranging in color from solid shades of bright red or dark red, almost black, to variegated hues of red-yellow, orange, ruby, and crimson tones. Underneath the surface, the flesh can be firm or soft, depending on the variety, and is typically aqueous, pink to red, and tender, encasing a central pit tightly adhered or loosely attached. Cherries widely range in flavor depending on the variety and sugar-acid content. Sweet Cherries generally have a balanced, sweet-tart flavor with fruity nuances. Sour Cherries contain higher acidity, contributing to tart, tangy, and unfavorable sour flavors when raw. The sharp fruits are often combined with sweeteners in cooked applications to develop even amounts of sweet and sour. In addition to the fruits, Cherry trees are often famous for their white-pink, five-petaled flowers. The delicate blossoms are highly ornamental and decorate the entire tree canopy when in bloom.
Seasons/Availability
Cherries are available for a short season in the mid-spring through the summer. The fruits are grown in both the Southern and Northern Hemispheres, and there are many different varieties with ripening times from early, mid to late-season. Each Cherry variety is typically available for only a few weeks each year.
Current Facts
Cherries are botanically a part of the Prunus genus and are sweet-tart stone fruits belonging to the Rosaceae family. There are over 1,000 different varieties of cherries found worldwide that have naturally evolved or been selectively bred to showcase improved characteristics. Each tree can annually produce around 7,000 Cherries, and the fruits have a relatively short season, lasting only for a couple of weeks. Cherries also have a short shelf life due to their fragile, easily damaged nature. In commercial cultivation, about twenty percent of the available varieties are grown for consumer markets, and the fruits are traditionally classified either as a Sweet Cherry, Prunus avium, or a Sour Cherry, Prunus cerasus. Sweet Cherries are the primary fruits sold for fresh consumption and contain sweet, subtly tangy flavors with juicy, firm, and succulent flesh. Some of the most commercially popular Sweet Cherry varieties in the United States include Bing, Rainier, Lambert, and Brooks cherries. Sour Cherries are more acidic and are not consumed fresh. The fruits are typically processed into juices, jams, and other preserves or are mixed with sweeteners in desserts. The main Sour Cherry variety is known as Montmorency.
Nutritional Value
Cherries are a rich source of anthocyanins, colored pigments found within the skin and flesh that have antioxidant-like properties to reduce inflammation and protect the cells against free radical damage. The fruits also contain vitamins A and C to boost the immune system and promote healthy organ functioning, potassium to balance fluid levels within the body, fiber to regulate the digestive tract, and lower amounts of iron to build the protein hemoglobin for oxygen transport through the bloodstream and calcium to strengthen bones and teeth.
Applications
Cherries have a sweet, mildly tart flavor well suited for both savory and sweet preparations and can be consumed fresh, dried, frozen, canned, or even pickled. When raw, Sweet Cherries can be eaten straight, out of hand, tossed into green and fruit salads, chopped into coleslaw, sliced and used as edible decorations over desserts, dipped whole in chocolate as a healthy snack, blended into smoothies, or juiced into mixed drinks, lemonades, and sparkling beverages. The fruits can also be diced into salsa, pureed into sauces such as barbeque, or simmered into jams, jellies, compotes, and chutney. In addition to fresh preparations, Cherries can be incorporated into savory main dishes, cooked into a sauce, or stuffed into a filling. Both Sweet and Sour Cherries are popularly baked into cakes, cobblers, crisps, crumbles, pies, bread, tarts, and scones. Cherries are also famous for their use as an edible garnish over ice cream, shakes, and cocktails, known as Maraschino Cherries, which is a style of preserved fruit that contains a sweet, sometimes tangy flavor. The first Maraschino Cherries were developed in Europe from fruits being preserved in saltwater and then soaked in a liqueur known as marasca. Over time, many different recipes were created to develop new types of Maraschino Cherries, including a recipe from a scientist and professor in Oregon who added calcium salts to the brine to help the Cherries retain a firmer texture. Cherries pair well with nuts such as pistachios, almonds, hazelnuts, and pecans, meats including beef, poultry, turkey, pork, and lamb, fruits such as blueberries, blackberries, citrus, nectarines, peaches, and apricots, and cheeses including ricotta, brie, feta, burrata, and mascarpone. Whole, unwashed Cherries will keep 5 to 7 days when stored with their stems intact in the coldest part of the refrigerator. The fruits can also be dried, frozen, or canned for extended storage.
Ethnic/Cultural Info
In Japan, there are several varieties of Cherry trees that are highly favored for their flowers and do not bear fruit. Ornamental cherry tree cultivars have additional petals instead of stamens and pistils, causing the blooms to be sterile, but the overproduction of petals creates a visually stunning display of delicate pink and white flowers. Cherry blossoms are known as Sakura in Japanese and are the country's national flower, a symbol celebrated during the annual Hanami Festival. The event was first established during the Nara Period to celebrate renewal, life, and natural beauty. In the modern-day, the festival is traditionally held in the spring, and during the colorful season, visitors flock to the blooming trees to take photos, pray, and capture the blossom's beauty in artwork. Japanese families and friends also picnic under the trees as a symbol of friendship, and the gatherings are held both during the day and at night with lanterns to view a different perspective of the trees.
Geography/History
Cherries are believed by experts to be descendants of wild Cherries that are native to Asia Minor and the Caucasus Mountains, a region extending between the Caspian and Black Sea. The fruits were spread across trade routes through Turkey into the Mediterranean and Central Asia into China in ancient times, where they were first cultivated around 4000 BCE. Cherries were also wildly grown and consumed in Ancient Greece and Rome, with the first written account recorded by Greek author Theophrastus in his book, The History of Plants, published in 300 BCE. In Ancient Rome, Cherries were consumed by Roman soldiers, and the pits were discarded along roads and camps, leading to Cherry trees being scattered across Europe. Commercial Cherries were developed in Europe in the 15th century, and in the 17th century, the fruits were introduced to North America through settling colonists. Today Cherries are widely cultivated across the United States, and many sour and sweet varieties have historically been developed within the country. Michigan is the central production region of Sour Cherries, while Sweet Cherry production is centered in the Pacific Northwest and California. Globally, Cherries are cultivated worldwide and are found in Asia, Australia, Europe, North America, and South America. When in season, the fruits are sold fresh through farmer's markets, specialty distributors, and select supermarkets.
Recipe Ideas
Recipes that include Cherries. One

is easiest, three is harder.
the other 56...
Podcast