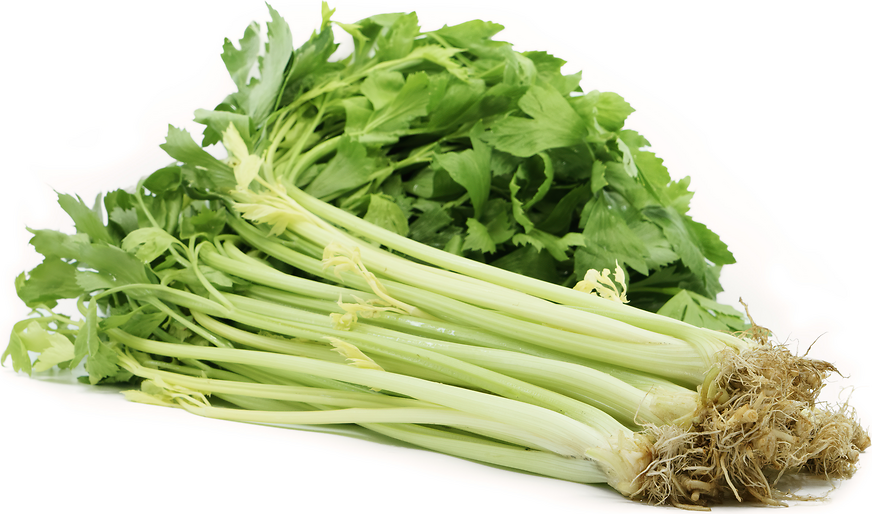 Chinese Celery
Inventory, 10 ct : 0
Description/Taste
Chinese Celery grows in upright clustered rosettes connected by a singular base and has elongated, straight to slightly curved stalks topped with broad and flat leaves. The stalks are thin, slender, and firm with a round, cylindrical nature, appearing in shades of white, pale green, yellow-green, to dark green, depending on the variety and growing conditions. Chinese Celery is thinner than western celery and has a characteristic hollow center. The stalks are also ribbed and have a fibrous, chewy, crunchy, and succulent consistency. The leaves connected to the stalks are dark green and generally consist of three flat, broad lobes with deeply serrated, toothed edges that appear in different sizes. They also average 1 to 2 centimeters in diameter and 2 to 5 centimeters in length and have a snappy mouthfeel. Chinese Celery is aromatic, and when selecting fresh, the stalks and leaves should be vibrant and crisp without wilting or discoloration. Both the stalks and leaves are edible and are used as flavoring in culinary preparations. Chinese Celery has an intense, pungent, and slightly peppery taste when raw, seldom consumed fresh as the flavor is considered too overpowering. The stalks and leaves are preferred cooked and develop a milder, mellower, and sweeter taste with refreshing notes and a tender but crisp texture.
Seasons/Availability
Chinese Celery is available year-round.
Current Facts
Chinese Celery, botanically classified as Apium graveolens var. secalinum, is an herbaceous species belonging to the Apiaceae family. The thin-stalked plants grow in small, upright clusters reaching 25 to 63 centimeters in height and are utilized as culinary and medicinal ingredients. Chinese Celery is known by several names, including Leafy Celery, Cutting Celery, Smallage, Kintsai, Nan Ling, Kinchay, Tango, Tong Kun, Kan-Tsaii, Qin Cai, Phak Chi Lom, Kheun Choy, and Heung Kun. The name Chinese Celery is a general descriptor for a few domesticated varieties of celery sold in commercial markets, and the varieties vary in appearance and flavor. Producers value Chinese Celery for its somewhat fast-growing nature and ability to be planted in containers and small spaces. Chefs favor Chinese Celery for its capacity to be a flavor enhancer or a cooked vegetable. Chinese Celery is distinct from western celery, also known as stalk celery, as it has a stronger, more robust flavor, crunchier nature, and hollow, slender stems. The species is cultivated worldwide, but the stalks and leaves are primarily used in East Asian cuisine, specifically in Chinese, Vietnamese, and Thai recipes.
Nutritional Value
Chinese Celery has been utilized in Traditional Chinese Medicine as a cooling ingredient to clear heat. Pressed juice from the plant is consumed to aid digestion, cleanse the body of fevers, reduce water retention, and be a natural source of hydration. The stalks and leaves are a source of potassium to balance fluid levels in the body, vitamin C to strengthen the immune system, and iron to develop the protein hemoglobin for oxygen transport through the bloodstream. The herb also provides vitamin A to maintain healthy organ functioning, vitamin D to assist in calcium absorption, magnesium to promote energy production, and other nutrients, including B vitamins, folic acid, and zinc.
Applications
Chinese Celery has a pungent, bitter, and slightly peppery flavor suited for cooked preparations. The stalks and leaves are rarely consumed raw due to their strong taste, but they develop a sweeter, mellower flavor when cooked. Chinese Celery is also hardier than stalk or western celery, allowing it to be used in a wide array of cooked preparations. Both the stalks and leaves are edible and are used as a flavoring in stocks, soups, stews, and braised dishes. Chinese Celery can also be dried and ground into vegetable salts. While less common, Chinese Celery is sometimes blended into smoothies or pressed into juices. The stalks can be blanched and steamed for salads, cooked into fried rice, sauteed as a simple side dish, or shredded and cooked into various meat main dishes. Chinese Celery is also popularly stir-fried and has a neutral flavor that complements all types of meat, seafood, and vegetables. Try mincing and stuffing Chinese Celery into dumplings or cooking and serving with a flavorful sauce. In China, Chinese Celery is a common ingredient in dishes prepared for the Lunar New Year. Celery is viewed as an auspicious ingredient symbolizing hard work or diligence and is combined into stir-fries, lettuce wraps, and vegetable dishes. Chinese Celery pairs well with meats such as turkey, lamb, poultry, and pork, vegetables such as bok choy, Chinese broccoli, radishes, bell peppers, water spinach, and baby corn, aromatics including ginger, garlic, scallions, and lemongrass, and spices such as cumin, coriander, star anise, and cloves. Whole, unwashed Chinese Celery will keep for 4 to 6 days in a perforated plastic bag in the refrigerator's crisper drawer.
Ethnic/Cultural Info
Majiagou is a type of Chinese Celery famous throughout China. The variety received a National Geographical Indication, meaning it cannot be grown in any other region outside of its native habitat and has a unique flavor and texture because of the terroir it is grown in. Majiagou is named after the Majiagou Village and is cultivated throughout Pingdu City in the Shandong Province. The celery variety has been grown for over a thousand years and can be traced back to the Ming Dynasty, from 1368 to 1644 CE. There are several myths and legends surrounding Majiagou, but one of the most recognized tales is the story of Panminbiao. Legend has it that the governor of Pingdu once suffered from a horrible headache. Doctors and medical professionals could not cure his headache, so the governor requested fresh local vegetables, hoping these ingredients would help the pain. Most of the governor's chefs gathered vegetables from the nearby village market, but one chef also picked Chinese Celery from under the Shuangfeng Bridge in the Xiguan Village of Pingdu. The stalks and greens were stir-fried with pork, and the governor liked the foraged dish, which eventually helped him get rid of his headache. The governor sought out the mystery ingredient and asked the chefs where they sourced the stalks. The chef who picked the celery beneath the bridge became worried that the governor would be furious once he knew where the vegetable was foraged from. The governor eventually confronted the chef, and the chef told him his secret picking spot. The chef explained that historically farmers viewed the plant as a vitality-enhancing vegetable, and in the Sui Dynasty, growers were ordered to plant the celery under the bridge as a specialty crop. The governor was satisfied with this explanation and encouraged the continued cultivation of the crop, establishing it as a staple vegetable of the region.
Geography/History
Chinese Celery is thought to be a descendant of a wild form of celery domesticated over time for culinary and medicinal use. The plant thrives in tropical regions with high elevation, marshy areas, to temperate regions with some humidity and has been utilized in culinary preparations in China since the Han Dynasty, 206 BCE to 220 CE. Much of the history of the species is unknown, but Chinese Celery has been a prevalent medicinal and culinary ingredient throughout East Asia and Southeast Asia for centuries and is commercially cultivated on a large scale, especially in the Henan, Shandong, Hebei Provinces of China. Chinese Celery is also exported to markets throughout Southeast Asia, such as Singapore. Outside of Asia, Chinese Celery is less known and is produced on a smaller scale, sold through fresh markets, distributors, and select grocers. Chinese Celery can also be grown in home gardens.
Recipe Ideas
Recipes that include Chinese Celery. One

is easiest, three is harder.