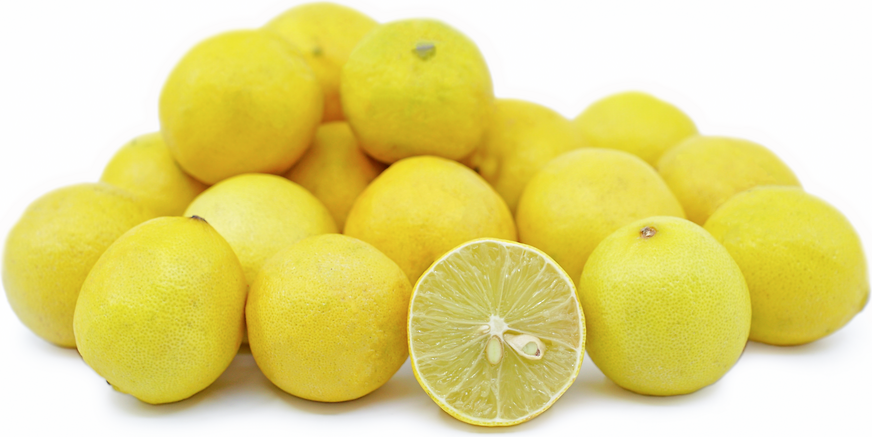 Florida Key Limes
Inventory, lb : 0
Description/Taste

Florida key limes are smaller than Persian limes, averaging 2 to 5 centimeters in diameter, and are characterized by their globular, uniform shape and fragrant aroma. The smooth skin is pocked with many prominent oil glands and ripens from green to yellow when mature, sometimes covered in brown patches and spots. Underneath the thin skin, the yellow-green flesh is juicy, divided into 10 to 12 segments by thin white membranes, and contains many small and oblong, cream-colored seeds. Florida key limes are aromatic when sliced, emitting a floral scent, and have a sweet, but noticeably tart and acidic flavor.


Seasons/Availability

Florida key limes are available in the summer through early fall.


Current Facts

Florida key limes, botanically classified as Citrus aurantiifolia, are rare fruits that are found on thorny, evergreen trees or shrubs, belonging to the Rutaceae or citrus family. Named after the Florida Keys, an archipelago of islands off the coast of Florida, Florida key limes are deemed one of the most elusive varieties of limes that are often overshadowed by imported fruits under the same, key lime name. Florida key limes once thrived in the very small and distinct growing region of the Florida Keys as it had a unique combination of alkaline soil, a tropical coastal climate, and plentiful rains to create complex, fruity, and floral fruit. Despite the lime's popularity in baking and flavoring seafood, the key lime growing region was mostly destroyed by a hurricane in 1926 and was never restored. Today the term "key lime" is a misnomer as many of the key limes found in the market are grown outside of the Florida Keys in Mexico and Central America. The true Florida key limes remaining in the modern day are grown in backyard gardens and through small farms in Florida.


Nutritional Value

Florida key limes are an excellent source of potassium, vitamin C, and folate, which provides the body with increased immunity, balanced fluid levels, and the ability to rebuild genetic material within the cells. The limes also contain calcium, phosphorus, iron, zinc, and are believed to provide some anti-inflammatory, anti-fungal, and anti-bacterial properties.


Applications

Florida key limes are utilized as a flavoring for both raw and cooked applications and add an acidic, floral complexity to dishes. The limes are commonly juiced or zested and are used in marinades for fish, crustaceans, and shellfish, blended into dressings and vinaigrettes for salads, whisked into beurre blanc or butter sauces to top over vegetables and cooked meats, and squeezed as a finishing element over Asian noodle dishes and stir-fries. Florida key lime juice can also be mixed into fruit drinks, blended into syrups, or infused into alcohol such as rum. Despite its many uses, Florida key limes are most famous for their use in key lime pie. Decreed the official state pie of Florida in 2006, key lime pie consists of sweetened condensed milk, Florida key limes, and eggs poured over a flaky, graham cracker infused crust. It is important to note that many of the key lime pies made in modern-day are flavored with Persian limes or key limes imported from Mexico and are not made with authentic Florida key limes. Florida key limes pair well with coconut, cherries, raspberries, lemons, ginger, and white chocolate. The limes should be used immediately for quality flavor and will keep 1-2 weeks when loosely stored in a plastic bag in the refrigerator.


Ethnic/Cultural Info

Florida key limes are one of the primary ingredients used in "Floribbean" cooking, or a fusion cuisine using American, Caribbean, Latin, African, and Asian cooking techniques and flavors. Established in the 1980s-1990s by the Mango Gang, a group of chefs in southern Florida, "Floribbean" or New World cooking uses fresh flavors such as key limes to amplify dishes such as jerk chicken, key lime pie, mango salsa, chicken and rice, and seafood gumbos. The Mango Gang was one of the primary forces behind reviving the popularity of Florida key limes after the 1926 hurricane and brought awareness to the variance in flavor between authentic Florida key limes, imported key limes, and bottled key lime flavorings. They also brought notoriety to southern Florida and established the region as an innovative gastronomic center for fusion cuisine.


Geography/History

Florida key limes are descendants of limes native to Asia and were introduced to the New World in the 16th century by Spanish and Portuguese explorers. The lime trees were then imported and established in the Florida Keys and southern Florida in 1839, and in the early 1900s, Florida key limes were heavily marketed as an exotic flavoring, quickly becoming a cash crop. In 1926, the key lime groves were hit by a hurricane, and the majority of the fields and delicate fruits were destroyed. Plagued by rising land prices and fear of future destructive weather, farmers switched to planting Persian limes as the variety was hardy, easier to transport, and was thorn-less. The lack of key lime cultivation in Florida and the increased, rising demand for the variety caused grocers to turn to importing the limes and labeling them under the key lime name. Today true Florida key limes are available on a very small scale in home gardens in the Florida Keys and through farms in Dade County, Florida, but these limes make up less than ten percent of key lime sales in the United States. The majority of limes that are sold as key limes at specialty grocers and supermarkets are cultivated and imported from Mexico and Central America.