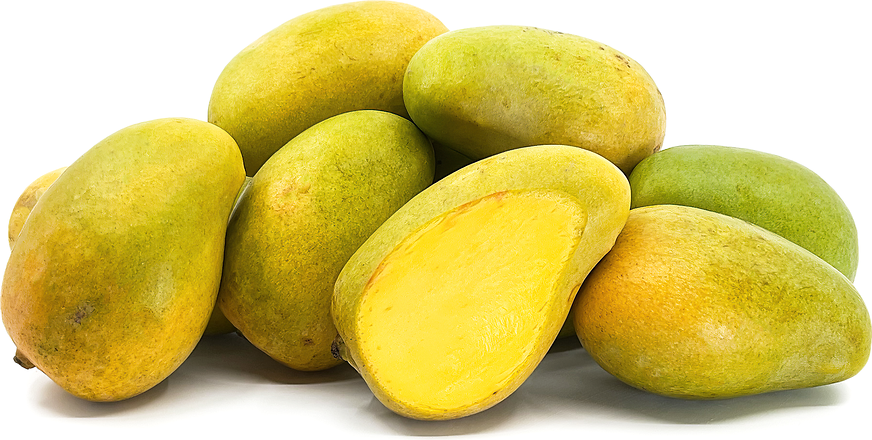 Honey Mangoes
Inventory, lb : 0
Description/Taste

Honey mangoes are smaller than other commercial mango varieties, averaging 170 to 280 grams in weight, and have a flattened, oval to oblong shape with a plump, curved, and tapered nature. The mango's skin is thin, smooth, taut, and delicate, being easily punctured or damaged. One of the defining characteristics of Honey mangoes is their color change. Honey mangoes ripen from green, yellow-green, to a dark golden yellow. Most commercial mangoes do not change color when ripe, making it challenging to select ripened fruits from unripe. Honey mangoes are one of the few varieties deemed ripe by their coloring. The skin may also exhibit a few brown specks or scars, but these markings are only surface-level and will not affect the flesh. Underneath the skin, the golden yellow-orange flesh is fibreless, smooth, and aqueous with a buttery, firm, tender, and succulent consistency. There is also a thin seed in the center of the flesh. Honey mangoes will have a sweet smell around the stem, and their skin may be slightly wrinkled when ripe. The variety is known for its sweet, tropical, and tangy taste with citrus, peach, pineapple, and spice-filled nuances.


Seasons/Availability

Honey mangoes are available in the spring through summer.


Current Facts

Honey mango, botanically classified as Mangifera indica, is a marketing name for the Ataulfo variety belonging to the Anacardiaceae family. The promotional name was coined in the United States in 2017 by the National Mango Board and is used as an alternative to the variety's original name of Ataulfo, a moniker given in the mango's home country of Mexico. Ataulfo mangoes were released commercially in 1963 in Chiapas, Mexico, and since their introduction, the variety has become one of the most exported mangoes from Mexico into the United States. Honey mango is primarily used in the United States for the variety. It is important to note that many other mango varieties grown worldwide are described or nicknamed as "honey." The Honey mangoes referenced in this article refer to Ataulfo mangoes. Honey mangoes are also sold under proprietary brand names, including Champagne® mangoes by the Ciruli Brothers and Jaguar mangoes by Splendid of Porvenir, a Mexican grower and shipper. In the modern day, Honey mangoes are a popular fresh-eating variety, especially in Mexico and the United States, and the mangoes are favored for their ability to be shipped long distances without damage, their rich, sweet taste, and their smooth, fibreless flesh.


Nutritional Value

Honey mangoes are a source of potassium to balance fluid levels within the body, fiber to regulate the digestive tract, calcium to build strong bones and teeth, and vitamin A to maintain healthy organ functioning. The variety also provides vitamin C to strengthen the immune system, vitamin K to assist in faster wound healing, magnesium to control optimal nerve functioning, and other nutrients, including iron, vitamin E, folate, and B vitamins.


Applications

Honey mangoes have a sweet flavor with subtly spiced undertones suited for fresh and cooked preparations. The variety is traditionally consumed straight out of hand, discarding the skin and seed, and in Mexico, the flesh is popularly sprinkled in chili-lime salt as a snack. One of the distinct traits of Honey mangoes is the variety's firm but tender, fibreless flesh. This allows the variety to be sliced and added as a fresh topping over parfaits, chia pudding, smoothie bowls, or more savory dishes such as tacos and seafood dishes. Try adding Honey mangoes to salsas or salads for a sweet taste. The variety can also be blended and frozen into ice cream, sorbet, or gelato. In addition to fresh preparations, Honey mangoes are incorporated into batters and fillings for baked goods, often used to flavor cakes, muffins, tarts, and bars. The mangoes can also be simmered into compotes, preserves, chutney, and hot sauces or added to warm desserts such as mango sticky rice. Beyond culinary preparations, Honey mangoes can be used in mixology as a puree or syrup for cocktails. The mangoes are also added to smoothies, milkshakes, and fruit juices as a refreshing enhancement. In Chiapas, Mexico, the variety's site of origin, Honey mangoes, are sold in various preparations in markets through street vendors. The mangoes are known as Ataulfo in Mexico and are used in candies, cookies, popsicles, desserts, herbed side dishes, or dried snacks. There is also a famous frozen drink, mangonada, comprised of mango, chili lime salt, chamoy, and lime juice. Honey mangoes pair well with spices such as mint, cilantro, and parsley, avocadoes, tomatoes, hearts of palm, jicama, fruits such as coconut, bananas, pineapples, strawberries, citrus, and nuts including pepitas, pistachios, and almonds. Whole Honey mangoes should be left at room temperature to ripen. Once mature and ready to eat, the variety can be stored in the refrigerator for 4 to 5 days. Honey mangoes can also be frozen in sealed containers for extended use.


Ethnic/Cultural Info

The name Honey mango was created by the National Mango Board in the United States as a marketing moniker for the Ataulfo mango. The variety is native to Mexico and is named after its founder, Ataulfo Morales Gordillo. As Ataulfo mangoes became a popular commercial cultivar in the United States, the National Mango Board received feedback from distributors and consumers that the name Ataulfo was difficult to pronounce. In 2017, the National Mango Board created a proposal to rebrand the variety under the name Honey to attract American consumers. The National Mango Board hoped that rebranding the variety would help overcome consumer objection to buying the mangoes, and the name Honey was thought to highlight the variety's sweet flavor and texture. The board also anticipated the name change would attract new consumers who may have shied away from the hard-to-pronounce variety. The National Mango Board released various marketing materials to assist retailers with the name shift, and for a period, the cultivar was known as Honey Ataulfo or Honey/Altaulfo. This name change has created controversy among growers and retailers, as some believe the variety should retain its original Ataulfo name. Regardless of perspectives, Honey became a widespread name used throughout the United States for the Ataulfo variety.


Geography/History

Honey mangoes are native to Mexico. Honey is a marketing name chosen for the Ataulfo mango, a variety that arose from the cross-pollination of several mango trees in the Soconusco region of Chiapas, Mexico. Ataulfo mangoes are thought to be descendants of a Philippine mango that was introduced into Mexico sometime before 1779 during the Manila-Acapulco galleon trade. Ataulfo Morales Gordillo, an agricultural engineer, purchased property in Tapachula, Mexico, in 1958 with another engineer, Hector Cano Flores. The two engineers began experimenting with mango trees on their property and eventually selected a new variety in 1963, naming it Ataulfo. After its commercial release, Ataulfo mangoes became one of Mexico's most popular mango varieties and became a heavily exported mango into the United States. In 2017, the National Mango Board in the United States proposed the variety to be marketed to American consumers under the Honey name. Today, Ataulfo mangoes are sold as Honey mangoes through grocers and distributors throughout the United States.