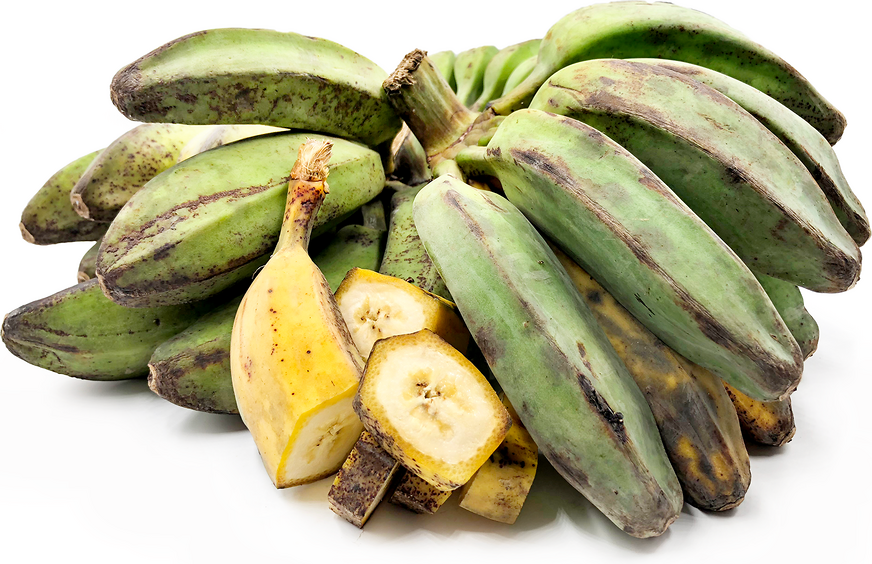 Saba Bananas
Inventory, lb : 0
Description/Taste
Saba bananas grow in large bunches weighing 26 to 38 kilograms per bunch, and each bunch can hold up to 16 hands. A hand can contain anywhere from 12 to 20 angled fruits, and Saba bananas are distinct from other varieties as they are shorter, thicker, and blockier in shape with sharply angled edges. One Saba banana averages 7 to 13 centimeters in length and is cylindrical with a subtle curve. The peels are tough, smooth, and leathery with a rubbery feel and ripen from green to golden yellow at maturity. Underneath the peel, the cream-colored to ivory flesh is firm, dense, and starchy, encasing a few tiny, undeveloped seeds that are unnoticeable when eaten. The flesh is meaty, moist, and chewy, with a slightly sturdier mouthfeel than dessert bananas, but it is still softer in texture than a plantain. When cooked, Saba bananas become soft and tender, similar to the texture of a potato. Saba bananas are typically selected for cooked preparations when the peels are still green and are turning yellow. For raw consumption, choose bananas that have ripened and have a golden yellow-brown peel. Saba bananas have a sweet, tangy, and starchy taste when raw, developing richer, savory, and sweet flavor notes with a subtle fruitiness when cooked.
Seasons/Availability
Saba bananas are available year-round.
Current Facts
Saba bananas, botanically classified as Musa acuminata x balbisiana, are a triploid hybrid ABB variety belonging to the Musaceae family. The short, thick, and angular bananas grow in dense bunches and are native to the Philippines, where they are cultivated as a food source for domestic consumption. It is important to note that the term Saba is used for the specific banana variety grown in the Philippines as well as a banana subgroup that includes several varieties found worldwide, such as Praying Hands, Ripping, Benedetta, Uht Kapakap, and Inabaniko bananas. Saba bananas grow on pseudostems reaching 6 to 9 meters in height and are generally harvested 150 to 180 days after flowering. The variety is slower-maturing than other banana cultivars, but it has the ability to be produced year-round, providing a steady supply of fruits for consumption and as a source of income. The cultivar has also expanded beyond its native region and is grown on a small scale in other countries throughout Southeast Asia. Saba bananas are known as Kluai Hin in Thailand, Pisang Abu and Pisang Nipah in Malaysia, Biu Gedang Saba in Java, Pisang Kepok in Indonesia, and Dippig and Opo'ulu in Hawaii. They are also sometimes referred to as Sweet plantains, Cardaba bananas, Compact bananas, Sab-a, and Kardaba bananas. In the modern day, Saba bananas are the most popular cooking banana in the Philippines, and the variety is versatile, able to be eaten fresh or incorporated into an array of sweet or savory preparations.
Nutritional Value
Saba bananas are a source of fiber to regulate the digestive tract, iron to develop the protein hemoglobin for oxygen transport through the bloodstream, and vitamin C to strengthen the immune system while reducing inflammation. The bananas also provide vitamin A to maintain healthy organ functioning, B vitamins, and starches, which are a source of energy for the body.
Applications
Saba bananas have a sweet, tangy, and starchy flavor suited for fresh and cooked preparations. The bananas can be consumed raw when the fruit has ripened, and while uncommon, the fruits can be treated like any other fresh eating variety: sliced and added to fruit bowls, consumed with nut butter as a snack, blended into drinks, or added as a fresh topping. Saba bananas are most popularly cooked and are used when the peels are still green, barely transitioning into yellow hues. The bananas are cooked into sweet and savory dishes, and when added to savory preparations, the fruits are prepared like a vegetable. Saba bananas can be battered and fried into a dish known as maruya or sinapot, or they can be boiled or steamed as a side dish. The bananas can also be cooked in a mixture of vanilla extract, salt, water, and brown sugar known as minatamis na saging, sliced, sauteed in butter, and served with syrup, caramelized and topped with sugar, cinnamon, dried fruits, or nuts, or incorporated into baked goods. In the Philippines, Saba bananas are famously used in turon, a dessert where bananas are coated in sugar and fried to develop a caramelization. Try adding cooked Saba bananas to halo-halo, a dessert with a mix of cold, warm, sticky, crunchy, and chewy ingredients, or cooking the fruits, adding caramel sauce, and topping over condensed milk or shaved ice in saging con hielo. Another recipe for Saba bananas in the Philippines is for making ketchup, or banana sauce, an alternative to tomato ketchup. It is made using vinegar, spices, and sugar, and some recipes call for chile peppers. It is often mixed with rice or served with meats or chicken. Saba bananas pair well with cinnamon, vanilla, brown sugar, caramel, aromatics, including garlic, onions, and shallots, seafood, and meats such as beef, pork, or poultry. Whole, unopened Saba bananas will keep at room temperature for a few days to one week, depending on the degree of ripeness. Once ripe and ready to eat, the fruits can be stored in the refrigerator for an additional day or two. It is recommended to use the bananas immediately in their desired stage for the best quality and flavor.
Ethnic/Cultural Info
In the Philippines, several legends attribute the creation of banana plants to a story of lost love. The first tale tells the story of a young girl, sometimes mentioned as a princess, who enjoyed walking in the forest by the village. Forests were traditionally known to be where spirits reside, and one day, the girl met a handsome man in the shadows of the trees. The young girl and man instantly fell in love, and they spent many days in the protection of the forest, talking and growing deeper in their connection. Sadly their relationship was cut short when the man said he had to return to his home before it was too late. The young girl clutched both of his hands in hers and begged him not to leave. In anguish, the man insisted he must leave, but the girl would not let go of his hands. Suddenly the man vanished, and to the girl's surprise, she realized he was not a man but a spirit who dwelled in the forest. All that was left of the man was his two hands still being held tightly by the girl. The young girl took his hands and buried them in the ground, watering them with her tears. A few days later, the girl returned to the burial spot and noticed a plant was sprouting from the grave. The plant eventually grew into a banana plant, and it is said the shape of the fruit's bunches resembled the man's hands. In other versions of this legend, the spirit man cuts out his heart and leaves it with the girl. This heart is buried and becomes the banana flower. In another variation, the man is not a spirit but a human and gets his hands cut off by the girl's angry father when he discovers the man's forbidden romance with his daughter.
Geography/History
Saba bananas are native to the Philippines and have been growing wild since ancient times. The entire plant is used for culinary purposes, including the fruits, stems, flowers, and leaves, and it is common for families to have banana plants in their home garden landscapes. Saba bananas are the most commercially produced cooking banana in the Philippines. The variety is favored for its versatile nature, able to be eaten fresh or cooked, and the plant grows year-round, providing a steady supply of fruits. There are over ninety species of bananas grown throughout the Philippines, and Saba bananas are the second most produced variety, behind the Cavendish. Today Saba bananas are primarily grown for domestic sale and are cultivated on the island of Mindanao in Davao, Northern Mindanao, and Soccskargen and in the Cagayan Valley on Luzon Island. When available, Saba bananas are sold through roadside stands, local fresh markets, and select grocers. The variety is also planted in home gardens throughout the Philippines and in gardens in Southeast Asia. Outside of Southeast Asia, Saba bananas are sometimes cultivated in Hawaii and Florida in the United States as a specialty banana.
Recipe Ideas
Recipes that include Saba Bananas. One

is easiest, three is harder.
Podcast