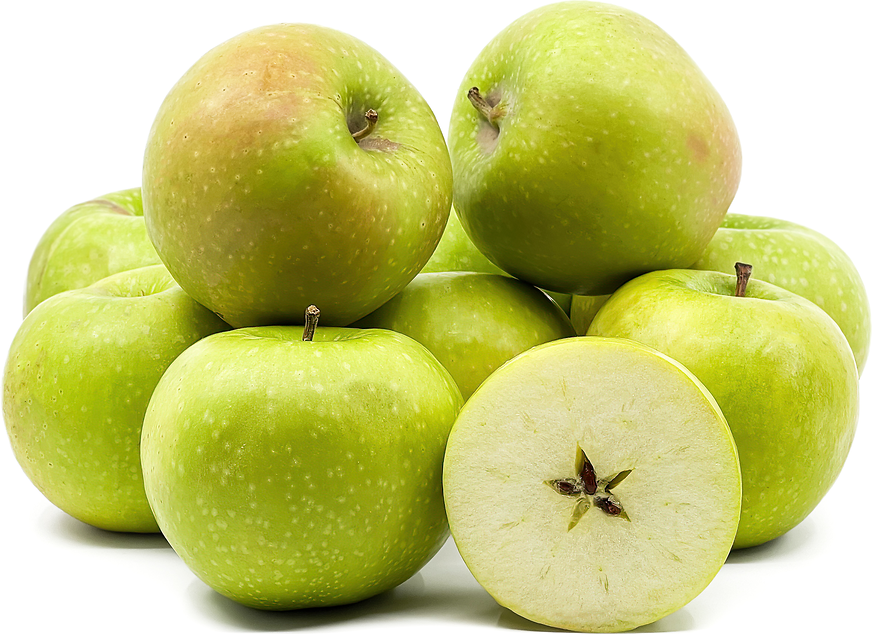 Semerenko Apples
Inventory, lb : 0
Description/Taste

Semerenko apples are round to conical fruits with a slightly flattened and asymmetrical appearance. The skin is smooth, firm, waxy, and dry with prominent white spots and russeting surrounding the dark brown stem. When ripe, the apples are light green, sometimes speckled with pale red blush, and as the fruits continue to mature, the skin will transform into a green-yellow hue. Underneath the surface, the flesh is aqueous, fine-grained, white, and soft, encasing a central core filled with black-brown seeds. Semerenko apples have a sweet and sour, wine-like flavor with subtle notes of spice.


Seasons/Availability

Semerenko apples are harvested in the fall and can be stored until early spring.


Current Facts

Semerenko apples, botanically classified as Malus domestica, are an old Russian variety that belongs to the Rosaceae family. The sweet-tart fruits are considered to be one of the most popular home garden varieties in Russia and Ukraine and have earned many names over time, including Simirenko, Green Renet Simirenko, Renet Simirenko, Symirinka, and Renet Plato Semerenko apples. The cultivar earned its primary name after Platon Feorovich Simirenko, the father of the variety's founder Lev Platonovich Simirenko. Semerenko apples are consumed as both a dessert and cooking apple and are highly valued for their wine-like flavor. The variety is also commercially grown and is favored by growers for its resistance to drought, high productivity, and extended storage capabilities.


Nutritional Value

Semerenko apples are an excellent source of vitamin C, which is an antioxidant that can help rebuild collagen and boost the immune system. The apples also provide fiber, which can help regulate digestion, and contain potassium, iron, vitamins E and K, and manganese.


Applications

Semerenko apples are best suited for both raw and cooked applications such as baking, roasting, and stewing. The tender flesh is showcased when consumed fresh, out-of-hand, and the apples can be sliced for green and fruit salads, blended into smoothies, pressed into juice or cider, chopped and used as a topping over pancakes, or dried and canned for extended use. Semerenko apples can also be chopped and minced into dumplings, cooked into sauces, jams, and marmalades, or stewed with meats and other vegetables. In addition to savory applications, the apples can be incorporated into baked goods such as tarts, cakes, pies, and rolls, or baked as a simple dessert with maple syrup, spices, and nuts. Semerenko apples pair well with meats such as poultry, pork, beef, and fish, spices such as cinnamon, nutmeg, ginger, and cloves, potatoes, pumpkins, lemon juice, raisins, and cherries. The fresh fruits will keep 1-4 months when stored in a cool, dry, and dark place.


Ethnic/Cultural Info

In Russia, Semerenko apples are popularly baked into traditional Russian apple cakes during the holiday known as Yablochniy Spas. Celebrated in August in conjunction with the beginning of the apple season, many Russians bring the first fruit harvest to church to be blessed on the eve of the holiday. The next day, the blessed fruit is consumed, and celebrations are held throughout cities with dancing, live music, and street fairs. Semerenko apples are favored for their sweet-tart flavor and are traditionally baked into sharlotka, which is a sponge-like cake that has been adapted and simplified over time into the recipe used in Russia today. The cake can be served as an afternoon snack, or it can be topped with whipped cream or ice cream as a light dessert. In addition to sustenance, apples are a symbol of life in Russia. During the Yablochniy Spas celebration, some Russians believe consuming apples on the holiday will grant a secret wish, and the fruits are also placed on the graves of family members in remembrance of past life.


Geography/History

Semerenko apples are rumored to have been discovered by gardener Lev Platonovich Simirenko in the late 19th century on the Platonov family farm in the Cherkasy region of Ukraine. While the exact parentage of the variety is unknown, some experts believe zelenka wooda may be one of the parent varieties due to the apple's similarity in appearance. Semerenko apples were also listed in the State Register of the Russian Federation in 1947. Today Semerenko apples are widely cultivated across Central and Southern Russia and can also be found in local markets in Ukraine, Georgia, Kazakhstan, and Uzbekistan. The Semerenko apples featured in the photograph above were found at a food fair in Almaty, Kazakhstan.