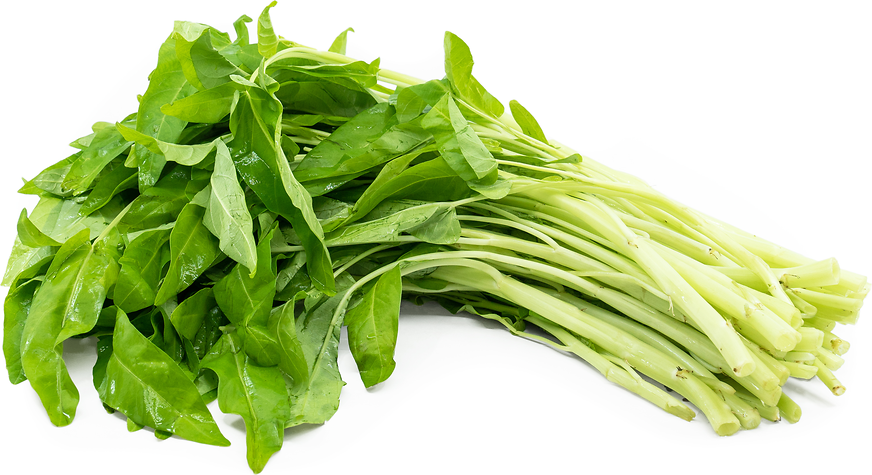 Water Spinach
Inventory, lb : 0
Description/Taste
Water Spinach is comprised of long, slender leaves attached to hollow stems and trailing vines. The leaves range in appearance from arrow-shaped to narrow, lanceolate, and pointed, averaging 5 to 15 centimeters in length, and have a crisp, delicate consistency, found in light to dark green shades. The leaves also display prominent veining across the surface and are pliable, easily torn, or creased. Beyond the leaves, the stems vary in appearance, depending on the variety, and can be green to white with a crunchy, succulent, and tender texture. Water Spinach stems are known for their hollow nature, with some cultivars having a wider hollow center, while others have a tight cavity. Water Spinach has a mild, nutty flavor with vegetal, subtly sweet, and mineral nuances. The leaves and stems are traditionally harvested young and cooked to develop a sweeter and more tender finish. In addition to the leaves and stems, Water Spinach produces trumpet-shaped flowers that showcase white and pink hues.
Seasons/Availability
Water Spinach is available year-round, with a peak season in the summer through early fall.
Current Facts
Water spinach, botanically classified as Ipomoea aquatica, is a fast-growing vining plant belonging to the Convolvulaceae family. The plant is native to Southeast Asia and thrives in subtropical to tropical regions, growing in soil, riverbanks, and across water due to their hollow, floating stems. Water Spinach can reach over 2 to 3 meters in length and quickly grows, averaging ten centimeters per day. The plant is known by several names, including Hollow vegetable, Heartless or Hollow Heart vegetable, Ong Choy, and Kong Xin Cai in Chinese, Kangkung or Kangkong in Malaysian, Yosai and Kusinasi in Japanese, Phak Bung in Thai, and River spinach, Swamp spinach, and Chinese spinach in English. Despite spinach being in the plant's name, Water Spinach is not botanically related to ordinary spinach, and the plant is almost entirely edible, primarily harvested for its leaves and stems. There are two main types of Water Spinach, green stemmed and white stemmed. Green stemmed varieties bear narrower leaves and stems, while White stemmed cultivars are generally more tender, showcasing wider, hollow stems and arrow-shaped leaves. Water Spinach is cultivated worldwide in the modern-day, but the plant is the most extensively used as an everyday, cooked green throughout Asia.
Nutritional Value
Water Spinach is a good source of vitamin C to strengthen the immune system, vitamin A to maintain healthy skin and organ functioning, vitamin K to assist with faster wound healing, and minerals including magnesium, calcium, manganese, phosphorus, and iron. The plants also contain B vitamins, potassium to balance fluid levels within the body, and antioxidants to protect the cells against free radical damage.
Applications
Water Spinach has a mild minerality well suited for savory preparations. It is important to note that cooking the leaves and stems is recommended as it is difficult to determine where the plants were grown. Some Water Spinach may have been harvested from wild locations with varying sanitary conditions, so cooking protects against bacteria and food-borne illnesses. Water Spinach should also be washed and trimmed before use, and once prepped, the leaves and stems can be tossed into soups, blanched with other vegetables, or steamed as a nutritious side dish. The leaves can also be stir-fried with aromatics such as garlic, ginger, chile peppers, fermented tofu, or shrimp paste as a flavorful accompaniment to roasted meats. Water Spinach is regarded as a staple green in Chinese, Japanese, Taiwanese, Filipino, Vietnamese, Thai, Cambodian, Malaysian, and Indonesian cuisine. The leaves and stems can also be battered and fried, mixed into hearty fish stews, or stirred into curries. Water Spinach pairs well with meats such as poultry, beef, pork, and duck, seafood including fish, crab, scallops, and prawns, tofu, garlic, ginger, soy sauce, oyster sauce, mushrooms, green beans, bell peppers, and black beans. Unwashed Water Spinach has a delicate nature and will only keep 1 to 3 days when stored in a plastic bag in the refrigerator's crisper drawer. It is recommended to immediately consume the greens for the best quality and flavor.
Ethnic/Cultural Info
In Chinese folklore, Water Spinach appears in the legend of Bi Gan, where it earned its heartless moniker. The story is recorded in the novel, The Investiture of the Gods, written during the Ming Dynasty, but there have been several variations of the we-known tale throughout history. The most prevalent version features Bi Gan as an advisor to a tyrannical ruler known as King Zhou. One day Bi Gan, unhappy with the king's actions due to the influences of a consort Daji, confronted and stood up to the king. Daji and the king were offended by the confrontation and ordered Bi Gan to cut out his own heart. Bi Gan was protected by a magical spell and was able to cut out his heart and still survive, but on his way out, Bi Gan encountered an old woman selling Water Spinach along the side of the road. Bi Gan noticed that the Water Spinach was hollow and asked the old woman if a man could live without a heart like this vegetable. The old woman replied that a person could not live without a heart, suddenly ng Bi Gan's magical protection spell, causing him to die immediately. Legend has it that Water Spinach was found growing in and around the tomb of Bi Gan, and due to the vegetable's hollow significance in the story, Water Spinach became known as the??Heartless vegetable."
Geography/History
Water Spinach is native to Southeast Asia and was first documented during the Chin Dynasty. The leafy plant has been utilized as a culinary staple in Asian cuisine for thousands of years and thrives in moist soils along waterways, even growing across ponds, lakes, and rivers. Over time, Water Spinach was introduced to the rest of Asia and Europe later in the 16th century. The plants were also brought to the New World, where they quickly naturalized, sometimes aggressively growing and displacing natural vegetation. In the United States, Water Spinach was planted in the 1950s, but the plant became so destructive against flora in Florida that it has been listed as a noxious weed since 1973. Today Water Spinach can be found growing worldwide, and the leaves are commonly sold in local markets, Asian grocers, and specialty distributors in Asia, Australia, the South Pacific, Africa, South America, Central America, and in California, Florida, Texas, and Hawaii of the United States.
Recipe Ideas
Recipes that include Water Spinach. One

is easiest, three is harder.