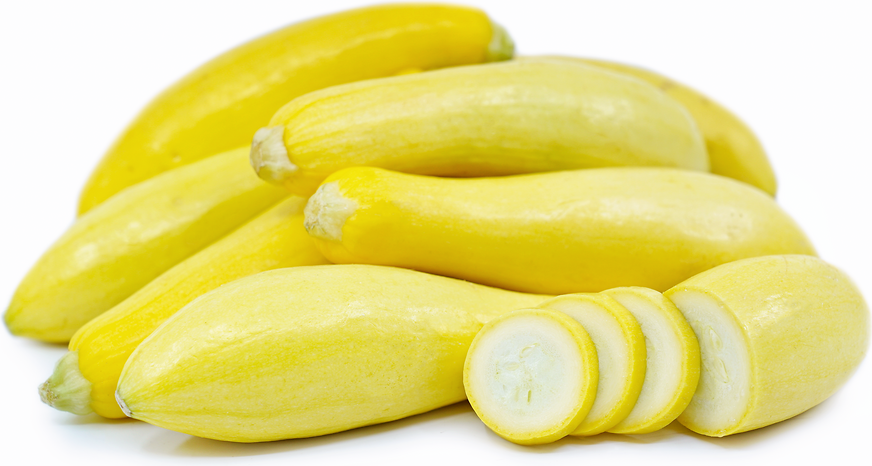 Yellow Crookneck Squash
Inventory, 20 lbs : 0
Description/Taste
The Yellow Crookneck squash has a medium squash size and smooth, delicate yellow skin. Its flesh is dense, pale yellow and layered with soft, edible seeds. As its name suggests its shape is curved along its slim neck and widens at the base of the squash. For best flavor and texture Yellow Crookneck squash should be harvested at five to six inches or less in length. Its flavor is mild and buttery with nuances of black pepper and nuts, similar to that of zucchini. If allowed to fully mature and dry on the vine it will harden and take on an orange hue, its skin additionally will become increasingly warted with lumps, bumps and lineations.
Seasons/Availability
Yellow Crookneck squash is available year-round with a peak season in the summer months.
Current Facts
Yellow Crookneck squash is a summer variety of squash and botanically a member of Cucurbita pepo. The Crookneck type is a squash predominately found in North America and prior to the arrival of the zucchini was the dominant summer squash grown. It can be harvested when immature as a baby Yellow Crookneck, when full sized as a Yellow Crookneck or left on the vine to fully mature to a hardened gourd stage. It is one of the few summer squash types that can be dried to a gourd like stage.
Nutritional Value
Yellow Crookneck squash contains carotenoids which are responsible not only for the vivid yellow hue of the squash but can also act as antioxidants in the human body. It contains lutein which has been shown to aid in healthy eyes and helps prevent buildup of plaque in the arteries. The Yellow Crookneck squash also contains alpha-carotene, beta-carotene, folate, fiber and bioavailable copper.
Applications
Yellow Crookneck squash is thin-skinned, yet sturdy making them ideal for use in both raw and cooked applications. Grate and add to fritters, quick-breads, pancakes or raw salads. Peel into thin slices length wise and use in lieu of traditional noodles in pasta preparations. Sliced thin it can be layered into lasagna or ratatouille or utilized raw in carpaccio. Slice into rounds or spears and sauté, roast, steam, bake, deep fry or grill. Halve and stuff with starches, meats or cheeses. Cooked squash may be stewed or pureed into soups. Its flavor marries well with tomatoes, corn, shelling beans, garlic, onion, fresh herbs, eggplant, egg preparations, roasted poultry, toasted nuts, and cheese such as goat, parmesan and ricotta. To store keep wrapped in plastic and refrigerate using within five to seven days.
Ethnic/Cultural Info
The Yellow Crookneck squash is a summer squash variety that has long been a staple crop in the Americas. Crooknecks are recorded as grown by the Arikara tribe near the head of the Missouri River in 1818 and by the Cooper Family of Camden New Jersey in the early 1800's. Though they may have been grown before that time there is little solid documentation of the Yellow Crookneck prior to 1807. There is however mention of "horn" shaped squash in "A New Voyage to Carolina" written in 1709 that may reference a crookneck type. Additionally, in Francis Higginson's "New England Plantation" written in 1630 there is mention of "pumpions and cowcumbers" which also could be a reference to early summer crookneck types.
Geography/History
Crookneck type squashes are believed to be one of the oldest varieties of summer squash and documentation of them dates back to Colonial America. In 1807 Thomas Jefferson received seeds for what is believed to be the Yellow Crookneck squash from Philadelphia Quaker, Timothy Matlock. In Thomas Jefferson's Garden Book it is documented that Matlock received the seeds from the Cooper family who for nearly a hundred years had preserved the heirloom squash in New Jersey. While many types of squash made their way to Europe via explores returning home from the New World the Crookneck types would not appear in Europe until the early 19th century. Yellow Crookneck squash is an easy to grow variety and thrives in full sun, warm weather and with fertile, well-drained soil. Squashes vary from vine to bush types, Yellow Crookneck is an open bush type which allows for easier harvests of this prolific fruiter.
Recipe Ideas
Recipes that include Yellow Crookneck Squash. One

is easiest, three is harder.