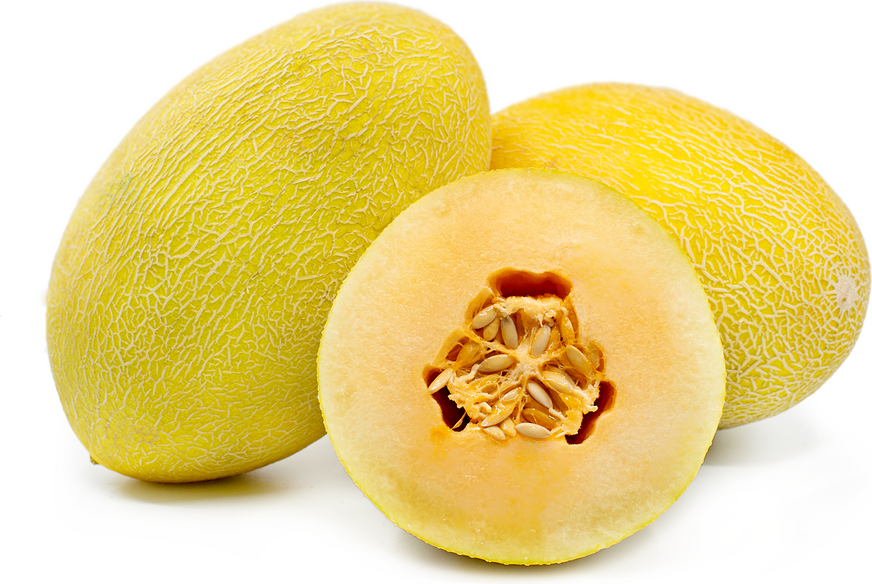 Hami Melon
Inventory, 18 lbs : 0
Description/Taste
Hami melons are large, averaging 20 to 30 centimeters in length and 12 to 16 centimeters in diameter, and have an oblong shape with elongated, blunt, and curved ends. There are many different varieties of Hami melons appearing in slightly different sizes and shapes, generally weighing between 6 to 11 pounds. The rind is thick, hard, and found in shades of golden yellow, salmon, green, brown, to yellow with green streaks, depending on the cultivar. The rind also exhibits unique textural elements such as netting, rough patches, cracks, or being completely smooth. Underneath the surface, the flesh is dense, semi-aqueous, and firm, ranging in color from orange, coral, yellow to white. There is also a large central cavity filled with stringy fibers and oval, cream-colored seeds. Hami melons are known for their firm, crunchy, and succulent texture and fragrant floral aroma, released when the fruit reaches peak maturity. When selecting Hami melons, they should feel heavy for their size and have some give when pressed near the stem end. The melons also contain a high sugar content, creating a refreshing, sweet, and fruity flavor with tropical and honeyed nuances.
Seasons/Availability
Hami melons are available the summer through fall.
Current Facts
Hami melons, botanically classified as Cucumis melo, are ancient Asian muskmelons belonging to the Cucurbitaceae family. The name Hami is a general term used to describe over 200 different varieties of sweet and floral melons that originated in northwestern China. In the present day, Hami melons are one of the most widely cultivated melons in China and have experienced worldwide success, grown as a specialty melon in other parts of Asia, Europe, Australia, and the United States. The melons are known for their sweet flesh, often reaching 16 to 23 Brix, a measurement of sugar, and the flesh is tender and crisp, offering a unique sensory experience. Hami melons are also known as Hamigua, Chinese Hami melon, and Snow melon, primarily consumed fresh or incorporated into a variety of sweet and savory culinary applications.
Nutritional Value
Hami melons are an excellent source of vitamin C to strengthen the immune system, vitamin A to maintain healthy organ functioning, and antioxidants to protect the cells against free radical damage. The melons also contain fiber to regulate the digestive tract, potassium to balance fluid levels, and lower amounts of magnesium, B vitamins, and calcium. In Traditional Chinese Medicine, melons are believed to cool the body, reduce lung irritation, including coughs, and restore qi or bodily energy.
Applications
Hami melons have a delicate, sweet, and floral flavor well suited for fresh preparations. The rind should be washed before opening, and the seeds, fibers, and rind are discarded once cut. Hami melons are consumed straight, out of hand, as a cooling snack, and many Chinese locals consume the melons in markets as a source of hydration instead of purchasing bottled water. The melons can also be sprinkled with salt or ginger for added flavor, tossed with lemon or lime juice to create a tangy-sweet taste, or wrapped in cured meats as an appetizer. In addition to eating the flesh by itself, Hami melons can be sliced for green salads, fruit bowls, yogurt, and cereal, or they can be mixed into cottage cheese, pureed into chilled soups, or chopped into salsa. The melon's sweet flavor is favored for beverages, including smoothies, cocktails, and fruit punches, or it can be combined with coconut milk or ice cream as a shake. In China, Hami melons are popularly incorporated into baked goods such as mooncakes and used as a filling for novel pastries. The flesh can also be sliced and dried into thin strips for extended use, developing a chewy texture. Hami melons pair well with meats such as poultry, pork, and turkey, seafood including shrimp, fish, and crab, herbs such as mint, basil, and parsley, cucumbers, red onion, chile peppers, olives, fennel, jicama, and feta cheese. Whole, unopened Hami melons should be stored at room temperature until ripe. Once fragrant and mature, the melons can be sliced and kept in a sealed container for 2 to 4 days in the refrigerator. Hami melon halves can also be wrapped in plastic and stored as is in the fridge.
Ethnic/Cultural Info
Legend has it that Hami melons were named by the Kangxi Emperor during the Qing Dynasty. The melons were shipped to Beijing from Hami, a city in Eastern Xinjiang, China, as a gift to the emperor, and throughout the Qing Dynasty, the melons continued to be annually sent as gifts, becoming favored by the imperial court for the fruit's sweet, crisp flesh. According to Chinese folklore, the emperor eventually named the melons in honor of the region that sent the melons, bringing recognition and fame to the northwestern Chinese city. In the modern-day, Hami melons are honored throughout Xinjiang each summer at the Hami Melon Festival. The multi-day celebration was established in 1993 by the Hami Municipal Party Committee and has grown into a festival where hundreds of varieties of Hami melons are displayed, sold, consumed, and honored. The festival draws over 100,000 visitors, and festivities include melon contests, live music, dancing, melon tastings, art exhibitions, and melon carving. There is also a traditional folk game known as "fighting melon," where participants throw objects at a Hami melon that has been embedded with five copper coins. If any of the copper coins are knocked free from the flesh, the contestant wins a prize.
Geography/History
Hami melons are native to the Xinjiang Uygur Autonomous Region of Northwestern China and have been cultivated for thousands of years. Half of a dried Hami melon was discovered in a tomb found by archeologists in Turpan City within Xinjiang, dating the melon to be at least 1,500 years old. Despite the melon's close association with the city of Hami, some experts believe the point of origin is closer to the nearby city of Shanshan. Over time, Hami melons were introduced to neighboring Asian countries and have become widely cultivated throughout Asia. There have been many different varieties of Hami melons created from traditional breeding practices, and the melons thrive in areas with extended hours of sunlight, hot daytime temperatures, and cold nights. Hami melons were brought to California around 1990, but the melons did not achieve commercial success in the golden state until the early 2000s when Mark Hamby introduced new Hami varieties into the Imperial Valley. Today Hami melons are extensively produced in East and Central Asia and are also grown in Europe, Australia, and California, Arizona, and Oregon of the United States. When in season, the melons can be found through farmer's markets, Asian grocers, and specialty distributors.
Recipe Ideas
Recipes that include Hami Melon. One

is easiest, three is harder.