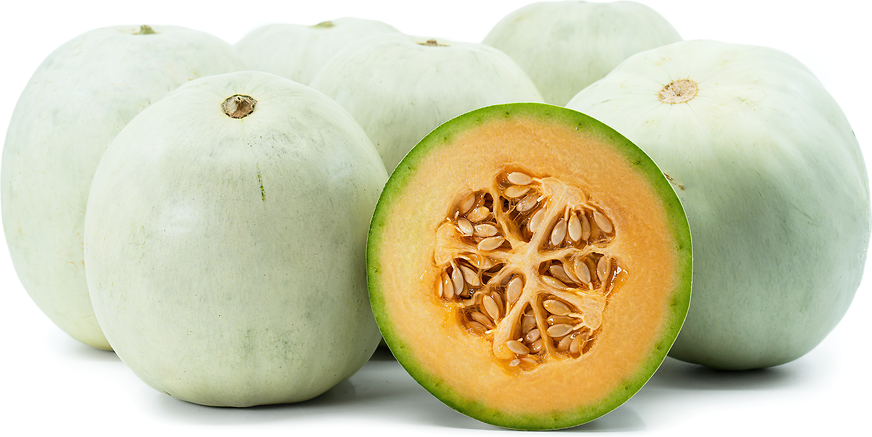 Prince Melons
Inventory, lb : 0
Description/Taste

Prince melons are a small to medium-sized varietal, averaging 10 to 11 centimeters in diameter and 9 to 10 centimeters in length, and have a round to oval shape with blunt, curved ends. The melons are typically harvested when they have reached 500 to 700 grams in weight, and the rind is thin but firm with a smooth and taut consistency. The rind showcases a muted, dusty green-white coloring, and faint ridges and green striping are scattered across the surface. Underneath the surface, the flesh is dark green just below the skin, and a saturated orange surrounds the seed cavity. The flesh is dense, tender, succulent, and aqueous with a melting, soft texture. The seed cavity has several chambers of tear-drop-shaped ivory seeds enveloped in a gelatinous coating and suspended between pale orange fibers. Prince melons should feel heavy for their size, and the rind should be relatively smooth without excessive scaring or scratches. The melons will also release a strong, sweet, honeyed, and aromatic fragrance when ripe, another indicator of maturity, and the rind around the non-stem end will become slightly soft to the touch. Prince melons have a high sugar content, ranging from 15 to 17 Brix, creating a sweet, sugary, floral, and musky flavor.


Seasons/Availability

Prince melons are available in the late spring through early summer, with a peak season from April to June in Japan.


Current Facts

Prince melons, botanically classified as Cucumis melo, are a hybrid variety belonging to the Cucurbitaceae family. The small, dusty-hued melons were developed by the Sakata Seed Company in Japan from a cross between a European melon and a Japanese melon and were released in the mid to late 20th century. Prince melons were one of the first Japanese melon varieties able to be grown outdoors in open fields in warm, humid climates. Prior to the release of Prince melons, most Japanese melon varieties were cultivated in greenhouses and were expensive in commercial markets, making them a luxury unattainable to the masses. Prince melons were the first affordable variety that could be mass-produced. The new variety also had an intoxicating fragrance and a sweet taste, uncommon traits in mass-produced Japanese melons in the 20th century. Prince melons marked the beginning of a new era in Japanese melon cultivation and were favored by growers for their disease resistance, small size, and hardiness. Prince melons are typically harvested 35 to 45 days after planting and are grown in open fields across Japan. In the modern day, the variety has faded from commercial popularity due to the influx of newer hybrid cultivars, but it still remains a valued home garden and farmer's market melon.


Nutritional Value

Prince melons are a source of fiber to regulate the digestive tract, potassium to balance fluid levels within the body, and vitamin C to strengthen the immune system while reducing inflammation. The melons also provide vitamin A to maintain healthy organ functioning, magnesium to regulate nerves, B vitamins to convert food into energy, calcium to build strong bones and teeth, and other amounts of zinc, copper, and iron.


Applications

Prince melons have a sweet taste suited for fresh and cooked preparations. The melon's rind should be washed prior to opening, and once prepped, the melons can be cut in half and the seeds removed. The flesh is popularly consumed straight out of hand, and in Japan, Prince melons are typically chilled for 2 to 3 hours before serving to enhance the eating experience. Prince melons are also sliced and served in fruit medleys, arranged on cheese plates, or used as an edible garnish over cakes, parfaits, and other desserts. The melon's sweet flesh is used to flavor various jellies, puddings, ice cream, and sorbet, and it is also infused into syrups and preserves. Try incorporating Prince melons in a filling for pastries and melon buns, a favored sweetbread in Japan. Prince melons can also be used in Western-style preparations such as melon wrapped in prosciutto, halved and filled with ice cream, tossed into salads, or blended into smoothies, fruit juices, and shakes. Prince melons pair well with other fruits such as strawberries, grapes, and pineapples, cucumbers, herbs including mint, cilantro, and basil, vanilla, chocolate, and nuts such as almonds, walnuts, and pecans. Whole, unopened Prince melons should be ripened at room temperature. Once fragrant and ripe, the melons should be immediately consumed for the best quality and flavor and will keep for 2 to 3 days after ripening. Sliced portions of the melons should be kept in a sealed container in the refrigerator for a few days.


Ethnic/Cultural Info

Prince melons were named after a produce association in Yokohama City that helped pioneer the new variety into Japanese commercial markets. In Kinko Seika within the Yokohama City Central Wholesale Market, a group known as the "Prince Association" and "Prince Kai" was established to sample, test, and evaluate Prince melons with retail and wholesale customers before the variety was released. The association was comprised of produce dealers, growers, and wholesalers, and the group cultivated the melons and introduced them to consumers at the market, asking them to rate the new variety. Consumers were shocked to learn that the sweet melons were grown outdoors, and many association members felt that Prince melons would become a melon of the people. Prince melons were named after the association in honor of their promotion and success with the new variety. It is important to note that some sources say that Prince melons were named after the Japanese Royal Family, but this moniker is unrelated to the Crown Prince and his legacy.


Geography/History

Prince melons were developed in Japan in the 1960s through the Sakata Seed Company. The variety is a cross between the European Charentais cantaloupe and the Japanese muskmelon Makuwauri and was released to commercial markets in 1962. It is said Mr. Takeo Sakata, melon enthusiast and founder of Sakata Seed, experienced Charentais melons when he was on a business trip in Paris and was surprised by the outdoor-grown-melon's sweet flavor. Mr. Sakata saved seeds from the melon, washed them in his sink, and mailed them to researchers at his company in Japan for use in breeding trials. It took over seven years for Prince melons to be created, and after its release, the cultivar quickly became one of the most popular commercial melons in Japan. Before the arrival of Prince melons, Japanese melons were historically expensive or lacked flavors that consumers desired. Prince melons established a new category of full-flavored, affordable summer Japanese melons, and for several years the variety accounted for over 70% of the melons produced and sold to the public in Japan. Over time, Prince melons faded from commercial production with the diversification of affordable melon cultivars in Japan, especially with the introduction of Andean and Takami melons. Today Prince melons are famously grown in the Kumamoto Prefecture in Japan. They are also produced in Hokkaido, Yamagata, Ibaraki, Fukui, Akita, Tottori, Nagano, and Nagasaki Prefectures. The Prince melons featured in the photograph above were sourced through Ito Sai Sai Farmer's Market in Fukuoka, Japan.