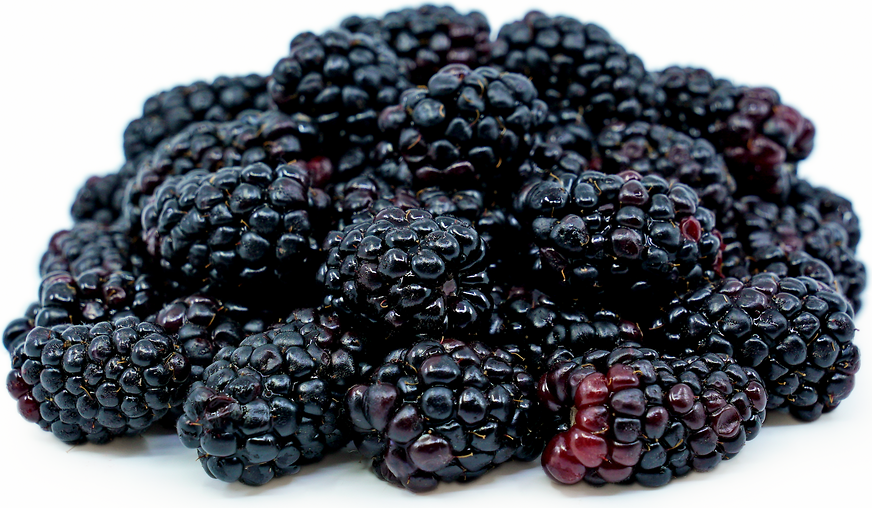 Olallieberries
Inventory, 12 ct : 0
This item was last sold on : 06/02/23
Description/Taste
Olallieberries are generally small to medium in size, averaging 2 to 3 centimeters in length, and have an elongated, oval to oblong shape with curved, blunt ends. The berries share a resemblance to blackberries and bear a glossy, dark purple-black surface with red accents. Olallieberries are aggregate fruits comprised of clusters of individual drupelets, or single seed-filled sacs, that surround a solid core. The fruit's skin is thin, textured, bumpy, and taut, with a delicate, easily damaged nature. Underneath the pebbled surface, the flesh is semi-firm, aqueous, and tender with a succulent, fleshy consistency. The flesh is also filled with many fine, edible seeds, and the pigmented juice will stain clothing and hands. Olallieberries are only consumed ripe and have a primarily tart taste with sweet, tangy, and fruity nuances reminiscent of blackberry jam, cassis, blackberries, and plums. Olallieberries are typically tarter than standard blackberry varieties.
Seasons/Availability
Olallieberries are available for a short season in the late spring through early summer. The fruits are generally available for only 6 to 7 weeks each year.
Current Facts
Olallieberries, botanically a part of the Rubus genus, are a rare species belonging to the Rosaceae family. The fruits were created and commercially released in Oregon in the mid-20th century and were selected for commercial production for their bright, tart flavoring, pigmented nature, and tender texture. Olallieberries are known for their short season and only appear for a few weeks each year. When the berries are in season, they can be picked directly from farms in California or found through local suppliers. Olallieberries are closely related to blackberries and share a similar appearance, but the fruits grow on vines versus blackberries that develop on thorny bushes. The vines extend from underground perennial roots and will regrow stalks each year, even if it was cut back previously. Genetically, Olallieberries are about two-thirds blackberry and one-third red raspberry. The species is also spelled as Ollalieberry, Ollalaberry, Olalliberry, and Ollaliberry and is favored for use in various beverages, baked goods, and preserves.
Nutritional Value
Ollalieberries are a source of vitamin A to maintain healthy organ functioning, fiber to regulate the digestive tract, and vitamin C to strengthen the immune system. The berries also provide iron to develop the protein hemoglobin, calcium to build strong bones and teeth, potassium to balance fluid levels within the body, and other nutrients, including phosphorous, magnesium, and folate.
Applications
Olallieberries have a sweet-tart taste suited for fresh and cooked preparations. The fruits should only be washed just before serving and are typically consumed straight out of hand. They can also be mixed into parfaits, stirred into cottage cheese, tossed into salads, or combined with grapes and melon in a fruit medley. Olallieberries can be used interchangeably with other blackberry varieties, adding flavor and color to syrups, vinaigrettes, and sauces. Try chopping Olallieberries into salsa or blending and freezing the fruits into ice cream. Olallieberries can also be baked into pies, cobblers, crisps, muffins, cakes, bars, and tarts or simmered into jams, jellies, and preserves. Cooking the fruits with sweeteners creates a compote that can be drizzled over desserts and ice cream. In addition to culinary preparations, Olallieberries are blended into milkshakes and smoothies, fermented into wine, or pressed into juice and served in cocktails and lemonades. Olallieberries pair well with spices such as cinnamon, cardamom, ginger, and nutmeg, fruits including citrus, peaches, and strawberries, chocolate, vanilla, honey, and nuts such as pecans, hazelnuts, and almonds. Whole, unwashed Olallieberries are highly perishable and should be immediately consumed for the best quality and flavor. The fruits will only keep up to three days in the refrigerator and can be frozen for extended use for up to three months.
Ethnic/Cultural Info
The name Olallie is derived from Chinook Jargon, the language of the Native American Chinook tribes in the Pacific Northwest. The Chinook people settled along the coastlines of modern-day Washington and Oregon and were famous fishermen and traders. The word Olallie roughly translates from Chinook to mean "the place where berries are found." Historically, Olallie was a term used for salmon berries, Rubus spectabilis, but over time, the word became a catch-all term for multiple species of berries. In the 1940s and 1950s, Olallie was combined with berries to name the USDA Oregon-born fruit. One of the more notable achievements involving Olallieberries was using the variety to breed Marionberries, a beloved fruit in the Pacific Northwest used in the official state pie of Oregon.
Geography/History
Olallieberries were developed in Oregon through the United States Department of Agriculture, or USDA, at Oregon State University. USDA breeder George F. Waldo bred loganberries with youngberries in an initial cross in 1935. Loganberries were created in California from a cross between an eastern blackberry named Crandall and a western dewberry called Aughinbaugh. Youngberries are the product of a cross between the Austin Mayes dewberry and Phenomenal, a raspberry-blackberry hybrid that occurred in Louisiana. George F. Waldo selected the two parent fruits as a part of a cooperative blackberry breeding program between Oregon State University and the USDA and used them to create an improved variety suitable for cultivation in Oregon. Olallieberries were initially known as Oregon 609 or OSC 609 at the breeding program and were selected for evaluation and possible cultivation in 1937. The new fruits were studied in test plantings in Oregon, California, and Washington and were later commercially released under the name Olallieberries in 1950. After their release, it was discovered that Olallieberries thrived in California's cool, temperate coastal climate and grew better in the Golden State than in Oregon. Today Olallieberries are a rare species cultivated in small quantities along the West Coast of the United States. The fruits are only available for a limited season each year and are primarily grown in California in the Bay Area, Central Coast, and Southern California. The fruits are also planted on a small scale in Washington and Oregon. When in season, Olallieberries are a delicacy sold through select distributors, direct from growers, or at farmer's markets.
Recipe Ideas
Recipes that include Olallieberries. One

is easiest, three is harder.
the other 4...