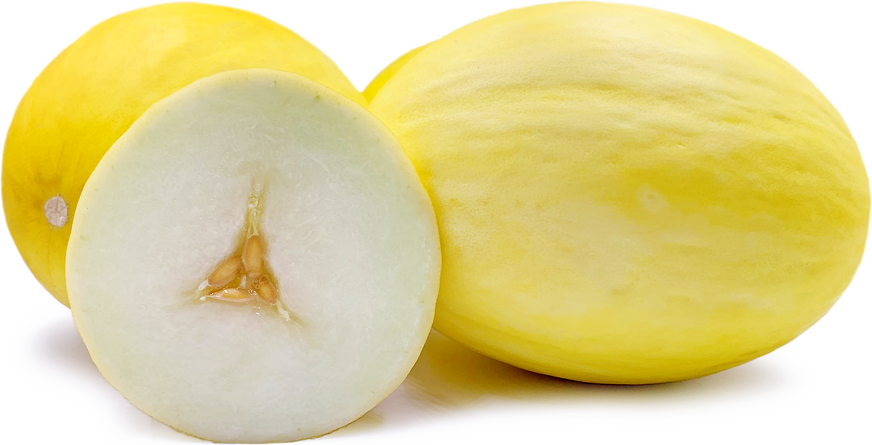 Golden Honeydew Melon
Inventory, 25 lbs : 0
Description/Taste
Golden honeydew melons are a medium-sized varietal, averaging 15 to 22 centimeters in length, and have a round to oval appearance, generally weighing 4 to 8 pounds. The melon's rind is thin, bright yellow, firm, and smooth with shallow striations. Honeydew-type melons are known for having a waxy, sometimes oily coating on the rind, and as the melon ripens, the texture will become tackier, creating a squeaking noise when a thumb is run across the surface. Underneath the rind, the flesh is white to ivory with pale green accents and has a chewy, aqueous, and succulent consistency. The flesh also encases a small cavity filled with brown oval seeds covered in a slippery gelatinous layer. Golden honeydew melons emit a fruity and floral aroma around the stem when ripe, and the blossom end will feel springy and soft under gentle pressure, sometimes displaying a slight opening. The melon should feel heavy for its size and have a refreshing, sweet flavor with a honeyed aftertaste. Golden honeydew melons are traditionally sweeter than green honeydew melons.
Seasons/Availability
Golden honeydew melons are available in the summer through early fall. The melons are also exported worldwide between the northern and southern hemispheres to provide year-round availability in some commercial markets.
Current Facts
Golden honeydew melons, botanically classified as Cucumis melon var. inodorus, are a sweet, muskmelon variety belonging to the Cucurbitaceae family. The melons grow low to the ground on trailing vines extending over four meters in length and are manually harvested at peak maturity as the melons do not slip from the vine when ripe. There are three main types of honeydew melons showcasing green, gold, or orange flesh. Golden honeydew melons are also known as Gold Honeymelons, Yellow Antibes, and Golden Dewlicious®, a marketing name developed by the Fisher Ranch Corporation in Blythe, California, in 2013. In the present day, honeydew-type melons are the third most popular melon in the United States, just behind cantaloupe and watermelon. Golden honeydew melons are slightly more challenging to find than common green honeydews, but the fragrant melons are favored for their firm consistency and sweet flavor, utilized in a variety of fresh preparations.
Nutritional Value
Golden honeydew melons are a good source of vitamin C to strengthen the immune system while reducing inflammation and fiber to regulate the digestive tract. The melons also provide vitamin A to maintain healthy organ functioning, potassium to balance fluid levels within the body, iron to develop the protein hemoglobin for oxygen transport through the bloodstream, and contain lower amounts of calcium, zinc, magnesium, and vitamin K.
Applications
Golden honeydew melons have a sweet, refreshing nature well suited for fresh preparations. The rind should be washed before opening, the melons can be sliced in half, removing the seeds, and the flesh can be cut and tossed into green salads, balled and mixed into fruit salads, stirred into yogurt, wrapped in cured meats, or used as a fresh topping over pancakes and waffles. The melons can also be combined with cottage cheese as a breakfast dish, blended into smoothies and chilled soups, pureed and frozen into popsicles and sorbet, used to flavor cheesecake, or chopped into a fresh salsa for roasted meats. Beyond serving Golden honeydew melons with other ingredients, the melons make a satisfying snack or healthy dessert on their own and can be sprinkled with citrus, salt, or ginger. In addition to fresh preparations, Golden honeydew melons can be cooked into sauces and jams or grilled for an additional flavor. The melons can also be incorporated into margaritas, daiquiris, or fruit punch or dried into strips as a chewy snack that can be stored for extended use. Honeydew seeds can be cleaned, roasted, and lightly salted as a snack food in Asia and the Middle East. Golden honeydew melons pair well with herbs such as basil, cilantro, mint, and parsley, ginger, fruit including coconut, blueberries, mango, and kiwi, honey, cheeses such as ricotta, burrata, and feta, spinach, fennel, cucumbers, and tomatoes. Whole, unopened Golden honeydew melons should be ripened at room temperature, and the blossom end will yield slightly under pressure when mature. Sliced Golden honeydew will keep up to three days when stored in a sealed container in the refrigerator.
Ethnic/Cultural Info
In Chinchilla, Australia, all types of melons are celebrated during the multi-day Melon Festival. Chinchilla is a small town just outside of Brisbane in Queensland that is known for its melon production. The town is often deemed the "melon capital of Australia" and grows approximately one-quarter of the melons sold throughout the country. The festival was established in 1994 to lift the town's spirits during a drought season, and the once small event now attracts over 10,000 visitors biennially. During the Melon Festival, honeydew, watermelon, and rockmelon varieties are displayed, sampled, and sold through local farms and vendors, and festival attendees typically consume over 1,000 melons in totality each year. The festival also features melon-themed events, including a parade, eating contests, throwing melons through targets, and a relay race. One of the most popular events is watermelon skiing, where participants place their feet inside of two watermelons and are towed along a slippery course attempting to stay on their feet. This event has gained global attention and the California Watermelon Festival in the United States also now offers this event.
Geography/History
Honeydew melons have been cultivated for thousands of years and are believed to have originated either in the Middle East, Western Asia, or West Africa. While the melon's origins remain murky, in the 15th and 16th centuries, the melons were introduced to the New World through Spanish and Portuguese explorers. The exact history of Golden honeydew melons is also mostly unknown, but the melons thrive in semi-arid, hot, and dry climates. Today Golden honeydew melons are grown worldwide in Australia, Asia, Africa, Central, and South America. The melons are also cultivated in Europe, specifically in Spain, Turkey, Italy, Greece, and Germany, and in California, Arizona, and Texas of the United States. When in season, Golden honeydew melons are found through local markets, specialty distributors, and select grocers.
Recipe Ideas
Recipes that include Golden Honeydew Melon. One

is easiest, three is harder.