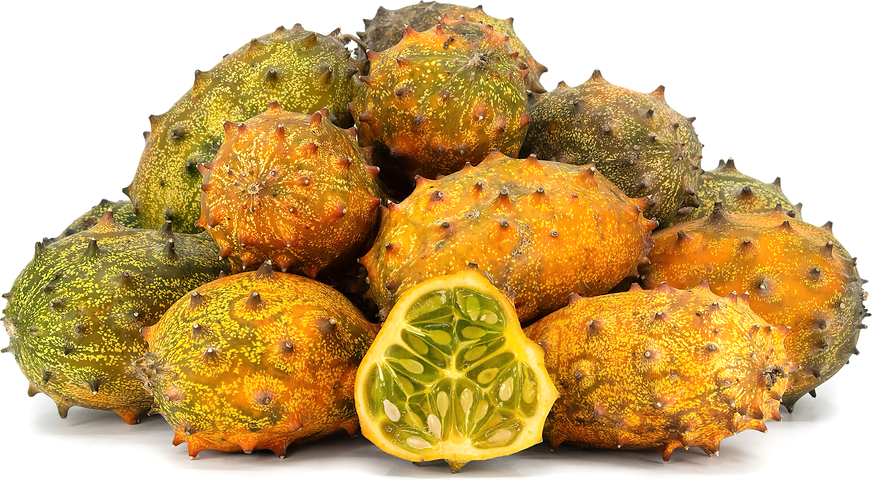 Horn Melon Kiwano
Inventory, 12 ct : 0
Description/Taste
Kiwano melons are small to medium-sized fruits, averaging 10 to 20 centimeters in length, and have a uniform, oval shape with blunt, curved ends. The melon's rind is thick, leathery, semi-shiny, plump, and firm, covered in small, raised spines that protrude from all angles. The rind also transitions from green to golden yellow-orange when ripe, overlaid with dark orange speckling, mottling, and spots. Underneath the surface, the flesh is comprised of many small cream-colored seeds suspended in an emerald green, jelly-like liquid. The seeds are somewhat hard and crunchy, and each seed is typically encased in a slippery layer of soft flesh. The green liquid flesh has a viscous, watery texture reminiscent of passion fruit. Kiwano melons are determined ripe when the skin exhibits bright yellow-orange hues. The rind, seeds, and flesh are edible, but the skin is often discarded due to its chewy, semi-tough, and neutral flavor. The flesh and seeds have a very mild, subtly sweet, and tangy taste with faint notes of cucumber, kiwi, banana, lime, and zucchini.
Seasons/Availability
Kiwano melons are available year-round, as the melons are grown in both hemispheres and exported worldwide. The melons have a peak season in the spring through summer.
Current Facts
Kiwano melons, botanically classified as Cucumis metuliferus, are unique African melons belonging to the Cucurbitaceae family. The spiny melons form on traveling, low-growing vines that can climb along a trellis or spread across the ground, and the variety is one of the few melons that closely resembles a cucumber rather than a traditional melon. Each plant can produce over one hundred fruits per vine, often earning the melon a label as an aggressive, prolific species. Kiwano melons are known by many regional names, including Horn melon, African Horned melon, Horned cucumber, Spiked Melon, Blowfish fruit, Jelly melon, and Hedged gourd. The melons are also known under marketing names such as Melano, Fruto del Paraiso, and Cuke-a-saurus. Kiwano melons are a traditional medicinal and culinary crop in Africa. Outside of Africa, the melons are grown as an ornamental cultivar, valued for their unusual appearance, bright coloring, and long shelf life.
Nutritional Value
Kiwano melons are a good source of magnesium to regulate muscle and nerve function, vitamin C to strengthen the immune system, and iron to develop the protein hemoglobin for oxygen transport in the bloodstream. The melons also provide potassium to balance fluid levels, phosphorus to protect bones and teeth, and other amounts of zinc, vitamin B6, copper, and calcium. In addition to the vitamins and minerals, Kiwano melon seeds contain linoleic and oleic acid, also known as omega-9 and omega-6 fatty acids, that help lower cholesterol and stimulate hair growth.
Applications
Kiwano melons have a subtly sweet, vegetal, and tangy flavor suited for sweet and savory preparations. The rind, seeds, and flesh are edible, but many consumers choose to discard the flesh as it can be tough and slightly flavorless. Kiwano melons should be washed, the spines trimmed, and sliced in half. The flesh can be scooped, squeezed, or muddled from the rind and consumed straight out of hand or drizzled over yogurt, ice cream, green salads, and fruit bowls. It can also be poured over roasted meats, sushi, and tacos, blended into smoothies, or eaten with a sprinkle of salt, sugar, lemon, or lime juice. It is important to note that the seeds are edible and can be eaten, but they can also be discarded depending on preference. Kiwano melon flesh and can be pressed through a fine-mesh sieve to separate the liquid from the seeds, and the juice can be used to flavor salad dressings, sauces, salsas, dips, syrups, and dessert fillings. The liquid can also be incorporated into cocktails, fruit punches, and sparkling beverages. Kiwano melon rinds are a favorite natural serving bowl and are often hollowed and filled with drinks, soups, jelly, or dips. Kiwano melons pair well with fruits such as coconut, strawberry, banana, and passion fruit, mint, honey, vanilla, seafood such as shrimp, fish, and scallops, and poultry. Whole, unwashed Kiwano melons should be stored at room temperature, where the melons may last for weeks to months, depending on the degree of ripeness. Once mature, the melons should be consumed within a couple of days to ensure quality flavor and texture.
Ethnic/Cultural Info
Kiwano melons are deeply rooted as a nutritional supplement in the diets of the Khoisan people living in the Kalahari Desert in Southern Africa. The melons have extended storage capabilities, and the thick skin keeps the flesh and seeds intact, providing one of the only sources of hydration within the desert during the dry season. Kiwano fruits are 80% water, and the flesh is drunk while the rind and leaves of the vine are roasted. In the Kalahari Desert, the plants are traditionally grown in home gardens, and the fruits are consumed both mature and young as pickles or in salads. Kiwano melons are also sometimes included in decoctions to naturally soothe the body after childbirth. In addition to the native peoples of Africa, several animals such as elephants and giraffes also consume the melons as a natural digestive aid.
Geography/History
Kiwano melons are native to Central and Southern Africa, specifically in the semi-arid regions of the Kalahari Desert, and have been growing wild since ancient times. The melons spread in cultivation throughout Africa and are currently produced in Nigeria, South Africa, Zimbabwe, Malawi, Botswana, Mozambique, Angola, Namibia, and Zambia. Kiwano melons were introduced in the 1930s to New Zealand and Australia, where the plant became extensively cultivated as a novel commercial fruit and ornamental cultivar. The aggressive nature of the vining plant also led the variety to be labeled as an invasive weed as the melons eventually escaped cultivation and began destroying native habitats. Today Kiwano melons are primarily grown as a specialty fruit and are popular for their long shelf life and unusual appearance. The melons have recently been cultivated in Israel, Europe, and the United States and are also imported from Australia and New Zealand into European and American markets for year-round availability. Kiwano melons thrive in a wide range of soils and climates, from dry, desert weather to coastal regions. When in season, Kiwano melons are mainly found through local markets, specialty growers, distributors, or select grocers worldwide.
Recipe Ideas
Recipes that include Horn Melon Kiwano. One

is easiest, three is harder.
the other 8...