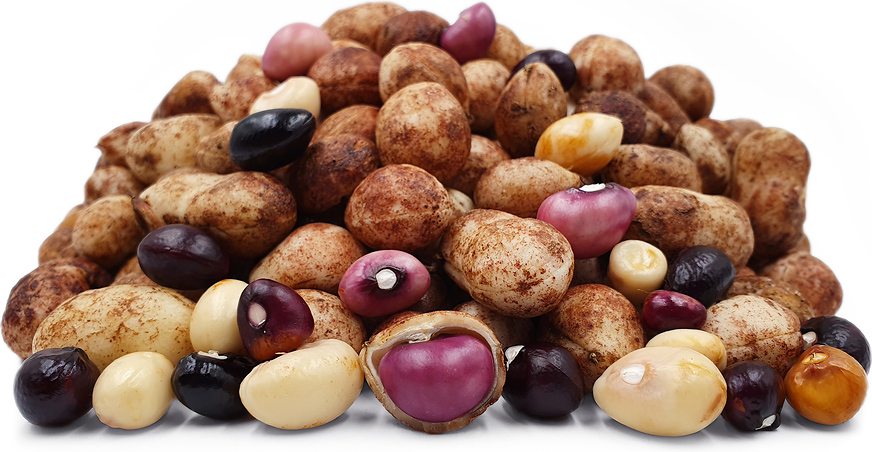 Kacang Polong Bogor
Inventory, lb : 0
Description/Taste

Kacang Bogor are small seeds that grow on a leafy, compact bush or a low to the ground, sprawling plant. The green stems or leaf stalks are slightly hairy and branch out in many directions bearing elliptical green leaves. Small yellow flowers also bloom close to the ground on the hairy stems, and after they are pollinated, the flowers form a root or tendril into the ground, eventually forming a pod. The round to oblong pods are smooth and range in color from light tan, white, to dark brown. Inside the pod, there are 1-2 seeds averaging 1-1.5 centimeters in diameter and are slippery, hard, and are found in many colors including purple, black, white, ivory, brown, red, striped, or mottled. Kacang Bogor are tender and crunchy with a slightly sweet, nutty, and earthy flavor.


Seasons/Availability

Kacang Bogor is available year-round in Africa, Brazil, and select regions of Southeast Asia.


Current Facts

Kacang Bogor, botanically classified as Vigna subterranea, grow on herbaceous plants that belong to the Fabaceae family. Considered a legume, Kacang Bogor gets its name from the city of Bogor in West Java, which is the central area of cultivation in Indonesia. Kacang Bogor is a hardy plant that can grow in a wide variety of climates and was initially introduced to Southeast Asia as another source of plant-based protein. Despite its easily grown nature, Kacang Bogor is not cultivated on a large scale in Southeast Asia and is mainly consumed as a snack food. The round, peanut-like seed is much more prevalent in its native land of Africa where it is commonly known as the Bambara bean or Bambara groundnut. In Africa, the entire plant is removed during harvest, and the seeds are picked from the ground for fresh use, dried use, and commercial processing.


Nutritional Value

Kacang Bogor is an excellent source of fiber and also contains some iron, phosphorus, and calcium.


Applications

Kacang Bogor can be consumed fresh, but it is most popularly dried for extended shelf life. In Southeast Asia, the seeds are dried, boiled, salted, and consumed similarly to boiled peanuts as a snack, or they can be boiled with spices and mixed with other cooked vegetables. Kacang Bogor can also be roasted and ground with chiles to make an earthy soup or ground into a powder for use in pancakes or porridge. In Africa, Kacang Bogor seeds are made into okpa, which is a form of pudding cooked with pumpkin leaves, water, and oil and used as a breakfast food. The seeds are also boiled and mashed with oils and spices to create a popular dish known as sagidi. The dried seeds will keep up to one year when stored in a cool, dry, and dark place.


Ethnic/Cultural Info

In Africa, Kacang Bogor was originally viewed as a famine or poor man's food until the seeds were rebranded as a nutritionally valuable food source. The seeds are commonly found as a street food snack item, served with a fried plantain pancake, and the majority of Kacang Bogor cultivation is run by women, providing a significant source of income for families. In order to change the view of the seed, Kacang Bogor was commercially canned and rebranded as a new, modern food with high nutritional content and long shelf life. Kacang Bogor was also dried and processed into chips, cereals, and snack food items to incorporate the seed into everyday life and reduce the stigma associated with the earthy seed.


Geography/History

Kacang Bogor is native to tropical Africa, specifically the region encompassing northern Cameroon and Nigeria, and has been growing since ancient times. The seed was then introduced to Brazil via Portuguese traders in the 1600s and to Southeast Asia, but the exact dates of when and how it was introduced to Southeast Asia is unknown. Today Kacang Bogor can be found growing wild and cultivated on a small scale in West Java, Thailand, Malaysia, the Philippines, Brazil, Madagascar, Zimbabwe, Nigeria, Cameroon, and other select regions of sub-Saharan Africa.