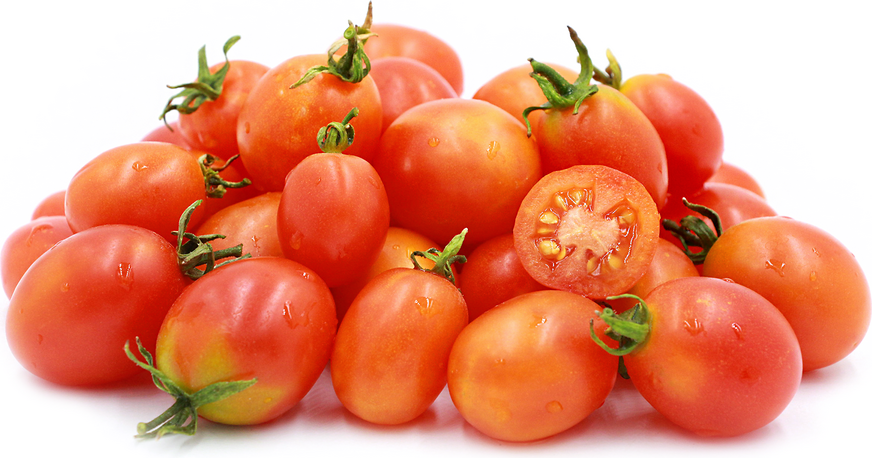 Principe Borghese Heirloom Tomatoes
Inventory, lb : 0
Description/Taste
The Principe Borghese tomato is an Italian heirloom famous for sun drying. The red plum-shaped fruits are about two inches long and one or two ounces in size. They have a thin skin and a thick, very meaty flesh that houses few seeds and little juice, with a rich classic tomato flavor. The crack-resistant fruit grows in clusters on hardy, fast-growing determinate plants, which spread laterally and ripen all at once. Although they are determinate in growth habit, Principe Borghese tomato plants will benefit from extra support, such as trellising or caging, as they can grow up to six feet and produce many weighty clusters of fruit.
Seasons/Availability
Principe Borghese tomatoes are available mid-season.
Current Facts
Principe Borghese is a variety of tomato, scientifically named Solanum lycopersicum, formerly Lycopersicon esculentum, and is a member of the nightshade family. It is an heirloom variety as the seeds have been passed down through generations of farmers and gardeners and families. Unlike hybrids, heirloom varieties are not selectively bred for certain qualities, but are instead open-pollinated, meaning that their seed will grow true to type plants exactly like their predecessors.
Nutritional Value
Principe Borghese tomatoes are a rich source of antioxidants, vitamins and minerals, all of which may have a protective effect against cardiovascular diseases. They contain good amounts of vitamin A and C, as well as fiber, carbohydrate, potassium and iron. Potassium plays a vital role in maintaining nerve health, while iron is essential for maintaining blood health. Tomatoes are also known for having a large amount of lycopene, a naturally occurring antioxidant that is being studied for its ability to fight cancer-causing free radicals in the body.
Applications
Principe Borghese tomatoes are a favorite for sun drying because they retain their color and flavor more than most other varieties. Rehydrate sun-dried Principe Borghese tomatoes for ten minutes in water or broth to use them in soups, stews, or atop a pizza. The dried tomatoes can also be used to make excellent tomato sauce or chopped into salads. In addition to drying, Principe Borghese tomatoes are used for fresh eating, roasting or canning, and they pair well with classic Italian herbs and spices as well as soft cheeses, such as mozzarella. Store your tomatoes at room temperature as their flavor and texture can suffer when the fruit is chilled. Refrigerate only extra-ripe tomatoes to slow the process of decay.
Ethnic/Cultural Info
Principe Borghese is the traditional Italian variety for sun-dried tomatoes, known in Italy as "pomodori secchi", and it can be found filling backyards and soaking up sun throughout Italy. Italians are known for hanging the whole plant up to dry, though the fruit can also be sliced in half and sun-dried on screens.
Geography/History
Principe Borghese tomatoes date back to the 1910s in southern Italy. The Spanish originally brought the tomato back to Europe after Cortez conquered Mexico City in the 16th century, and the climate in Italy allowed for many new varieties of tomato to develop with intense flavor. Principe Borghese is known to be heat tolerant and very hardy, and can grow well in most regions of the United States.
Podcast