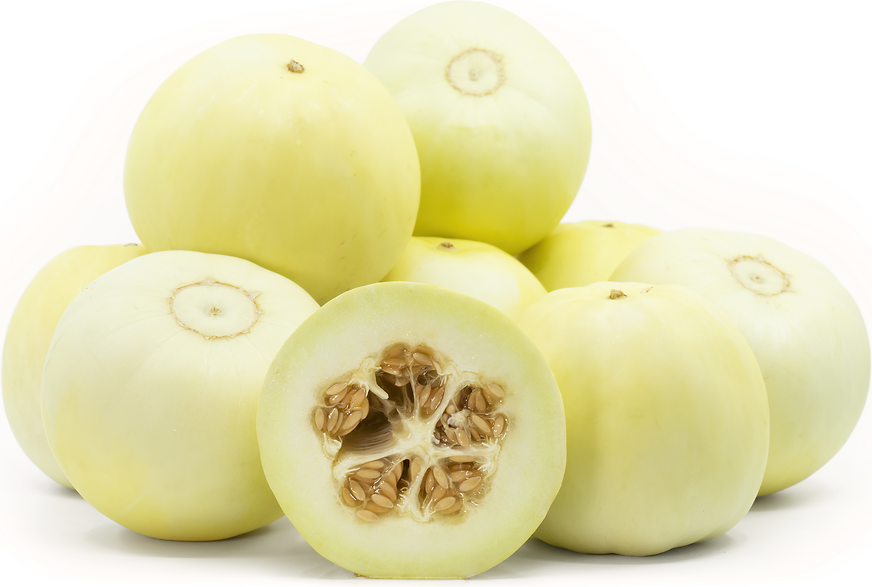 Sakata Melon
Inventory, lb : 0
Description/Taste

Sakata's Sweet melons are small in size, averaging 7 to 10 centimeters in diameter and 150 to 300 grams in weight, and have a round, conical, to oval shape with blunt, curved ends. The melons are often considered a personal-sized variety due to their petite nature, and the fruits showcase a distinct pucker surrounding the fruit's stem end. This pucker creates slight ridges or folds in the melon's surface on one end, and a distinct rough brown ring surrounds the stem. The melon's skin is thin, smooth, and taut, ripening from grey-green to yellow-green when ripe. It is important to note that the melon's skin is edible and can be consumed raw. Underneath the surface, the pale yellow-green to ivory flesh is aqueous, grainy, and dense, with a crisp and succulent consistency. The flesh also encases a central cavity filled with tiny tan-colored seeds covered in a gelatinous coating and suspended between stringy fibers. Sakata's Sweet melons will release a fragrant sweet aroma when ripe. Unripe melons will have a cucumber-like scent. Look for the melon's signature cracked ring when ripe, and the blossom end should give slightly to pressure when touched. Sakata's Sweet melons have high sugar content, ranging between 14 to 15 Brix, creating a sweet, sugary, floral, and subtly fruity flavor.


Seasons/Availability

Sakata's Sweet melons are available year-round in sub-tropical and tropical climates, with a peak season in the summer.


Current Facts

Sakata's Sweet melons, botanically classified as Cucumis melo, are a rare variety belonging to the Cucurbitaceae family. The crisp and sweet melons are an heirloom cultivar grown in East Asia for centuries, but the Sakata Seed Corporation in Japan recently re-branded the variety and introduced it to melon enthusiasts worldwide. Sakata's Sweet melons can occasionally be found as Asian Green melons in fresh markets and are often compared to honeydew-type melons for their flavor, texture, and coloring. The melons develop on fast-growing vines, producing 15 to 20 fruits per plant, and the vines can extend over 2 to 3 meters in length. Growers typically plant Sakata's Sweet melons, where the vines can climb across a trellis. This keeps the melons off the ground while maturing, preventing premature rot. Sakata Sweet melons are harvested 80 to 90 days after planting, and the melons must be cut from the vine when the leaves begin to discolor. Sakata's Sweet melons are not typically sold in commercial markets as the melon tends to deteriorate quickly. The variety is primarily grown in home gardens and is offered through select fresh market retailers as a seasonal specialty melon.


Nutritional Value

Sakata's Sweet melons have not been studied for their nutritional properties. Like other melon varieties, melons are a source of potassium to balance fluid levels within the body, vitamin A to maintain healthy organ functioning, and vitamin C to strengthen the immune system. Melons also provide folate to develop red blood cells, fiber to regulate the digestive tract, and other nutrients, including copper, vitamin K, zinc, and magnesium.


Applications

Sakata's Sweet melons have a sweet, floral, and fruity taste suited for fresh and cooked preparations. The variety is traditionally consumed raw, and the skin and flesh are edible, allowing the melon to be eaten straight out of hand. Sakata's Sweet melons can be prepared similarly to honeydew and cantaloupe. The melons are commonly sliced and served on appetizer platters, cheese boards, and in fruit medleys, or they are tossed into green salads, mixed with herbs as a refreshing side dish, and used as a topping over parfaits and other breakfast dishes. Sakata's Sweet melons can also be pureed and chilled into soups, blended and frozen into sorbets, popsicles, and ice cream, or halved and eaten plain like a grapefruit. In Japan, sweet melons are occasionally used as a flavoring in bread, cakes, and desserts. In addition to fresh preparations, Sakata's Sweet melons can be simmered into jellies, jams, and preserves or used in sauces. The melons can also be incorporated into beverages, including smoothies, cocktails, and blended frozen drinks. In Asia, melons are sometimes harvested under-ripe and are used for pickling, creating a sweet and sour taste for curry salads, slaws, and main dishes. Sakata's Sweet melons pair well with fruits such as strawberries, citrus, and grapes, herbs including mint, cilantro, and basil, ginger, lemongrass, dark leafy greens, vanilla, chocolate, and honey. Whole, unwashed Sakata's Sweet melons have a short shelf life and should be immediately consumed for the best quality and flavor. The melons may keep for 1 to 7 days when ripe in a cool and dry location. Once opened, the melons should be wrapped in plastic or stored in a sealed container in the refrigerator for 3 to 4 days.


Ethnic/Cultural Info

The Sakata Seed Corporation is named after Takeo Sakata, the company's founder. Takeo Sakata established the corporation in 1913 in Kanagawa, Japan, and began exporting golden-rayed lily and showy lily bulbs to Western companies in 1914. After two years of exporting plants, Takeo Sakata transitioned into selling seeds as they were easier to transport and eventually opened a branch of the corporation in Chicago. He also built the first germination laboratory in Japan in 1921. For several decades, the seed company merged with other corporations, created new branches worldwide, established research stations, and continued breeding new varieties of vegetables and flowers. The Sakata Seed Corporation honors its roots and features a lily flower in its logo. The lily flower symbolizes Takeo Sakata's efforts to survive the growing pains of starting a business by exporting lily bulbs through the Yokohama Port, and when the logo was first created, it also featured their company slogan of "Reliability, Service, and Quality."


Geography/History

Sakata's Sweet melons are native to Japan and are an heirloom variety primarily grown as a home garden cultivar. Much of the melon's history is unknown, but the variety was released through the Sakata Seed Corporation in Yokohama City within the Kanagawa Prefecture of Japan. Outside Japan, Sakata's Sweet melons are also offered in seed catalogs in China and the United States. Today Sakata's Sweet melons are a rare variety promoted through seed companies worldwide. Due to their short shelf life, the melons are not commercially grown and are advertised as a home garden variety. Some specialty growers plant the variety and briefly sell the melons in fresh markets in Asia and the United States.