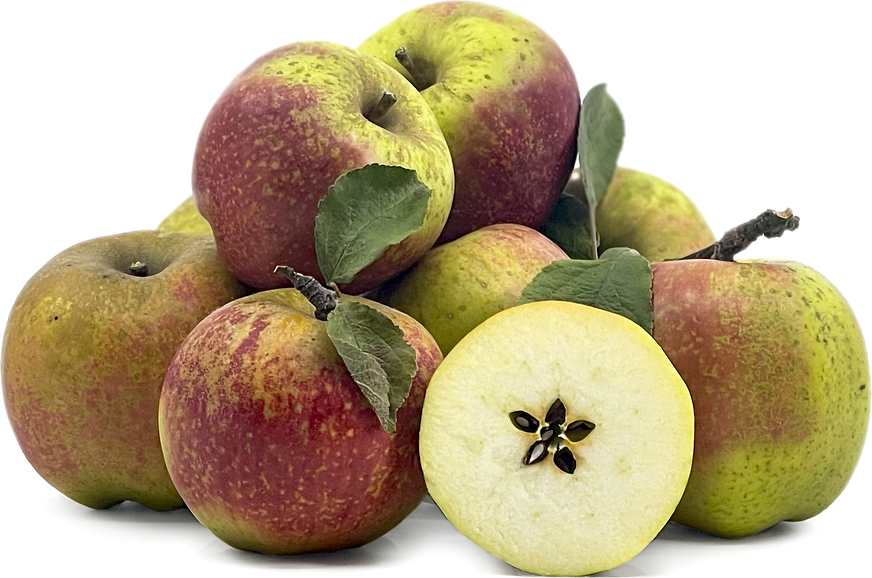 Cornish Aromatic Apples
Inventory, lb : 0
Description/Taste
Cornish Aromatic apples are a medium to large varietal, averaging 6 to 7 centimeters in diameter, and have a conical to slightly ovate shape with prominent ribbing at the base of the fruit, sometimes forming a five-point crown. The apple's skin is semi-thick with a chewy mouthfeel and has a golden yellow-green base, covered in dark red-orange flushes and striping. The dull red blush is solid in some portions and lighter in other spots, and the dark red striping is typically broken or mottled. The skin also has a textured feel with raised lenticels and varying degrees of brown russet ranging from small dots to large areas, especially in the stem cavity. Underneath the surface, the white flesh can be tinged with green and has a dry, dense, grainy, and crisp but not overly firm consistency. The flesh also encases a moderately-sized central core filled with tiny tapered, black-brown seeds. Cornish Aromatic apples release a honeyed aroma when sliced and have a sweet and sharp flavor with subtle nuances of cinnamon, nuts, pears, and pineapple.
Seasons/Availability
Cornish Aromatic apples are harvested in the fall and can be stored through the winter.
Current Facts
Cornish Aromatic apples, botanically classified as Malus domestica, are an English variety belonging to the Rosaceae family. The heirloom apple, also known as a heritage apple, was first documented in the early 19th century, but the variety is believed to be much older than this, initially grown as a home garden apple in Cornwall, England. After the variety's introduction to growers throughout England, Cornish Aromatic apples were planted in country estates and cottage gardens, as the tree was easy to grow, exhibited resistance to several diseases, and the fruits contained a unique flavor. For a short period, the variety was also known as Sweet Lark apples within Cornwall, but the name was later lost to its current moniker. The late-season apples were typically consumed as a dessert variety, and they could be eaten straight off the tree or kept in extended storage as a fruit for the winter season. In the modern-day, Cornish Aromatic apples are a rare variety, primarily grown on a small scale as a novelty.
Nutritional Value
Cornish Aromatic apples have not been studied for their nutritional properties. Like other apples, the variety is a source of vitamin C to strengthen the immune system while reducing inflammation, potassium to balance fluid levels within the body, and fiber to regulate the digestive tract. The apples also provide small amounts of copper to develop connective tissues, manganese and vitamin K to assist in faster wound healing, and other nutrients, including zinc, calcium, B vitamins, and polyphenols which act like antioxidants to protect the cells against free radical damage. In England, apples were sometimes used in natural medicines to promote digestion, reduce constipation, and lower acid levels within the stomach to calm indigestion.
Applications
Cornish Aromatic apples have a sweet and sharp flavor suited for fresh preparations. The heritage apple is traditionally consumed straight out of hand, and the fruit's taste will vary depending on its harvest date. Freshly picked Cornish Aromatic apples will have a slightly more acidic and sharp flavor, while apples that have been kept in cold storage will mellow and develop a milder taste. It is solely consumer preference as to when the apples should be eaten, and the raw fruits can be sliced and tossed into salads, fruit medleys, and grain bowls. Cornish Aromatic apples can also be served on cheese boards as a crunchy accompaniment, sliced and used as a dipping vessel, or thinly cut and layered with spreads, microgreens, or cured meats as a bite-sized appetizer. Most Cornish Aromatic apples are eaten as a standalone snack or light dessert, but try serving them dipped in chocolate, caramel, or nut butter. The fruits can also be used as a topping over oatmeal, porridge, and pudding or sprinkled with chopped nuts over ice cream. Beyond culinary preparations, Cornish Aromatic apples are sometimes blended into smoothies or sauces. Seldomly, they are pressed into juice to add complexity to cider blends. Cornish Aromatic apples pair well with cheeses such as cheddar, gorgonzola, and parmesan, herbs including mint, parsley, rosemary, and sage, and spices such as nutmeg, cloves, cinnamon, anise, and allspice. Whole, unwashed Cornish Aromatic apples will keep for 1 to 3 months when stored in a cool and dark location. If stored for a shorter period, they can be kept in the refrigerator's crisper drawer.
Ethnic/Cultural Info
Apples are rumored to reveal the face of true love in the annual festival of Allantide, held in Cornwall, England. Allantide is also known as Kalan Gwav, meaning "the first day of winter," and is held each year on the night of October 31st. The origins of the festival stem from the Feast of St. Allan, a celebration held in honor of the 6th-century bishop of Quimper. Over time, the night has become filled with harvest festival customs mixed with superstition and magic. November was traditionally viewed as the blood month when farmers would slaughter their animals, and late October was seen as a reminder of the coming death, linking the living to the spirits. The night of Allantide is said to be when the human world is closest to the spirit realm, allowing people to get glimpses of the future. Before the festival, large markets were constructed in the town square with merchants hawking celebratory foods and gifts. One of the most popular gifts for Allantide was large red apples. The larger the apple, the more magic it was said to contain, and families would purchase the fruits as blessings of good luck for family members and friends. On the night of Allantide, young girls would sleep with an apple under their pillow. Legend has it that the apple would cause them to dream of their future spouse. Apples were also eaten to bring good luck in the winter season to come, and a rambunctious game was held to pass the night by stringing apples from a cross formed from two planks of wood. The wood planks were hung in the air with apples tied below them, and four candles were lit on the top of the planks to burn slowly. The object of the game was to be the first person to successfully pull one of the apples from the hanging string with their teeth without tipping the wood boards, causing hot wax to rain down over the participant's face.
Geography/History
Cornish Aromatic apples are native to England and are thought to have originated in Cornwall, a county in southwestern England, also known as the West Country. The variety's parentage is unknown, and the first record of the apples was recorded in 1813. Sir Christopher Hawkins, a Cornish businessman, sent the apples to the London Horticultural Society, where they received recognition for their flavor and appearance. Sir Hawkins sourced the apples from Cornwall, and the variety's exact date of origin is unknown as the fruits had been growing in the county for many years before it was brought to attention in 1813. Cornish Aromatic apples thrive in temperate to wet climates, becoming a preferred variety in estate gardens throughout southwestern England. At an unknown time, Cornish Aromatic apples were also carried to the United States and were planted through select growers along the northeastern coast, in California, and in the Pacific Northwest. Today Cornish Aromatic apples are a rare variety, primarily grown in specialty orchards in England, Europe, and North America.
Recipe Ideas
Recipes that include Cornish Aromatic Apples. One

is easiest, three is harder.