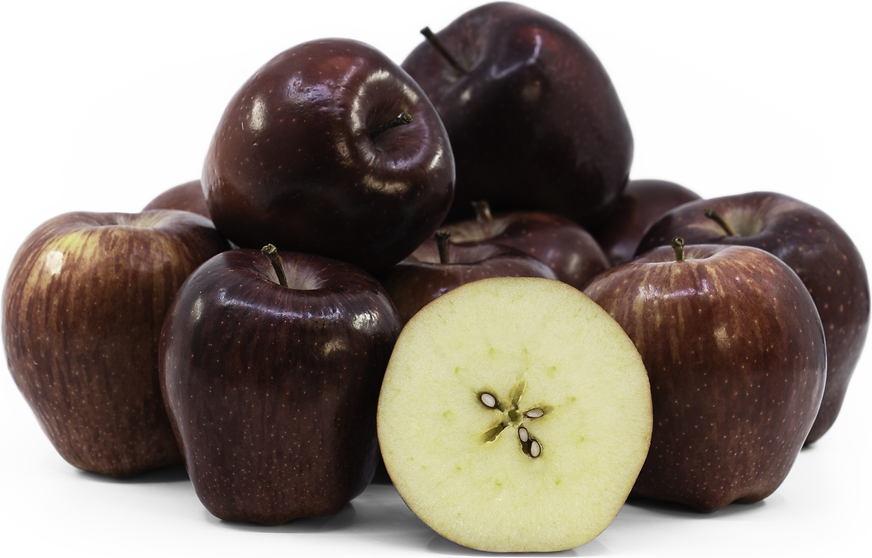 Red Delicious Apples
Inventory, 88 ct : 9.96
This item was last sold on : 12/09/23
Description/Taste
Red Delicious apples are medium to large in size, averaging 6 to 8 centimeters in diameter, and have an elongated, conical shape with broad, flat shoulders tapering to a narrow, pointed base. The variety once had a cordate to strawberry-like shape, but they were bred to be more conical over time. Red Delicious apples have five distinct bumps at the blossom end of the fruit, and the stems range in color from green to brown and are slender, fibrous, and woody. The skin is characteristically thick, chewy, and tough and has a smooth, taut, and glossy nature, often enveloped in a layer of wax. The skin also has a golden yellow hue, covered in dark red to crimson blush, and pale lenticels are scattered across the surface. Red Delicious apples have been bred to exhibit saturated red hues, but when they were first discovered, they had a bi-colored appearance with broken striping. Underneath the skin, the ivory to pale yellow flesh is fine-grained, aqueous, and soft with a crisp consistency. The flesh also encases a moderately sized central core filled with tear-drop-shaped black-brown seeds, and depending on cultivation and age, the flesh may become mealy. Red Delicious apples are edible raw and have a refreshing, mild, and sweet flavor. The apples are known for their subtly sweet and neutral taste and can occasionally bear faint melon-like nuances.
Seasons/Availability
Red Delicious apples are available year-round, with a peak season in the fall.
Current Facts
Red Delicious apples, botanically classified as Malus domestica, are an American heirloom belonging to the Rosaceae family. The mid to late-season apples were discovered as a chance seedling in Iowa in the late 19th century and have an extensive history within the American apple market. Red Delicious apples were originally named Hawkeye apples in honor of their home state of Iowa when they were first discovered. The University of Iowa's mascot is the Hawkeyes, and Iowa, in general, is known as the Hawkeye State, a self-given nickname coined in the 19th century. Hawkeye apples were later rebranded under the name Red Delicious when they were acquired by the Stark Brothers Fruit Nursery. Red Delicious apples were the most commercially produced and sold variety in the United States from 1910 to 2018. The variety was initially famous for its sweet taste, unusual shape, and extended storage properties, and was so well known that the mother tree attracted visitors each year in Madison County, Iowa. Property owners were said to give tours of the tree, and the tree also had to be fenced off at one point due to Red Delicious enthusiasts stripping branches, leaves, and fruits. Sadly, the mother tree was destroyed in the 1940 Armistice Day Blizzard, and the tree was over seventy years old. Despite their initial rise to fame for flavor, Red Delicious apples have suffered from commercialization throughout history and are now infamous for their bland, mild taste. Red Delicious apples are no longer valued as a fresh eating cultivar, but they are still found in select commercial markets as a classic American heirloom. The variety has become more successful outside of the United States and has remained a part of breeding programs, developing internationally popular apples, including Fuji, Starkrimson, and Empire apples.
Nutritional Value
Red Delicious apples are a source of vitamin C to boost the immune system, fiber to regulate the digestive tract, potassium to balance fluid levels within the body, and vitamin A to maintain healthy organ functioning. The variety also provides vitamin E to reduce inflammation, vitamin K to assist in generating bone tissue, calcium to build strong teeth and bones, and other nutrients such as magnesium, boron, copper, iron, zinc, and phosphorus. The red coloring within the skin indicates the presence of anthocyanins, pigmented compounds with antioxidant-like properties to protect the cells against the damage and oxidative stress caused by free radicals.
Applications
Red Delicious apples have a mild, neutral, and subtly sweet taste suited for fresh preparations. The variety can be eaten out of hand, but the skin is notoriously tough, leading some consumers to peel the apples before consumption. It is recommended to chill the apples before eating for enhanced flavoring. Red Delicious apples are also chopped into salads, shredded into slaws, and mixed into fruit medleys and grain bowls. The variety can be served on cheese plates, layered on nut butter toast, or used as an edible garnish, carved into various shapes. In addition to fresh preparations, Red Delicious apples can be cooked, but their texture becomes soft, and the flesh breaks down quickly. The apples can be simmered into sauces, used as a thickener in soups, or cooked into apple butter. They can also be cooked into jams, jellies, and syrups or blended into juices as a sweet addition. Red Delicious apples pair well with spices such as ginger, cinnamon, nutmeg, and cloves, cheeses including parmesan, brie, gouda, feta, and goat, fruits such as cherries, nectarines, peaches, and blueberries, and nuts including almonds, pine, and walnuts. Whole, unwashed Red Delicious apples will last up to four months in a cool, dry, dark place such as a cellar or refrigerator's crisper drawer.
Ethnic/Cultural Info
Red Delicious apples have developed an unfavorable reputation in the United States as a flavorless, chewy, and mealy variety, but the apples were not always undesirable among consumers. The story of Red Delicious is a tale of an apple variety that changed over time due to market demands and changing preferences. When the variety was initially released in the 19th century, pomologists and historians often equated growing Red Delicious apples to the Gold Rush. Any grower who wanted to cultivate the variety could in the United States, and Red Delicious apples were grown in many orchards across the United States. Red Delicious apples were also notorious for naturally mutating and producing sports with varying growth characteristics. Growers began selecting Red Delicious apples with a darker coloring, thinking that they appeared more visually attractive, and eventually, growers were paid based on the coloring of the fruit's skin. The variety was also bred for transportable skin and extended storage capabilities, allowing the fruits to be exported and shipped longer distances. These three factors were prioritized in Red Delicious cultivation, and flavor fell by the wayside. Flavor was eventually bred out of the cultivar as the genes for the fruit's skin striping were also responsible for the apple's vibrant flavoring. In the modern day, Red Delicious apples are no longer a commercially dominant variety for retail markets, but the cultivar has surprisingly not faded from production. The cultivar is used to supply fresh fruits to government-owned institutions and various companies, including hospitals, schools, hotels, and food distribution programs in the United States. Red Delicious apples are also heavily exported to Indonesia, Mexico, the Middle East, China, and India, leading growers to maintain their Red Delicious orchards for increased international revenue.
Geography/History
Red Delicious apples are native to the United States and were discovered growing as a chance seedling in the orchard of Jesse Hiatt in Peru, Madison County, Iowa. Hiatt's family established an apple orchard and planted several apple varieties, including Yellow Bellflower apples. One day in 1862, Hiatt noticed a seedling growing out of line in his Yellow Bellflower orchard. Hiatt valued orderly rows and cut down the seedling. A while later, he noticed the seedling growing again and cut it down. After the seedling appeared for a third time, it is rumored that Hiatt acquiesced to the seedling and said, "If thee must live, thee may." Hiatt admired the tenacity of the seedling and nurtured the tree, allowing it to first fruit in 1872, creating the original Red Delicious apple. Pomologists suspect the variety to be a product of a cross between Yellow Bellflower apples with Winesap, Sheepnose, or Black Gilliflower apples. When the seedling produced fruits, Hiatt was impressed with the fruit's flavor and began sending the apple to other growers under the name Hawkeye. Other growers and nurseries mostly ignored hawkeye apples for several years, as the apple's appearance and shape were considered too obscure. In 1893, Hawkeye apples were submitted to the International New Fruit Fair, a nationwide event hosted by the Stark Brothers Fruit Company to find the next best commercial apple. Clarence Stark sought a new apple variety to compete with Ben Davis apples, the most commercially produced variety at the time. Ben Davis apples were known for their hardiness, ability to grow in varying climates, resistance to bruising, and extended storage properties, allowing them to be kept for several months before the invention of refrigeration. The variety was often nicknamed the "mortgage lifter" for its commercial viability, but the apple's flavor was considered mediocre. Out of a desire for something new, the Stark Brothers Fruit Company held the first International New Fruit Fair in the city of Louisiana in Missouri. Apple varieties from over 27 states were submitted to the fair, and Clarence M. Stark sampled the fruits with a panel of judges evaluating appearance and flavor. When Clarence M. Stark sampled Hawkeye apples, he remarked that the apples were delicious and quickly wrote the descriptor down in a little red book he carried for new fruit names. Hawkeye apples won the competition in 1893, but Jesse Hiatt's contact information was lost in the judging process, leaving the variety to remain unknown. Clarence M. Stark was determined to find the grower of the delicious apples and sent letters to every apple grower in the 1893 contest, asking them to submit their varieties the following year. Hiatt sent Hawkeye apples again in 1894, and the cultivar won first place for a second year in a row. After the fruit fair, the Stark Brothers Fruit Company quickly bought the rights to Hawkeye apples and renamed them Delicious, using the name Clarence M. Stark wrote down in last year's competition. In 1908 and the following ten years, the Stark Brothers Fruit Company spent almost $750,000 in promoting Delicious apples, renaming them Red Delicious in 1914 after the arrival of Golden Delicious apples, also marketed by the Stark Brothers. After their commercial release, Red Delicious apples quickly became a successful cultivar, deemed the bestselling apple in the country by 1928, and remained similar to the original fruits until the 1950s. With the rise of mass production, Red Delicious apples were eventually bred for appearance and storage capabilities rather than flavor, leading the variety to drastically change in taste, coloring, and texture. Production of Red Delicious apples peaked in the 1980s but has since declined as consumer preferences have switched from aesthetically attractive fruits to highly flavored apples. Today, Red Delicious apples are still commercially grown in the United States and are primarily planted in Washington State. Smaller numbers are grown in the Midwest and Eastern United States. Red Delicious apples are sold domestically and are also exported overseas to Asia, the Middle East, and Mexico.
Featured Restaurants
Restaurants currently purchasing this product as an ingredient for their menu.
the other 6...
| | | |
| --- | --- | --- |
| Bea Green Cold Pressed Juice | Alpine CA | 619-398-6295 |
| Sisters Pizza | San Diego CA | 858-228-6822 |
| Project Wildlife | San Diego CA | 619-295-3172 |
| Brockton Villa Restaurant | San Diego CA | 858-454-7393 |
| Captains Quarters | San Diego CA | 858-412-5237 |
| Cardellino | San Diego CA | 619-722-3398 |
Recipe Ideas
Recipes that include Red Delicious Apples. One

is easiest, three is harder.
the other 22...