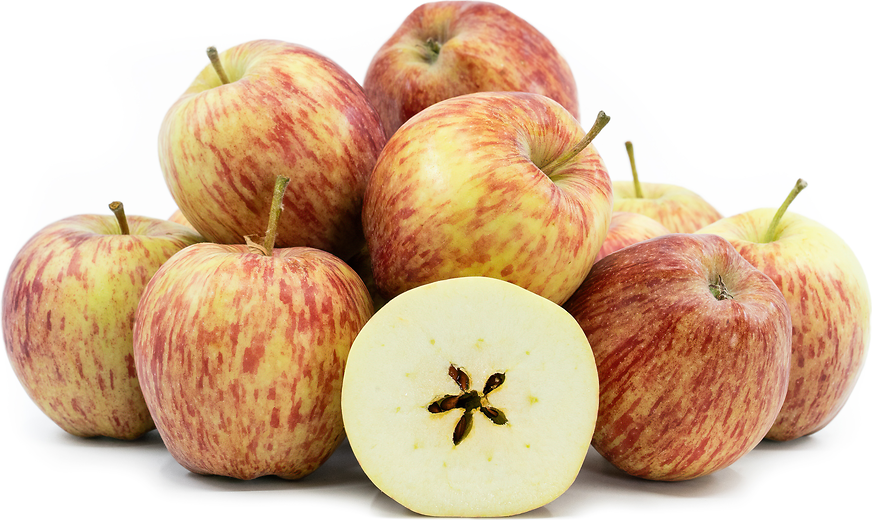 Striped Delicious Apples
Inventory, lb : 0
Description/Taste
Striped Red Delicious apples are medium to large in size and have an elongated, conical shape with broad, flat shoulders tapering to a narrow base. The variety has five distinct bumps at the blossom end of the fruit, a defining characteristic of Red Delicious apples, and the stems range in color from green to brown and are slender, fibrous, and woody. The skin is smooth, taut, glossy, and tough, creating a chewy texture, and depending on the growing environment, the golden yellow surface is covered in dark red to crimson, mottled striping. Some apples may have more defined stripes than others, and the striping can often blend to form dense patches of red blush. The skin also features pale lenticels scattered across the surface. Underneath the skin, the ivory to pale yellow flesh is fine-grained, aqueous, and very hard with a crisp and crunchy consistency. The flesh is challenging to bruise, allowing it to be shipped without fear of damage. The flesh also encases a moderately sized central core filled with tear-drop-shaped black-brown seeds. Striped Red Delicious apples are edible raw and have a refreshing, mild, and sweet flavor. The apples are known for their subtly sweet and neutral taste and can occasionally bear faint melon-like nuances.
Seasons/Availability
Striped Red Delicious apples are harvested in the fall through early winter and can be stored until the spring.
Current Facts
Striped Red Delicious apples, botanically classified as Malus domestica, are an American variety belonging to the Rosaceae family. Red Delicious apples were discovered as a chance seedling in an orchard in Iowa in the 19th century. Eventually, they became one of the most commercially produced apples in the United States throughout the 20th century. Increased cultivation of Red Delicious apples led to several hundred mutations, also known as sports, propagated and sold under the Red Delicious name. When growers cultivate Red Delicious apple trees, the trees sometimes produce limbs with fruits variable in appearance. These limbs can be grafted onto new rootstock and developed as a new variant of the original Red Delicious. Experts believe at least 300 mutations of Red Delicious apples are grown throughout the United States. Striped Red Delicious apples are one of the natural sports cultivated on a small scale for their unusual striping. Striped Red Delicious apples closely resemble the original apple cultivar, known as Hawkeye apples, before they were sold under their branded Red Delicious name. Hawkeye apples are also known as Hawkeye Delicious, Heritage Delicious, and Old-Fashioned Delicious. Striped Red Delicious apples are a mid to late-season cultivar prized for their coloring and sweet, mild flavoring. The apples are primarily a dessert variety, typically eaten fresh rather than cooked. Red Delicious apples, in general, were favored as a commercial cultivar for their high yields, hardiness, cold tolerance, resistance to cedar apple rust and fire blight, long-distance shipping abilities, and extended storage properties.
Nutritional Value
Striped Red Delicious apples have not been studied for their nutritional properties. Like Red Delicious, the apples are a source of vitamin C to boost the immune system, fiber to regulate the digestive tract, potassium to balance fluid levels within the body, and vitamin A to maintain healthy organ functioning. The variety also provides vitamin E to reduce inflammation, vitamin K to assist in generating bone tissue, calcium to build strong teeth and bones, and other nutrients such as magnesium, boron, copper, iron, zinc, and phosphorus. The red striping within the skin indicates the presence of anthocyanins, pigmented compounds with antioxidant-like properties to protect the cells against the damage and oxidative stress caused by free radicals.
Applications
Striped Red Delicious apples have a mild, sweet taste suited for fresh preparations. The variety is traditionally consumed straight out of hand as a fresh-eating apple, and the tough skin can be peeled or consumed, depending on preference. Striped Red Delicious apples can be used in any preparation, calling for Red Delicious apples. The fruits can be shredded into coleslaws, chopped into herb-based side dishes, tossed into salads, or minced into fresh spring rolls. Striped Red Delicious apples can also be sliced and layered into cold sandwiches, grilled cheeses, and paninis, dipped whole into melted sugar or caramel as a sweet treat, or sliced into rings and topped with nut butter and dried fruits as a snack. While Striped Red Delicious apples have firm flesh when raw, the flesh tends to break down in cooked preparations. The variety is preferred for apple sauces or butter, and they can occasionally be infused into muffins and bread. Striped Red Delicious apples pair well with herbs such as mint, basil, parsley, and rosemary, spices including cinnamon, nutmeg, ginger, cardamom, and cloves, brown sugar, vanilla, maple syrup, and nuts such as walnuts, pecans, and almonds. Whole, unwashed Striped Red Delicious apples will last up to four months in a cool, dry, dark place such as a cellar or refrigerator's crisper drawer.
Ethnic/Cultural Info
Red Delicious apples acquired their "Delicious" moniker from Clarence M. Stark, President of Stark Nurseries, in the late 19th century. During the 19th century, Ben Davis apples were the most commercially produced apple in the United States. The variety was known for its hardiness, ability to grow in varying climates, and resistance to bruising, but the apple's flavor was considered mediocre. Clarence Stark sought to find a new commercial variety to compete with Ben Davis and decided to host a nationwide fruit search. In 1893, the Stark Brothers Fruit Company held the first International New Fruit Fair in the city of Louisiana in Missouri. Apple varieties from over 27 states were submitted to the fair, and Clarence M. Stark sampled the fruits with a panel of judges evaluating appearance and flavor. When Clarence M. Stark sampled Hawkeye apples, he remarked that the apples were delicious and quickly wrote the descriptor down in a little red book he carried for new fruit names. Hawkeye apples won the competition in 1893, but Jesse Hiatt's contact information was lost in the judging process, leaving the variety to remain unknown. Clarence M. Stark was determined to find the grower of the delicious apples and sent letters to every apple grower in the 1893 contest, asking them to submit their varieties the following year. Hiatt sent Hawkeye apples again in 1894, and the cultivar won first place for a second year in a row. After the fruit fair, the Stark Brothers Fruit Company quickly bought the rights to Hawkeye apples and renamed them Stark Delicious, using the name Clarence M. Stark wrote down in last year's competition.
Geography/History
Striped Red Delicious apples are considered a natural mutation or sport of Red Delicious apples. Red Delicious apples were discovered growing as a chance seedling in the orchard of Jesse Hiatt in Peru, Madison County, Iowa. In 1872, Hiatt noticed a seedling growing out of line in his orchard. Hiatt valued orderly rows and cut down the seedling. A while later, he noticed the seedling growing again and cut it down. After the seedling appeared for a third time, it is rumored that Hiatt acquiesced to the seedling and said, "If thee must live, thee may." Hiatt admired the tenacity of the seedling and nurtured it for over ten years. The apple's parentage is unknown, but the seedling was discovered in an orchard of Yellow Bellflower apple trees and is suspected to be a product of a cross between Yellow Bellflower with Winesap, Sheepnose, or Black Gilliflower apples. When the seedling produced fruits, Hiatt was impressed with the fruit's flavor and began sending the apple to local contests and other growers to increase awareness of the new variety. The apples were named Hawkeye and were mostly ignored by other growers and nurseries for several years. In 1893, Hawkeye apples were submitted to the International New Fruit Fair, a nationwide event hosted by the Stark Brothers Fruit Company to find the next best commercial apple. Hawkeye apples won first prize in 1893, but the entry contact was lost, preventing Hawkeye apples from gaining notoriety. Hiatt entered the apples the following year, and they won first place again, attracting the attention of the Stark Brothers. The Stark Brothers Fruit Company purchased the rights to Hawkeye apples in 1894 and renamed them Stark Delicious. In 1908 and the following ten years, the Stark Brothers Fruit Company spent almost 750,000 dollars in promoting Stark Delicious apples, renaming them Red Delicious in 1914. Red Delicious apples were one of the most commercially produced cultivars in the United States from 1910 to 2018. Over time, new mutations occurred on Red Delicious trees, and growers began selecting sports with a dark red coloring, leading the variety to become centered on appearance rather than flavor. Other mutations occurred, giving the apples varying appearances, including the striped nature of Striped Red Delicious apples. Today, Striped Red Delicious apples are a natural variant sold in limited quantities. Many Striped Red Delicious are often sold generically under the Red Delicious name and are found through select growers, farmer's markets, and distributors in the United States.
Recipe Ideas
Recipes that include Striped Delicious Apples. One

is easiest, three is harder.