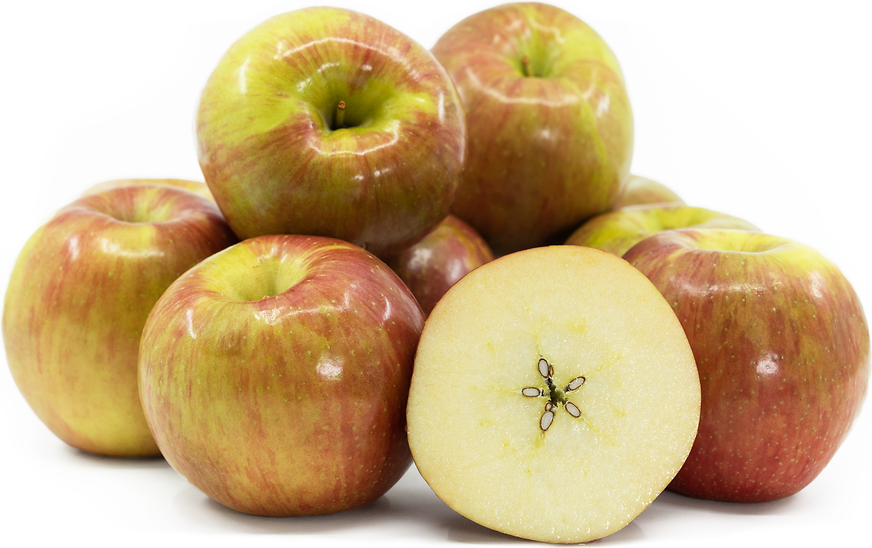 EverCrisp® Apples
Inventory, lb : 0
Description/Taste

EverCrisp® apples are a medium to large varietal, averaging 7 to 9 centimeters in diameter, and have a round to oblate shape with broad, flat shoulders tapering to a slanted base. The apple inherited exterior traits similar to its Fuji apple parent variety, showcasing a green to golden yellow coloring, almost entirely covered in a muted, dark red, rose, to maroon-colored blush. The blush ranges from transparent to solid and features broken red striping and streaking. The thick, chewy skin also exhibits a light brown-green russet emerging from the stem cavity, often spreading onto the shoulders, and the surface is taut and smooth with prominent tan to pale green lenticels. Underneath the surface, the yellow flesh is firm, hard, coarse, and aqueous with a crisp, crunchy consistency. The flesh is known for its dense nature, sometimes being hard to bite into without slicing, and has a fracturing, bursting texture when bitten, a mouthfeel similar to eating a Honeycrisp apple. The flesh also encases a central fibrous core with tiny dark brown seeds. EverCrisp® apples release a faintly sweet aroma when ripe and should feel heavy for their size. The variety has a mild, balanced, and sweet taste with no perceived acidity and subtle apple juice-like and peachy nuances. It is important to note that EverCrisp® apples will develop their peak sweetness and flavoring after about 2 to 3 months in cold storage.


Seasons/Availability

EverCrisp® apples are available in the late fall through spring.


Current Facts

EverCrisp® apples, botanically classified as Malus domestica, are a modern American variety belonging to the Rosaceae family. The late-season apples were developed from traditional cross-pollination methods in the Midwestern United States in the late 20th century. EverCrisp® apples were intentionally created to be an improved variety of a Fuji and Honeycrisp blend. The apple appears approximately 6 to 8 weeks after Honeycrisp and showcases the most desired features of its parent varieties, including the Fuji apple's storage capabilities with the crunch of a Honeycrisp. EverCrisp® apples are also known as MAIA-1, their true varietal name, and are marketed and sold under the brand name EverCrisp®. Growers favor EverCrisp® apples for their extended harvests, ability to hold well on the tree, concentrated sweet taste, and dense, crisp nature. The variety is also easier to cultivate than its parent, the Fuji apple, and produces a larger volume, increasing commercial profits. Since their release, EverCrisp® apples have continued to expand in production, driving sales through grassroots marketing campaigns among growers in farmer's markets. EverCrisp® apples are favored as a specialty apple, primarily consumed fresh or incorporated into cooked preparations.


Nutritional Value

EverCrisp® apples are a source of fiber to regulate the digestive tract, vitamin C to strengthen the immune system, potassium to balance fluid levels within the body, and calcium to protect bones and teeth. The apples also provide vitamin A to maintain healthy organ functioning, vitamin E to protect the cells against free radical damage and reduce inflammation, and other nutrients, including iron, manganese, phosphorus, magnesium, boron, zinc, copper, and vitamin K.


Applications

EverCrsip® apples have a sweet taste suited for fresh and cooked preparations. The variety is typically consumed straight out of hand as a dessert cultivar and can be served on appetizer platters as a complement to soft cheeses, dried fruits, and nuts. It is important to note that EverCrisp® apples have a very dense, firm texture and may not be ideal for biting. Some consumers with more delicate teeth may choose to slice the variety and eat the fruit in smaller pieces. The apple can be used as a fresh topping over yogurt, granola, or ice cream, shredded into slaws, chopped into salads, or sliced and dipped into caramel, chocolate, or nut butter. EverCrisp® apples can also be sprinkled with the seasoning Tajin and consumed as a flavorful snack. In addition to raw preparations, EverCrisp® apples can be cooked into applesauce and served as a side dish, mixed into sauces for roasted meats, or folded into cream cheese with spices and brown sugar, making a dip for chips and other vegetables. EverCrisp® apples hold their shape well when cooked, allowing them to be wrapped in pastry, stuffed and baked, added to pies, or cooked into tarts, crisps, dumplings, bread, and muffins. The variety can also be roasted and served with Brussels sprouts, chopped and cooked into stuffing, or sauteed with root vegetables. Try EverCrisp® apples in cider blends, smoothies, or fresh-pressed juices. EverCrisp® apples pair well with fruits such as strawberries, pineapples, bananas, and mangoes, herbs including parsley, mint, basil, and cilantro, and spices such as cinnamon, cloves, allspice, ginger, and nutmeg. Whole, unwashed EverCrisp® apples will keep for several weeks at room temperature and a few months in the refrigerator. In professional cold storage, the apples can be stored for six months, but their flavor will peak around month three.


Ethnic/Cultural Info

EverCrisp® apples were the first variety released by the Midwest Apple Improvement Association, also known as MAIA. The organization was established in the mid-1990s and was formed in partnership between growers throughout the Midwestern United States. During this time, founders Mitch Lynd and Ed Fackler noticed that new apple varieties being released throughout the United States were not available for Midwest growers to plant, and many of the modern cultivars were not suitable for their everchanging climate. Lynd and Fackler presented their idea of the MAIA to growers at their regional meetings, and around 50 growers of all sizes committed to donating $100 per year for 15 years. The Midwest Apple Improvement Association was created, and the organization was and is still centered around the mindset of smaller orchards. In 1997, MAIA growers performed pollination crosses of several varieties, including Honeycrisp, Melrose, GoldRush, Golden Delicious, Fuji, Scarlet O'Hara, and more, to produce over 5,300 seedlings. The seedlings were evaluated, and a few were propagated, eventually producing their first variety, the EverCrsip®. One of the unique traits of the MAIA beyond its small grower-focused business is its marketing methods. The MAIA initially released EverCrsip® apples to farmer's markets and built demand from the ground up in the Midwest and East Coast versus launching a nationwide campaign across commercial supermarkets. EverCrisp® apples are a managed-open release variety, meaning growers can obtain a license to cultivate the apple and pay the required royalty fees, but no one will be excluded.


Geography/History

EverCrisp® apples were developed in Pataskala, Ohio, from a natural cross-pollination between a Fuji and Honeycrisp apple. Grower Mitch Lynd bred the variety in partnership with grower Greg Miller on Lynd's Fruit Farm in Ohio in 1998. Lynd sought to create a variety that showcased improved growth characteristics and flavor over its famous parent varieties and to produce an apple that could withstand the unpredictable nature of weather in the Midwest. In the spring of 1998, apple blossoms were collected from a Fuji apple tree, the male parent, and the pollen was extracted and used to pollinate Honeycrisp apple blossoms, the female parent. Later that year, when the trees bore fruit, Lynd and Miller harvested the apples and planted the seeds, creating many seedlings for further trials and studies. The one-year-old seedlings were distributed and planted in Midwest Apple Improvement Association, or MAIA, grower orchards across the Midwest. The seedlings began bearing fruit in 2007, and one MAIA grower, David Doud, sampled the variety known as MAIA-1, an apple from a test tree MDD5-44. Doud had been growing the seedling in his Countryline Orchard in Wabash, Indiana, since 2001, and when he tried the test variety, he was impressed with its crunch and flavor. Doud sent samples of MAIA-1 to other association members in 2008 and referred to it as the "apple with the 21st-century crunch." MAIA members collectively agreed with Doud and chose MAIA-1 as their first commercial variety, branded under the name EverCrisp®. The cultivar was patented in 2014 under USPP# 24,579 and was commercially released in 2017 through farmer's markets. Today EverCrisp® apples are offered through select growers in the Midwest and Northeastern United States, primarily in Ohio, Indiana, Pennsylvania, New York, Illinois, and Michigan.