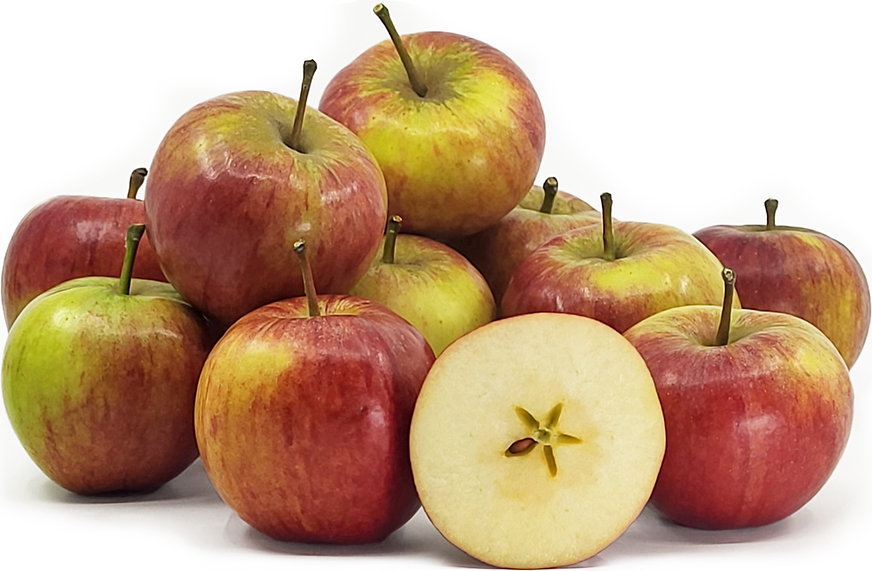 Jupiter Apples
Inventory, lb : 0
Description/Taste

Jupiter apples are a medium to large varietal, averaging 7.5 to 8 centimeters in diameter, and have a flattened, ovate to slightly cordate shape. The apple's semi-thin skin is smooth, semi-glossy, taut, and firm, with a yellow-green base covered in red patches and striping. The striping is comprised of dark red, broken streaks, and the blush is not entirely solid, found in red, red-orange, and crimson hues. There is also some light brown-green russet in the stem cavity and white to pale green lenticels scattered across the surface. Underneath the skin, the white to ivory flesh is dense, firm, textured, and aqueous, with large fracturing cells creating a crunchy, juice-bursting consistency. The flesh also encases a central fibrous core filled with tiny, black-brown tapered seeds. Jupiter apples have balanced sugar and acidity levels, creating a sharp, sweet, cider-like flavor with subtle nuances of spices.


Seasons/Availability

Jupiter apples are harvested in the mid-fall and can be stored through the winter.


Current Facts

Jupiter apples, botanically classified as Malus domestica, are an English variety belonging to the Rosaceae family. The apples are considered a modern cultivar, developed in the late 20th century, and were specifically bred as an improved variety of the Cox's Orange Pippin apple. Cox's Orange Pippin apples were one of the top varieties grown in England in the 20th century, and many English pomologists, researchers, and anthropologists rank the apple as the most famous fresh-eating English apple. Despite their popularity, Cox's Orange Pippin apples are notoriously challenging to cultivate, susceptible to several diseases, including scab and canker, and require specific climatic conditions to produce quality fruit. Jupiter apples were developed from the Cox's Orange Pippins' lineage and were selected for their heavy cropping, extended storage capabilities, and more robust flavoring. Jupiter apples have remained localized to England and are a specialty variety favored by apple enthusiasts for their size and balanced, sweet and tangy flavor.


Nutritional Value

Jupiter apples are a source of potassium to balance fluid levels within the body, fiber to regulate the digestive tract, and vitamin C to strengthen the immune system while boosting collagen production. The apples also provide some copper to develop connective tissues, vitamin K to assist in faster wound healing, polyphenols, which are a type of antioxidant that reduces inflammation and protects the body against free radical damage, and other nutrients, including vitamin E, magnesium, vitamin A, calcium, and folate.


Applications

Jupiter apples have a balanced sweet and acidic taste suited for fresh preparations. The apples were created to replace the Cox's Orange Pippin apples in orchards, and both apples are traditionally fresh eating dessert varieties. Jupiter apples can be consumed straight out of hand, or they can be quartered or sliced, displayed on cheese boards. The apples can also be chopped into green salads, mixed into fruit bowls, used as a topping over oatmeal and porridge, or served with dips, chocolate, or nut butter. In addition to slicing, Jupiter apples can be dipped whole in caramel and served as a sweet treat, blended into smoothies, thinly sliced, and used as a crunchy base for appetizers or incorporated into desserts. The variety has a robust flavor that can be used in any recipe calling for raw apples. Jupiter apples pair well with fruits such as blackberries, blueberries, citrus, and pears, cheeses including cottage, cheddar, goat, and parmesan, and spices such as ginger, cinnamon, cloves, and nutmeg. Whole, unwashed Jupiter apples will keep for 1 to 3 months when stored in a cool and dark location.


Ethnic/Cultural Info

The name Jupiter is derived from the Latin word luppiter, sometimes spelled lupiter. Luppiter was thought to have been taken from Indo-European "dyew-pater," with "dyew" being a term for "sky" and "pater" meaning "father." Jupiter is the Roman name for the god of the sky, who ruled over all living creatures. The Roman god is thought to have been derived from the Greek god Zeus, and both Greek and Italian versions of the deity depict him as the supreme ruler or "sky father." Later in history, the name Jupiter was given to the largest planet in the solar system. It is unknown why the apple variety was named Jupiter, but there are hypotheses surrounding the apple's large size, which matches the large nature of the planet. Beyond its mythological and space-centric moniker, Jupiter apples are sometimes known as Malling Jupiter apples, named after their site of origination at the East Malling Research Station in Kent, England.


Geography/History

Jupiter apples were developed in England in the late 20th century. The variety was created from a cross between Cox's Orange Pippin apples and Starking Delicious apples and was bred by Dr. Frank Alston using traditional, natural selection techniques. Dr. Alston performed these crosses at the East Malling Research Station in 1966 in Kent, England, a famous breeding site established in 1913. The East Malling Research Station was created by M.J.R. Dunstan out of a need to conduct scientific research in the fruit-growing industry within the region of Kent, a county in England nicknamed the "Garden of England." Jupiter apples were released to commercial markets in 1981 and eventually received an Award of Garden Merit in 1993 from the Royal Horticultural Society in recognition of the variety's ease of cultivation in home gardens. Today Jupiter apples thrive in temperate climates and are mainly grown in private orchards throughout England. The Jupiter apples featured in the photograph above were sourced from Brogdale Farm in Faversham, Kent.