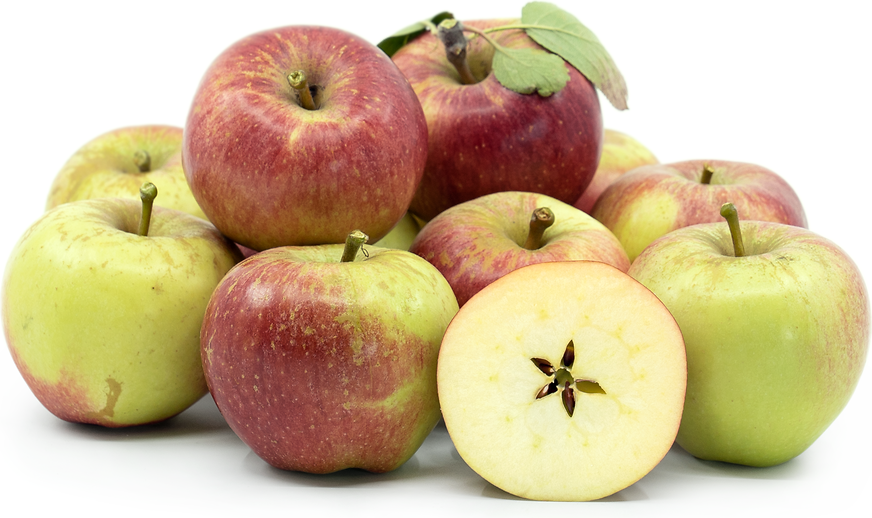 Kidd's Orange Red Apples
Inventory, lb : 0
Description/Taste
Kidd's Orange Red apples are a small to medium-sized varietal, averaging 5 to 6 centimeters in diameter, and have a conical, slightly flattened appearance with broad, curved shoulders tapering to a narrow base. The apple's skin is firm, smooth, thin, and semi-matte, with bumps and slight ribbing. The surface also showcases a pale yellow-green base, covered in large patches of crimson to red-orange blush and striping. When the apples are maturing, they may bear a pink flush with striping, but this coloring fades and transitions into a dark red hue with time. The skin also has raised russet dots and lenticels, creating a muddled mixture of colors and textures. Underneath the surface, the ivory to pale yellow flesh is fine-grained, dense, and aqueous with a crisp, soft, crumbling, and subtly chewy consistency. The flesh also encases a small central core filled with tiny, black-brown seeds. Kidd's Orange Red apples release an aromatic, honeyed aroma with notes of cider and yeast. The apple's flesh has a balanced mix of sugar and acidity, creating a sweet, tart, and tangy flavor with rich floral and fruity nuances of pears, honey, vanilla, and violets. A unique feature of the variety is its pink blossoms in the spring. The blooms are said to faintly smell like roses.
Seasons/Availability
Kidd's Orange Red apples are harvested in the fall and can be stored through the mid-winter.
Current Facts
Kidd's Orange Red apples, botanically classified as Malus domestica, are a mid to late-season variety belonging to the Rosaceae family. The apples were developed in New Zealand in the early 20th century and were specifically bred from two famous apple cultivars to create an improved variety in taste and appearance. Breeder James Hutton Kidd sought to capture the complexity and rich flavors of English apples with the bright coloring and appearance of American apples. He chose the beloved Cox's Orange Pippin from England, regarded as one of the best English varieties in terms of flavor, and crossed it with Red Delicious apples, a variety from the United States that was commercially popular at the time. Kidd's Orange Red apples grow on disease-resistant trees reaching 2 to 8 meters in height, depending on the rootstock. The apples are distinctly brighter and sweeter than their parent varieties. They have become a favored dessert apple worldwide, regarded as one of the best varieties created from Cox's Orange Pippin. Despite their improved characteristics, Kidd's Orange Red apples are not commercially produced due to their variable appearance and russeting. The variety is mainly grown as a specialty apple in home gardens and specialty orchards. Kidd's Orange Red apples are also famous for being a parent variety to Gala and Telstar apples.
Nutritional Value
Kidd's Orange Red apples are a source of vitamin C to strengthen the immune system while boosting collagen production and vitamin A to maintain healthy organ functioning. The apples also provide fiber to regulate the digestive tract, potassium to balance fluid levels, calcium to build strong bones and teeth, and other nutrients, including zinc, copper, manganese, vitamin E, boron, vitamin K, and iron.
Applications
Kidd's Orange Red apples have a balanced, sweet-tart flavor suited for sweet and savory preparations. The variety is traditionally consumed as a dessert cultivar. It can be eaten straight out of hand, or it can be sliced and displayed on cheese boards, complementing nutty, creamy, or robust cheeses. Kidd's Orange Red apples can also be combined into modern apple preparations, chopped and tossed into salads, sliced and dipped into nut butter and caramel, mixed into fruit bowls, or used as a topping over oatmeal, porridge, or overnight oats. In addition to raw preparations, Kidd's Orange Red apples are sometimes used to make a sauce to complement roasted meats and vegetables, but they are not typically cooked as their fine-grained flesh does not hold its shape when heated. The variety is occasionally used as a sweet filling for pastries such as tarts, fritters, bread, and doughnuts. Beyond culinary dishes, Kidd's Orange Red apples can be pressed into juice and combined into cider blends, creating a thicker texture and aromatic flavor. Kidd's Orange Red apples pair well with meat such as pork, poultry, and beef, herbs including sage, rosemary, thyme, and parsley, and spices such as cinnamon, nutmeg, cloves, and ginger. Whole, unwashed Kidd's Orange Red apples will keep for 1 to 3 months in a cool and dark location, such as the refrigerator.
Ethnic/Cultural Info
Kidd's Orange Red apples were breeder James Hutton Kidd's first successful variety. Kidd was born in England and emigrated to New Zealand as a child, where he grew up and decided to pursue the profession of orcharding. Throughout his career, Kidd emphasized a scientific approach to his breeding methods and kept a separate portion of his orchard specifically for his experiments. When Kidd first crossed Red Delicious with Cox's Orange Pippin apples in 1912, he kept meticulous records and notes, later realizing through his studies that the product of this cross could be a potential commercial cultivar. At the time, Cox's Orange Pippin apple trees were notoriously challenging to cultivate due to their temperamental nature and susceptibility to disease. This led breeders to search for a cross using Cox's Orange Pippin to create a hardier variety with improved flavor. Kidd's Orange Red apples exhibited a more robust flavor and disease resistance to their parent varieties and were initially named Delco apples. Delco is a blend of the words delicious and cox, representing the mixed parentage of Cox's Orange Pippin and Red Delicious apples. Later in the 1930s, the apples were renamed to increase consumer demand. Duncan and Davies nursery implemented the same strategy as the apple's original name and combined the parent varieties' names in a different configuration. Kidd was the breeder's last name; Orange was derived from its Cox's Orange Pippin parent, while Red stemmed from its other parent, Red Delicious.
Geography/History
Kidd's Orange Red apples were developed in New Zealand in the early 20th century. The variety was created from a cross of Cox's Orange Pippin apples with Red Delicious apples by breeder James Hutton Kidd in his orchard in Greytown, Wairarapa, in 1912. Kidd sought to combine the flavors of English apples with modern American traits and selected the cross to obtain improved flavors and appearance. The Cox's Orange Pippin and Red Delicious cross produced an apple that had the complexity of English apples with the aesthetic appeal and sweetness of American apples. The newly created variety was initially called Delco, and Kidd planted five acres of the apples in his New Zealand orchard by 1924. Kidd recognized the commercial potential of his variety, leading him to sell the propagation rights to Duncan and Davies, a nursery in Waitara, New Plymouth, in 1930. Delco apples were renamed to Kidd's Orange Red, and the variety was released to growers throughout New Zealand and Australia. Kidd's Orange Red apples were introduced to the United Kingdom in 1932. Later in 1993, they received an Award of Garden Merit through the Royal Horticultural Society, an acknowledgment of the variety's success in home gardens. Today Kidd's Orange Red apples are cultivated on a small-scale through select growers in New Zealand, Australia, Europe, the United Kingdom, and North America. The variety thrives in temperate climates and can survive in a broader climate range than Cox's Orange Pippin, allowing growers in warmer regions to grow Kidd's Orange Red as a Cox alternative.
Recipe Ideas
Recipes that include Kidd's Orange Red Apples. One

is easiest, three is harder.